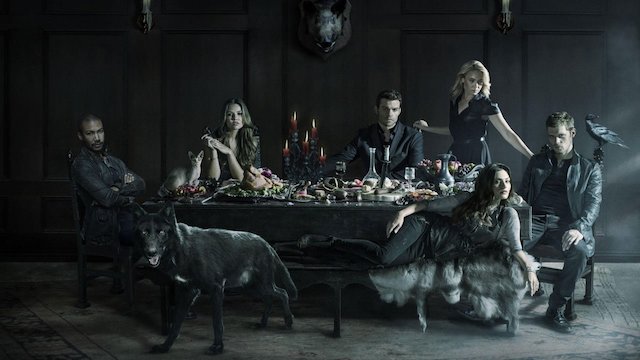 Where to Watch The Originals
13
When the Saints Go Marching In
Intent on saving Hope's life, Klaus' plan will change the lives of the Mikaelson family forever.
Watch The Originals Season 5 Episode 13 Now
With Hope facing a life-threatening affliction and deteriorating quickly, Klaus travels to Mystic Falls to seek help from Caroline. Tasked with keeping Hope preoccupied in Mystic Falls, Elijah comes to a heartbreaking realization about his niece.
Watch The Originals Season 5 Episode 12 Now
Klaus turns to Davina for help to learn more about a mysterious affliction affecting Hope. On their wedding day, Freya and Keelin make a tough decision about their future together, while Elijah is forced to confront a past memory of Hayley.
Watch The Originals Season 5 Episode 11 Now
10
There in the Disappearing Light
Klaus helps Hope cope with her pain in an unconventional way. A figure from Elijah's past comes back seeking help.
Watch The Originals Season 5 Episode 10 Now
9
We Have Not Long to Love
As Vincent, Marcel and Josh work to clean up the city, an uprising of purist vampires leads the supernatural factions into a deadly showdown. Hope's attempt to bring her family back together leaves her struggling with the consequences.
Watch The Originals Season 5 Episode 9 Now
8
The Kindness of Strangers
As pressing matters rage on in New Orleans, the Mikaelson siblings find themselves forced to set aside their differences and work together to escape a "chambre de chasse.
Watch The Originals Season 5 Episode 8 Now
7
God's Gonna Trouble the Water
Ivy reveals some startling news to Klaus about the dark magic that's been keeping him away from his family. Elijah turns to some unexpected allies to save Antoinette's life.
Watch The Originals Season 5 Episode 7 Now
6
What, Will, I, Have, Left
After learning how she can get Hayley back, Hope sets off on a dangerous mission to end the mess she started. Klaus turns to Caroline for help when he discovers Hope's plan.
Watch The Originals Season 5 Episode 6 Now
5
Don't It Just Break Your Heart
A mysterious clue sent to Klaus leads him one step closer to finding Hayley. Antoinette opens up to Elijah after her past comes back to haunt her.
Watch The Originals Season 5 Episode 5 Now
4
Between the Devil and the Deep Blue Sea
Frustrated by the lack of progress made in the search for Hayley, Klaus turns up the heat by taking hostages from each of the three New Orleans supernatural factions. Freya goes to Mystic Falls to check on Hope, who has been sent back to the Salvatore School.
Watch The Originals Season 5 Episode 4 Now
In the immediate aftermath of having his memory erased by Marcel, Elijah awakens to find himself in the middle of nowhere and without a clue as to who he is. Unable to control his instinctive vampire ways, Elijah encounters Antoinette, a beautiful and free-spirited vampire, who helps him navigate his new life.
Watch The Originals Season 5 Episode 3 Now
2
One Wrong Turn On Bourbon
When a mysterious disappearance brings Klaus back to New Orleans, Hope looks forward to the prospect of seeing her father again. However, when the dark magic that had been keeping them apart begins to manifest in dangerous ways across the city, Vincent turns to Ivy for guidance about what it may mean.
Watch The Originals Season 5 Episode 2 Now
1
Where You Left Your Heart
Desperate to see her father Klaus after seven years, Hope resorts to drastic measures to bring her father back to New Orleans. Hayley attempts to minimize the fallout from Hope's actions, but not before news of what she's done ripples through the city.
Watch The Originals Season 5 Episode 1 Now
Cast answer questions at Comic Con.
Watch The Originals Season 5 Episode 101 Now

The Originals is a riveting supernatural drama series spun off from the popular show "The Vampire Diaries." Aired on The CW from 2013 to 2018, the show tugs at viewer's fascination for the supernatural, centering its narrative on the legendary vampire-werewolf hybrid Klaus Mikaelson played by Joseph Morgan, and his clan - the world's original vampires. The story trails Klaus as he returns to the supernatural boiling point that is New Orleans — a city that he helped build centuries ago, now under the rule of his prodigal protegé Marcel Gerard (Charles Michael Davis). Klaus's return, following a mysterious tip about a plot brewing against him, brings him face to face with the resentful and cursed Elijah, portrayed by Daniel Gillies, his noble-minded elder brother lost in his own vengeance. Their explosive reunion is further punctuated by their younger sister Rebekah, played by Claire Holt, who immaculately portrays her character's singularity and poise, tinged with an underlying brutality from centuries of survival. Philip John, Lance Anderson, and Michael A. Allowitz among other directors, expertly navigates the viewer through the turbulent waters of power dynamics - both human and supernatural - territorial discourse, and the blood-splattered politics of New Orleans' vampire society. Their masterful storytelling, twined with the meticulous cinematography, breathes life into an ethereal cityscape that stands as a character on its own. Apart from weaving a complex web of family dysfunction, loyalty, and betrayal, The Originals also explores Klaus's complex relationship with Hayley Marshall-Kenner, played by Phoebe Tonkin. A werewolf character with strong ties to Klaus due to an unexpected turn of events. Through their journey, the show gracefully blends themes of love, sacrifice, and the boundless lengths one would go for family. Other pivotal characters include the highly intelligent and psychologically layered Camille 'Cami' O'Connell, a psychologist with a sharp instinct for the supernatural, brought to screen by Leah Pipes. There's also the powerful teenage witch Davina Claire, portrayed by Danielle Campbell, whose display of steely determination and vulnerability is genuinely endearing, and finally, there's the stoic and mysterious Vincent Griffith, played by Yusuf Gatewood whose character deepens the underpinnings of power, morality, and redemption in the show. In the later seasons, Riley Voelkel, Daniella Pineda, Summer Fontana, Danielle Rose Russel, and Steven Krueger join the cast, adding further intrigue and dimensions to the narrative. The youthful innocence of Danielle Rose Russell, who perfectly captures the superbly nuanced character Hope Mikaelson, and the charmingly pugnacious Steven Krueger as Josh Rosza, add a fresh dynamic to the story while also highlighting different aspects of the supernatural world the show so beautifully unfolds. What sets The Originals apart is the balance it strikes between dramatic tension and build-up and its fast-paced, full-throttle foray into action. It pulls no punches when confronting the central characters with their deepest horrors and the consequences of their past actions. Their endeavors to keep their family safe and in power forms the crux of the show. The intermingling of different mythologies associated with witches, vampires, and werewolves takes place seamlessly, against the kaleidoscopic backdrop of New Orleans, with the audience left eagerly awaiting what happens next. What's more, the performances by the ensemble cast are uniformly strong and gripping, with Morgan's portrayal of Klaus standing out - his simmering rage, whimsical charm, and underlying melancholy constitute a magnetic screen presence. Simultaneously, Daniel Gillies's superb portrayal of the morally upright Elijah torn between love for his family and his own values gives us one of the most exactingly crafted characters in vampire TV dramas. The Originals presents the festering underbellies of immortal life, interspersed with intense family drama, salvageable love, and unforgettable characters. Through so, it reminds viewers that even the most supernatural beings can't escape the universal experiences of love, heartbreak, and the ceaseless hunger for power. It is a truly unique, mesmerizing experience, which keeps the audiences engaged and wanting for more.
The Originals is a series categorized as a canceled/ended. Spanning 5 seasons with a total of 93 episodes, the show debuted on 2013. The series has earned a no reviews from both critics and viewers..
How to Watch The Originals
How can I watch The Originals online? The Originals is available on The CW with seasons and full episodes. You can also watch The Originals on demand at Amazon Prime, Netflix, Apple TV, Amazon, Google Play, Vudu online.
Cast
Joseph Morgan, Daniel Gillies, Phoebe Tonkin, Charles Michael Davis, Leah Pipes, Danielle Campbell, Claire Holt, Steven Krueger, Riley Voelkel, Daniella Pineda, Yusuf Gatewood, Danielle Rose Russell

Stream shows like The Originals