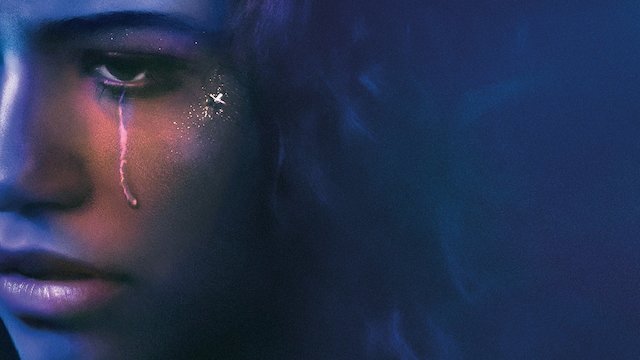 Where to Watch Euphoria
8
All My Life, My Heart Has Yearned for a Thing I Cannot Name
As the show goes on, fragments of memories collide with the present and future.
Watch Euphoria Season 2 Episode 8 Now
7
The Theater and It's Double
Art imitates life as the East Highland crew watches their complicated dynamics reflected in Lexi's long-awaited play. Meanwhile, Fezco gets ready to attend.
Watch Euphoria Season 2 Episode 7 Now
6
A Thousand Little Trees of Blood
As relationships with mothers are tested, Rue tries to recover. Meanwhile, Lexi questions the possible backlash from her play, and Nate celebrates his newfound freedom.
Watch Euphoria Season 2 Episode 6 Now
5
Stand Still Like the Hummingbird
Fate has a way of catching up with those who try to outrun it.
Watch Euphoria Season 2 Episode 5 Now
4
You Who Cannot See, Think of Those Who Can
At Maddy's birthday party, relationships are celebrated and questioned. Meanwhile, Jules turns to Elliot for advice and Cal takes a trip down memory lane.
Watch Euphoria Season 2 Episode 4 Now
3
Ruminations: Big and Little Bullys
Rue pursues a new business venture as she helps forge a friendship between Jules and Elliot. Cassie settles into a routine, while Lexi pours herself into mounting a school play.
Watch Euphoria Season 2 Episode 3 Now
As the semester kicks off, Jules questions Rue and Elliot's new friendship. While Cal hunts for answers, Nate makes a tough decision.
Watch Euphoria Season 2 Episode 2 Now
1
Trying to Get to Heaven Before They Close the Door
Rue and Jules cross paths for the first time since Christmas as East Highland rings in the new year.
Watch Euphoria Season 2 Episode 1 Now

Euphoria is a transformative series that graces the HBO platform, plunging viewers into the tumultuous world of modern adolescence with raw emotions, audacious visuals, and incredible performances. The television series, which premiered in 2019, takes its cue from an Israeli series of the same name and is adapted by Sam Levinson for HBO. The show does not shy away from depicting the darker aspects of teenage existence in the digital age. It masterfully navigates complex themes such as addiction, violence, identity crises, love, anxieties, and the constant pressure to fit in or stand out. Euphoria's narrative orbits Rue Bennett, portrayed by Emmy-winning actress Zendaya, a tormented teenager grappling with drug addiction and the trials and tribulations of growing up. Fresh out of rehab and with no plans of staying clean, Rue's life takes an unexpected turn when she meets Jules, a radiant trans girl portrayed by Hunter Schafer. Their quickly blossoming friendship becomes the cornerstone of the series. Undoubtedly, the series does an excellent job in displaying an ensemble cast with a rostrum of intriguing characters, each dealing with their own personal challanges. The show gives a nuanced exploration of these teenage characters and presents them with unvarnished honesty. The secondary storylines are evocative, interwoven with the lead narrative and deftly highlighting the interactions within this young social ecosystem. While the series doesn't shy away from shedding light on the darker realities of life, it does so with a show-stopping blend of visual flair and deep emotional complexity. Euphoria has a distinctive aesthetic that blends neon-lit cinematography with extravagant costuming and makeup, creating a dream-like surreality that stands out in the crowded landscape of television. Future-forward and engaging, it is a visual art in motion. One of the strengths of this series is its ability to convey the immediacy and intensity of teenage experiences. Not merely content with staying surface level, Levinson's narrative intertwines with a powerful portrayal of mental health, demonstrating the conflicts, vulnerabilities, resilience, and evolving identities of its characters. Furthermore, the script's fearless depiction of hard-hitting issues acts as an unflinching mirror to society and the struggles faced by today's youth. Set against the backdrop of a high school in a nondescript suburban town, Euphoria provides an unvarnished portrayal of the intensity of the teenage experience. The series expertly uses its setting to convey a spectrum of emotions, providing both a literal and metaphorical stage for these characters to grapple with their hopes, dreams, fears, and insecurities. Adding depth to the riveting drama and dazzling visuals is the hauntingly evocative musical score by English singer-songwriter Labrinth. Euphoria's heavy emphasis on music is evident throughout, with tracks from varied genres helping amplify the narrative and highlight the characters' emotional states. The music and sound design are as integral to the show as the stunning visuals and intricate plotlines, creating an immersive and unforgettable television experience. Furthermore, Euphoria's unique narrative style includes a variety of storytelling techniques, including nonlinear storytelling, voiceover narrations, and fantasy sequences, framing the churn of teenage angst from different perspectives. It's an innovative and occasionally experimental approach that keeps viewers on their toes. The show is a piercing look at the turbulent emotional landscape of adolescence. It delves into directionless anger, the yearning for acceptance, the starkness of loneliness, and the chaos of teenage parties with an unwavering lens. The brilliance of Euphoria is in its ability to infuse its raw narrative with heart and empathy, despite its sometimes grim subject matter. As a result, audiences connect with each character arc, sharing their pain, their joy, their battles, and their moments of introspection. In conclusion, Euphoria is a brave, provocative, and sophisticated exploration of the teenage experience. With its visceral storytelling, vivid aesthetics, compelling characters, and exceptional performances, particularly from Zendaya and Schafer, the series offers an unforgettable and emotionally resonant viewing experience. Dark yet hopeful, Euphoria is an honest portrayal of the highs and lows of adolescence, demonstrating that despite the euphoria, or perhaps because of it, navigating through teenage years can be a stormy ride. It is not merely a show; it is an uncompromising gaze into the abyss of modern youth culture, capturing its vibrancy, volatility, and intense emotions with unflinching honesty.
Euphoria is a series categorized as a . Spanning 2 seasons with a total of 18 episodes, the show debuted on 2019. The series has earned a mostly positive reviews from both critics and viewers. The IMDb score stands at 8.3.
How to Watch Euphoria
How can I watch Euphoria online? Euphoria is available on HBO with seasons and full episodes. You can also watch Euphoria on demand at Hulu Plus, Max, Amazon Prime, Apple TV, Amazon, Microsoft Movies & TV, Vudu online.
Cast
Zendaya, Hunter Schafer, Jacob Elordi

Stream shows like Euphoria