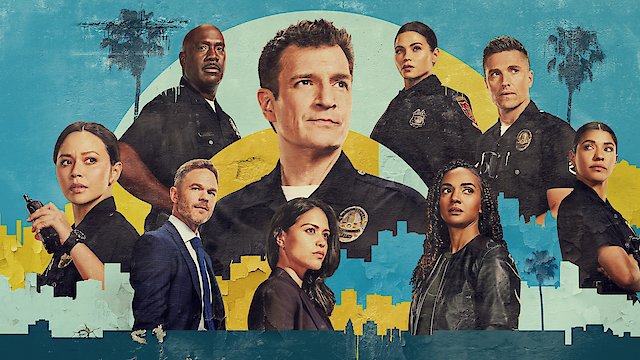 Where to Watch The Rookie
After one of their own is shot, the team suffers a series of close calls and realizes their division may be a target for a group of masked assailants.
Watch The Rookie Season 5 Episode 22 Now
Officer Lucy Chen goes undercover to infiltrate an illegal firearm operation, and Detective Harper and Officer John Nolan work together to solve a mystery involving severed limbs found around the city.
Watch The Rookie Season 5 Episode 21 Now
Officer Tim Bradford's ex-wife returns and asks the team to help her save someone from her undercover past. Isabel's return also creates additional pressure in Lucy and Tim's relationship as they assist in the search.
Watch The Rookie Season 5 Episode 20 Now
The team investigates a pattern of kidnappings which leads them to a discovery that hits close to home with one of their own. Meanwhile, Lucy and Tim's relationship is put to the test as they begin to feel the hard hours of their jobs.
Watch The Rookie Season 5 Episode 19 Now
When Dim goes missing, Officer Chen and Sgt. Bradford, along with the CIA, set out to find him and enlist the help of Juicy.
Watch The Rookie Season 5 Episode 18 Now
The team needs to also cooperate with Elijah's lawyer for the success of their plans; Officers Nolan and Juarez re-investigate her sister's case and find several discrepancies.
Watch The Rookie Season 5 Episode 17 Now
The team must stop a militia from detonating a highly combustible truck in their possession; Nolan, Thorson, Juarez and Harper search for three men who may have been exposed to Ebola.
Watch The Rookie Season 5 Episode 16 Now
With help from the FBI, Lopez puts everything on the line to help Elijah Stone take down a gang leader in exchange for her safety; Nolan and Bailey must deal with the secrets and shady dealings his late mother left behind.
Watch The Rookie Season 5 Episode 15 Now
Officer John Nolan and Bailey are on the hunt for a mystery gunman after a shooting hits a little too close to home. Meanwhile, Aaron struggles to live within his means and joins Lucy to help Tamara when the mother of a child she babysits goes missing.
Watch The Rookie Season 5 Episode 14 Now
In the midst of a heatwave and a citywide blackout, Officer John Nolan and Aaron follow increasingly large leads after they discover criminals hiding at the station. While on duty, Officer Chen makes an alarming discovery after being called to a scene where a pungent smell has wreaked havoc.
Watch The Rookie Season 5 Episode 13 Now
Officer John Nolan and Celina are enlisted to stand guard at a hospital after a dangerous prisoner must have surgery and they suspect there's more to it than meets the eye. Meanwhile, Aaron gets Lopez and Harper to help him investigate a string of home robberies, and Tim and Lucy consider how their new secret relationship will affect their work.
Watch The Rookie Season 5 Episode 12 Now
The search for a missing boy leads the team into the middle of a dangerous drug war between two rival gangs
Watch The Rookie Season 5 Episode 11 Now
Detective Nyla Harper and James find themselves in the middle of a bank robbery which leads the entire team on a citywide manhunt; Tim and Lucy go on their first date.
Watch The Rookie Season 5 Episode 10 Now
Officer John Nolan and the team investigate the unexpected death of a suspect in police custody. Their search also uncovers a very delicate loose end that could jeopardize Officer Celina Juarez's career.
Watch The Rookie Season 5 Episode 9 Now
Officers John Nolan and Celina Juarez are in a race against time to stop the source of an explosive rampage.
Watch The Rookie Season 5 Episode 8 Now
Officer John Nolan and Celina witness a shooting, realize the victim was already dead, and investigate further. Back at home, Bailey has been feeling off-center ever since the proposal, leaving Nolan to wonder what he can do to make her feel more comfortable.
Watch The Rookie Season 5 Episode 7 Now
Officer John Nolan and a sleep-deprived Celina investigate a cash deposit linked to an old DEA case. Meanwhile, Wesley grows increasingly concerned about his deposition and is shocked when he realizes Elijah's attorney is a familiar face from his past.
Watch The Rookie Season 5 Episode 6 Now
Officer John Nolan and Officer Celina Juarez are on the hunt for a fugitive after a car incident goes awry. Meanwhile, a past injury comes to haunt Tim and Lucy comes through during his time in need in more ways than one.
Watch The Rookie Season 5 Episode 5 Now
Rosalind returns with a vengeance and Bailey's life is left hanging in the balance. With a ticking clock, the LAPD and the FBI join forces, and Officer John Nolan is forced to make a deadly decision after a harrowing ultimatum.
Watch The Rookie Season 5 Episode 4 Now
Officer John Nolan is assigned his first rookie, Officer Celina Juarez, whose unconventional approach to police work poses a unique challenge for him.
Watch The Rookie Season 5 Episode 3 Now
Officer John Nolan is moving closer to his new role as a training officer. Meanwhile, Lucy's successful undercover assignment earns her an invitation for specialized training in Sacramento.
Watch The Rookie Season 5 Episode 2 Now
Officer John Nolan is once again face-to-face with serial killer Rosalind, and she wants him to know she's not done with him yet. Meanwhile, officers Bradford and Chen work undercover with Detective Lopez and the Las Vegas Police Department to arrest leaders of a major criminal enterprise.
Watch The Rookie Season 5 Episode 1 Now

The Rookie is an American police procedural drama television series created for ABC by Alexi Hawley. It premiered in 2018, prominently featuring the seasoned actor Nathan Fillion in the lead role, surrounded by a diverse and powerful ensemble of talented supporting cast members like Alyssa Diaz, Richard T. Jones, Titus Makin Jr., Mercedes Mason, and more. Nathan Fillion, known for his previous roles in series like 'Firefly' and 'Castle', breathes life into the character of John Nolan, a small-town man experiencing a life-altering incident that inspires him to pursue a new career path. John Nolan, who is going through a "male mid-life" crisis, decides to become the oldest rookie at the Los Angeles Police Department (LAPD), disregarding the skepticism and ridicule from his fellow officers and friends. Alyssa Diaz skillfully portrays Angela Lopez, an assertive, cut-throat, and competent training officer who evolves into a firm yet caring mentor. Richard T. Jones plays the role of the no-nonsense Sergeant Wade Grey, a stern and unwavering character who brings a grounded realism to the world of law enforcement depicted in the series. Other supporting characters provide varied perspectives on crime, law, and justice. Melissa O'Neil plays Lucy Chen, a young, ambitious rookie who struggles with her family and dating life, while Titus Makin Jr. portrays Jackson West, a rookie who hails from a legendary law enforcement family. Mercedes Mason adapts to the role of Zoe Andersen, the empathetic but tough captain who constantly pushes her officers to their potential. The Rookie skillfully integrates humour and drama, backed by the adrenaline-filled action of police work and its real-world implications. It explores the diverse staggered landscape of Los Angeles through a rookie's perspective, depicting how each neighborhood and its crime characteristics infuse a sense of varied, grounded realism to the storylines. Beyond crime fighting, The Rookie investigates the personal quandaries and emotional complexities of its characters, addressing their insecurities, fears, and relationships. Amid the high-stakes action, the characters navigate interpersonal moments of humor, romance, and drama, contributing to the fleshed-out, three-dimensional portrayals. John Nolan's journey as the oldest rookie in the LAPD, moving past his comfort zone, forms the crux of the plotline. This crisscross between his personal life and the world of crime, law, and justice extracts a compelling narrative of personal transformation, resilience, and an unyielding spirit of self-improvement. The series, through its multiple seasons, unfolds at a crisp, steady pace. Each episode cleverly interweaves elements of crime-solving with the rookies' growth trajectories, presenting scenarios that test their mettle and put their training to the ultimate test. It taps into both the career and personal threads of its characters, resulting in a balanced and captivating mix of police drama and human connection. Viewers are treated not just to thoroughbred action sequences, but also the intricacies and nuances of everyday police work. From high-speed chases and armed confrontations to more pedestrian tasks like paperwork and stakeouts, The Rookie paints an unvarnished but thrilling picture of modern policing. As the series progresses, it delves deeper into the complexities of public duty and personal loyalties, leading to serious, thought-provoking themes of morality, power, racism, and systemic bias within law enforcement. At the same time, The Rookie doesn't shy away from showcasing moments of camaraderie, warmth, and humour amongst the precinct members. Technically, the show also excels with high-quality direction and gripping cinematography that ads a stylistic flair to the show's color palette. Its impressive set designs and authentic portrayal of Los Angeles further enrich the storytelling experience. The Rookie offers an exciting blend of action, humor, and drama, featuring richly detailed characters, anchored by stellar performances, especially by Nathan Fillion. John's journey as an "older rookie" provides a unique spin to the police drama genre, making it a show that resonates deeply with viewers and keeps them hooked for what comes next. Overall, The Rookie is a well-crafted cop drama, which offers a thrilling portrayal of the LAPD with a unique, heartwarming twist.
The Rookie is a series categorized as a currently airing. Spanning 5 seasons with a total of 98 episodes, the show debuted on 2018. The series has earned a mostly positive reviews from both critics and viewers. The IMDb score stands at 8.0.
How to Watch The Rookie
How can I watch The Rookie online? The Rookie is available on ABC (US) with seasons and full episodes. You can also watch The Rookie on demand at Hulu Plus, ABC, Apple TV, Amazon, Google Play, Microsoft Movies & TV, Vudu, FuboTV online.
Genres
Action & Adventure, Comedy
Cast
Nathan Fillion, Alyssa Diaz, Richard T. Jones

Similar Shows like The Rookie