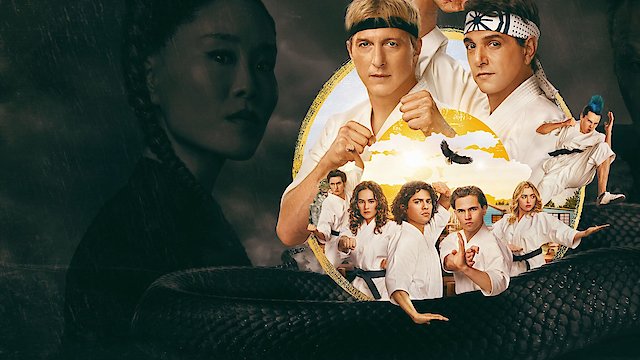 Where to Watch Cobra Kai
A fight night erupts in the Valley as Johnny, Daniel, Chozen and their students summon all their skills and strength to expose Terry and take him down.
Watch Cobra Kai Season 5 Episode 10 Now
Tory pays a price for defiance. Stingray does battle with his conscience. A celebratory night on the town takes a turn for Johnny, Daniel and Chozen.
Watch Cobra Kai Season 5 Episode 9 Now
A coveted spot in an elite international tournament ignites a fight between dojos. Tory's loyalties are tested.
Watch Cobra Kai Season 5 Episode 8 Now
Terry and Kim issue a brutal challenge while Chozen teaches his students a different kind of lesson. Johnny and Daniel demand answers from Kreese.
Watch Cobra Kai Season 5 Episode 7 Now
Terry recruits an expert in the way of the fist. Daniel walks away from a fight, and Johnny and Chozen pick one.
Watch Cobra Kai Season 5 Episode 6 Now
Daniel leans on a friend - and frenemy. Tensions come to a head for Miguel and Robby. A familiar face returns.
Watch Cobra Kai Season 5 Episode 5 Now
Johnny and Carmen's romance flies high while Daniel and Amanda are rattled by Terry's schemes. The teens' feuds spill over at the waterpark.
Watch Cobra Kai Season 5 Episode 4 Now
Another enemy from Daniel's past resurfaces. After a spa day and some soul-searching, Sam comes to a decision about her future with Miguel.
Watch Cobra Kai Season 5 Episode 3 Now
Chozen and Daniel hatch a risky plot against Terry. In Mexico, Robby and Johnny look for Miguel, who discovers the truth about his dad.
Watch Cobra Kai Season 5 Episode 2 Now
1
Long, Long Way From Home
Daniel's new ally-turned-housemate tests Amanda's patience. Miguel searches for his father in Mexico.
Watch Cobra Kai Season 5 Episode 1 Now

Cobra Kai, a popular Netflix series that began airing in 2018, resurrects the rivalry of "The Karate Kid" three decades after the original movie's conclusion. Exceeding mere nostalgic revival, the series meritoriously zeroes in on the unfinished narrative of the original protagonists, Daniel LaRusso (Ralph Macchio) and Johnny Lawrence (William Zabka), extending it into a new era. The prime difference between the first "Karate Kid" film and Cobra Kai is the storytelling perspective. In the former, Daniel was the victimized new kid in town and Johnny the wealthy, privileged bully. Cobra Kai, however, gives more depth and backstory to these characters, painting a more nuanced picture of their lives and motivations. Keeping the classic 80's rivalry alive while introducing the thematic resonance to the new generation, William Zabka's Johnny Lawrence is a lost man striving to reinvent himself by reopening his old karate dojo, Cobra Kai, which proves to be a controversial decision, one causing more than just a stir in the karate community. Ralph Macchio's Daniel LaRusso, who was once young, eager, and vulnerable, has developed into a successful businessman with an idyllic family life. Despite his success, LaRusso struggles with maintaining balance in his life without the guidance of his mentor, Mr. Miyagi. The reopening of Cobra Kai triggers the dormant animosity between him and Johnny, leading to a battle that involves the next generation ensnared in their past struggles. To the delight of fans wishing to relive the golden days of karate, audiences also see familiar faces from the original movies as the seasons progress: Martin Kove returns as John Kreese, and Elisabeth Shue reprises her role as Ali Mills. "Cobra Kai" also introduces a new cast of young Xolo Mariduena, Tanner Buchanan, Mary Mouser, and Jacob Bertrand who play pivotal roles as the new generation of karate students. They offer a fresh take on the tumultuous world of high-school politics while grappling with issues of bullying, popularity, and identity. The series unfolds with captivating battle sequences, insightful character progressions and engaging, fluid storytelling. The strained mentor-student relationships, romantic subplots, and comic relief via Dan Ahdoot's Anoush or Paul Walter Hauser's Stingray provide a fitting and entertaining tribute to the original franchise. It reinforces the recurring themes of resilience, redemption, and the quest for personal identity, all set against the backdrop of martial arts. Moreover, Cobra Kai introduces us to an aged but equally audacious universe of karate. It strikes a balance between maintaining the classic elements of the original film and appealing to a more modern and diverse audience. While the show's sleek fight scenes and sharp dialogues are commendable, it shines most in its commitment to tackling its characters' complexities. It isn't afraid to empathize with its villains or scrutinize its heroes, making it more than just a black-and-white saga of good versus evil. The series has received acclaim for its smart storytelling, handling of mature themes, a balanced mix of nostalgia and novelty, and a clever blend of drama and comedy. With the dice perfectly poised for more seasons, it will be intriguing to see what twists and turns the show can bring in the saga of Lawrence, LaRusso, and the feuding dojos. To sum up, Cobra Kai notably continues the legacy initially sparked by "The Karate Kid." It serves both as a nostalgic throwback and an engaging drama series in its own right. Through memorable characters, expertly choreographed fight scenes, and well-written dramatic tension, the show demonstrates that the philosophy of karate goes beyond merely physical strength and discipline and encompasses moral lessons on respect, integrity, and maturity.
Cobra Kai is a series categorized as a . Spanning 5 seasons with a total of 50 episodes, the show debuted on 2018. The series has earned a mostly positive reviews from both critics and viewers. The IMDb score stands at 8.5.
How to Watch Cobra Kai
How can I watch Cobra Kai online? Cobra Kai is available on Netflix with seasons and full episodes. You can also watch Cobra Kai on demand at Netflix, Apple TV online.
Genres
Action & Adventure, Comedy, Drama
Cast
William Zabka, Ralph Macchio, Courtney Henggeler, Xolo Maridue

Similar Shows like Cobra Kai