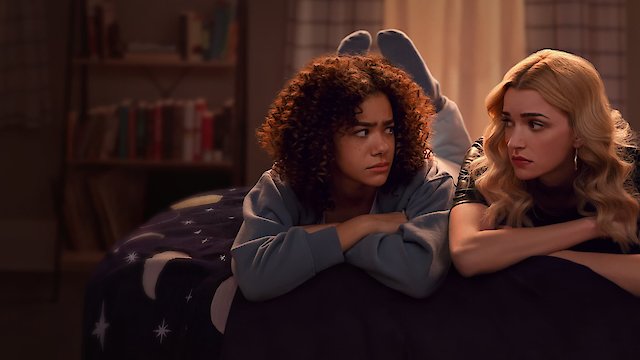 Where to Watch Ginny & Georgia
As Gil continues to make threats and Cordova closes in, revelations about Georgia's past surface at the worst possible time.
Watch Ginny & Georgia Season 2 Episode 10 Now
A buried secret comes to light. Joe and Georgia reminisce. An already heartbroken Ginny overhears upsetting news.
Watch Ginny & Georgia Season 2 Episode 9 Now
8
Hark! Darkness Descends!
After a sudden behavior change raises concern among his friends, Marcus has a tearful meeting with Ginny. Austin witnesses a terrifying scene.
Watch Ginny & Georgia Season 2 Episode 8 Now
7
We're Going to Serenade the Shit Out of You
Georgia insists on going to Ginny's therapy session, where raw truths emerge. Gil pushes his way into Austin's life and Georgia finds cause to celebrate.
Watch Ginny & Georgia Season 2 Episode 7 Now
6
It's a Very Merry Ginny & Georgia Christmas Special
Sparks fly as Paul and Zion's families join the Millers for a holiday dinner. Austin looks for his Christmas gifts -- and makes a dangerous find.
Watch Ginny & Georgia Season 2 Episode 6 Now
After a night out with Zion, Paul comes home to a startling discovery. Austin receives a surprise visitor at school.
Watch Ginny & Georgia Season 2 Episode 5 Now
4
Happy My Birthday to You
Paul and Georgia clash over her parenting style, Ginny throws a rager, and Cynthia finds love in an unexpected place.
Watch Ginny & Georgia Season 2 Episode 4 Now
3
What Are You Playing At, Little Girl?
After plotting revenge on a school mom, Georgia opens up about her troubled past to Ginny. Paul moves in with the Millers.
Watch Ginny & Georgia Season 2 Episode 3 Now
2
Why Does Everything Have to Be So Terrible, All the Time, Forever?
Georgia worries Nick will reveal what he knows as she schemes her way up the Wellsbury social ladder. At school, Ginny gets an icy reception.
Watch Ginny & Georgia Season 2 Episode 2 Now
The kids spend Thanksgiving with Zion, who helps Ginny through an emotional ordeal. Georgia has an awkward dinner with Paul's parents.
Watch Ginny & Georgia Season 2 Episode 1 Now

Ginny & Georgia is a heartwarming drama-comedy series that debuted on Netflix in 2021. This dynamic series, a spunky creation of Sarah Lampert, boasts ten hour-long episodes, each filled with emotions, humor, and a plot that would keep any viewer hooked. It promises a rollercoaster of laughter, tears, love, and life lessons, embodying a truly endearing coming-of-age narrative that tugs at the heartstrings. The show is predominantly set in the quaint fictional town of Wellsbury in Massachusetts, known for its model education system. It follows the lives of Ginny Miller, a mature and intelligent 15-year-old girl, and her free-spirited 30-year-old mother, Georgia, who has a knack for mischief, drawing a parallel to the popular 2000s series, 'Gilmore Girls'. This modern-day series starts with the duo moving away from the Southern states in an attempt to escape their past and to start afresh. While Ginny is dealing with the typical challenges of adolescence, including peer pressure, school dynamics, teenage love, and friendships, at the same time, Georgia is tackling her own issues – past and present, all the while doing everything necessary to provide her children – Ginny and Austin, a stable life. The story brilliantly juxtaposes Ginny's teenage life dealing with the mini-dramas of high school and the anxiety of fitting in, with Georgia's enigmatic past and her unconventional means of survival and security. The narrative offers two tantalizing timelines—Georgia's darker, secret laden past, and Ginny's candidly portrayed present full of teen angst, young love and the pursuit of identity. Brittany Breeds effortlessly embodies the character of the charming, young Georgia Miller, who is a shrewd, witty, and caring mother, while Antonia Gentry plays her on-screen daughter, Ginny Miller, portraying the complexities and vulnerabilities of teenage life in a relatable manner. The support cast members are equally notable in their roles as friends, love interests and the community of Wellsbury. Austin, the adorable younger brother, played by Diesel La Torraca, is the empathetic observer swept around by the whirlwind of Georgia's decisions. The Miller's and their journey is framed against a varied cast of high schoolers and town folk who play pivotal roles in shaping the dramatic plotline. What Really stands out in Ginny & Georgia is the show's thoughtful exploration and representation of important issues that include but are not limited to race, self-identity, mental health, body image, bullying, and sexuality. Each episode manages to subtly drop in these topics, urging viewers to reflect. Undoubtedly, the real charm of the series lies in the slightly broken yet enduring mother-daughter relationship between Ginny & Georgia. It deftly displays their close bond that, despite the ups and downs, remains as the emotional core of the series. Additionally, the way the series infuses humor to balance the dramatic threads of the narrative is a commendable feat, ensuring that the viewing experience is as entertaining as it is thought-provoking. The cultural references, witty humor, coupled with the engaging character chemistry, makes the show a captivating experience. The series also features an eclectic soundtrack, accommodating the rhythm of the plotline and the characters' emotional waves, and throws in ingenious cliffhangers that make the viewers eagerly wait for what's next. Ginny & Georgia is as much a bildungsroman of a teenage girl trying to navigate her way through life's hardships, as it is an exploration of a complex mother yearning to escape her past. It is unflinchingly honest yet nuanced in its character portrayal. The series crafts sophisticated storylines that are simultaneously playful and thought-provoking, a noteworthy blend of down-to-earth high-school shenanigans and dark(er) secretive pasts, presented in a skillfully paced narrative. In conclusion, Ginny & Georgia is a defiant series, one with a refreshing narrative that doesn't shy away from addressing complex, often stigmatized issues. It is a remarkable amalgamation of candid storytelling, charismatic performances, and remarkable storytelling that tempts a viewer to binge-watch till the end. A rare gem amongst the multitude of shows, it's an empathetic mirror to the rollercoaster journey of life. The series is not just about a mom and a daughter; it's about women, their dreams, their strengths, their flaws, and the lengths they would go to preserve their loved ones. It is more than a show—it's a reassuring testament that screams: it's okay to be imperfect. It's a tribute to womanhood in all its glorious forms.
Ginny & Georgia is a series categorized as a . Spanning 2 seasons with a total of 20 episodes, the show debuted on 2021. The series has earned a moderate reviews from both critics and viewers. The IMDb score stands at 7.5.
How to Watch Ginny & Georgia
How can I watch Ginny & Georgia online? Ginny & Georgia is available on Netflix with seasons and full episodes. You can also watch Ginny & Georgia on demand at Netflix online.
Cast
Brianne Howey, Antonia Gentry, Felix Mallard

Similar Shows like Ginny & Georgia