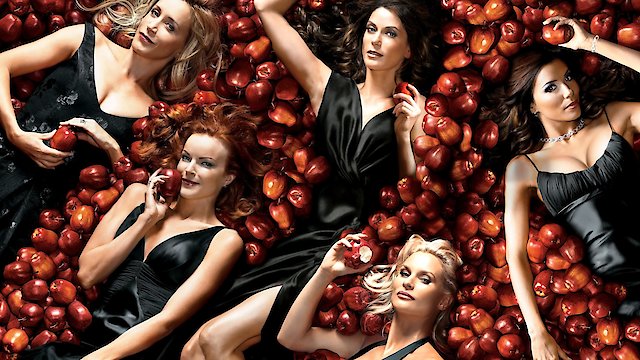 Where to Watch Desperate Housewives
In Part 2 of the series finale, Katherine Mayfair returns to offer Lynette a career move.
Watch Desperate Housewives Season 8 Episode 23 Now
In the first part of the series finale, Trip begs Bree to reveal the truth of what happened on the night of Alejandro's murder.
Watch Desperate Housewives Season 8 Episode 22 Now
What will happen between Bree and her lawyer?
Watch Desperate Housewives Season 8 Episode 21 Now
Susan tries to construct a car for M.J.'s soapbox derby; Tom's boss, Greg, asks Lynette out on a date.
Watch Desperate Housewives Season 8 Episode 20 Now
19
With So Little to Be Sure Of
Susan finds out Mike has been harboring a secret from her for years; Bree tries to find a high-powered attorney when she becomes the prime suspect in the murder of Gaby's stepfather; Gaby discovers a sexy way to earn a bigger commission at her new job as a personal shopper; and while Lynette continues to try and win Tom back, girlfriend Jane is desperate to ensure that the two go through with the divorce.
Watch Desperate Housewives Season 8 Episode 19 Now
Julie becomes worried when Susan allows MJ to do whatever he feels like doing; with Carlos resigning from his high paying job, Gaby searches for her own high-powered position in order to keep up her extravagant lifestyle; Bree is suspicious of Andrew's intentions when he announces that he's getting married; and Ben finally proposes to Renee.
Watch Desperate Housewives Season 8 Episode 18 Now
Wisteria Lane loses a resident and the day of the funeral has the ladies reflecting on how they were affected by this person. Thinking the investigation is over, Bree is shocked when she gets called in for questioning regarding the murder of Gaby's stepfather, Alejandro.
Watch Desperate Housewives Season 8 Episode 17 Now
Susan persuades Mike to go to the police when she discovers that Ben's loanshark is out to get him; Gaby is worried about Carlos' behavior; Tom's girlfriend, Jane, drops a bombshell on Lynette during Penny's birthday party; and Mrs. McCluskey, who is suffering from terminal cancer, asks Bree to help euthanize her.
Watch Desperate Housewives Season 8 Episode 16 Now
When Lynette tells Porter she won't help raise his future daughter, Susan offers her help. Orson talks Bree into going to Maine countryside with the intent of possible not coming back to Wisteria Lane.
Watch Desperate Housewives Season 8 Episode 15 Now
Susan discovers the identity of the father of Julie's baby.
Watch Desperate Housewives Season 8 Episode 14 Now
13
Is This What You Call Love?
Susan is surprised when her daughter Julie visits and is six months pregnant.
Watch Desperate Housewives Season 8 Episode 13 Now
12
What's the Good of Being Good
Bree's life continues to spiral out of control; Lynette goes out on her first date since separating with Tom; Alejandro's current wife is suspicious and confronts Susan; Gaby discovers that Alejandro's step-daughter was also abused; and Ben has special plans in store for Renee.
Watch Desperate Housewives Season 8 Episode 12 Now
11
Who Can Say What's True?
Carlos is still in rehab and Gaby asks Lynette for help to get a high stakes company to sign with her husband's firm.
Watch Desperate Housewives Season 8 Episode 11 Now
10
What's to Discuss, Old Friend?
Bree moves forward with her plan to end her life; Gaby becomes suspicious that Carlos may have been involved in another murder; Lynette makes a confession to Tom.
Watch Desperate Housewives Season 8 Episode 10 Now
Gabrielle is desperate to find Carlos; the ladies blame Bree; a drunk Bree exposes her past and present secrets, and then goes to a motel room.
Watch Desperate Housewives Season 8 Episode 9 Now
Chuck Vance harasses Bree about her involvement in Alejandro's disappearance.
Watch Desperate Housewives Season 8 Episode 8 Now
Susan impresses Andre with her art. Lynette lies to Penny about Jane. Bree is shocked to discover who exhumed Gaby's stepfather's body.
Watch Desperate Housewives Season 8 Episode 7 Now
Gaby, Bree, and Lynette discover Ben's real estate development excavation is going to be right where Gaby's murdered stepfather is and they need to exhume and move his body.
Watch Desperate Housewives Season 8 Episode 6 Now
Susan is petrified when her art teacher asks the students to come to class in the nude to help them create from a point of honesty. Bree entices local hipsters with her homemade soup she serves to the homeless and ends up pushing out those in need.
Watch Desperate Housewives Season 8 Episode 5 Now
Gaby disobeyed the rules at the student drop-off at Juanita's scholl and is banished to a distant parking lot from a volunteer parent, and makes it her mission to get even with that parent. Lynette thinks Tom is dating.
Watch Desperate Housewives Season 8 Episode 4 Now
3
Watch While I Revise the World
Mike begins to think that Susan and Carlos are having an affair when they bond over their feelings of guilt of the murder of Gaby's stepfather. Bree suspects that her detective boyfriend, Chuck, may secretly be investigating her.
Watch Desperate Housewives Season 8 Episode 3 Now
Susan discovers a dangerous and thrilling way to help ease her guilt over being an accessory to the murder of Gaby's evil stepfather. Gaby plans a sexy surprise for Carlos to help him get his mojo back.
Watch Desperate Housewives Season 8 Episode 2 Now
1
Secrets That I Never Want to Know
In an effort to protect Gaby, Carlos killed her evil stepfather forcing Susan, Gaby, Bree, Lynette and Carlos to dispose of the body. Each person involved deals with the aftermath of their actions in their own way.
Watch Desperate Housewives Season 8 Episode 1 Now

Desperate Housewives is a primetime soap opera mystery-comedy-drama that aired on ABC from 2004 to 2012. The show centers on a group of women dealing with their daily lives in the fictional suburban neighborhood of Wisteria Lane. The series features a star-studded and extensive cast that includes Teri Hatcher, Felicity Huffman, Marcia Cross, and Eva Longoria among many others. The story opens with the mysterious suicide of Mary Alice Young, who becomes the series' unseen narrator (voiced by Brenda Strong). The show then delves into the lives of her four friends, Susan Mayer, Lynette Scavo, Bree Van de Kamp, and Gabrielle Solis, whose seemingly perfect lives are just a facade for the complex web of secrets, mysteries, complications, and intrigues that underpin the neighborhood. The show, while ostensibly a dramatic soap opera, incorporates a distinct and critical layer of satire on suburban life, using its humor to shed light on serious and heavy topics. This blend of darkness and comedy, along with its unique narrative structure, sets it apart from traditional soap operas. Teri Hatcher's Susan Mayer is a romantic, klutzy but lovable single mother, always on the hunt for love. Felicity Huffman portrays Lynette Scavo, a former career woman turned beleaguered housewife, struggling with work-life balance and a tumultuous home front. Marcia Cross' Bree Van de Kamp is the epitome of perceived perfection, with an obsession for order and cleanliness, stifling the personal struggles within her family. Eva Longoria's Gabrielle Solis, a former model married to a wealthy businessman, appears to have it all but yearns for more than just her materialistic lifestyle. The series features an extensive regular and recurring cast that propels the narrative forward. Nicollette Sheridan's Edie Britt serves as the often-villainous fifth housewife. Other standout characters include James Denton's Mike Delfino, a plumber with a clouded past; Ricardo Antonio Chavira's Carlos Solis, a controlling businessman with a sensitive core; and Steven Culp's Rex Van de Kamp, Bree's initially oblivious husband. Doug Savant's Tom Scavo, Lynette's supportive but often put-upon husband, Vanessa Williams' Renee Perry, an old college friend of Lynette's, and Dana Delany's Katherine Mayfair, an old neighborhood friend with secrets of her own, are other notable characters who add to the drama and intrigue of Wisteria Lane. Guest stars throughout the series bring further vibrancy and excitement to the narrative. These include stars like Kyle MacLachlan, Alfre Woodard, John Slattery, and Richard Chamberlain among others - each bringing their unique spin to the storyline. At times darkly comical, tragically poignant, and shockingly scandalous, Desperate Housewives expertly peels back the layers of suburbia to reveal the skeletons lurking in the closets of seemingly perfect homes. It's filled with twists and turns at every corner, keeping viewers constantly on the edge. The series shot to popularity for its fresh take on the soap opera genre, blending it with elements of mystery, comedy, and drama series. With its witty dialogue, a flair for dramatic irony, and a tangle of juicy storylines, Desperate Housewives laughed all the way to audience's hearts and kept them gasping for more. Despite a plethora of characters coming and going, the strong bond between the central women remained a focal point, reflecting the series' focus on female friendship and empowerment. Over time, Desperate Housewives grew to become a global phenomenon, beloved for its blend of humor and suspense, its memorable characters, and its daring commentary on the American suburbia. Above all, it is a celebration of sisterhood and friendship, proof that no matter what life throws your way, your friends can help you through. It remains as one of the most iconically daring shows of the new millennium.
Desperate Housewives is a series categorized as a canceled. Spanning 8 seasons with a total of 182 episodes, the show debuted on 2004. The series has earned a moderate reviews from both critics and viewers. The IMDb score stands at 7.6.
How to Watch Desperate Housewives
How can I watch Desperate Housewives online? Desperate Housewives is available on ABC with seasons and full episodes. You can also watch Desperate Housewives on demand at Hulu Plus, Amazon Prime, Apple TV, Amazon, Google Play, Vudu online.
Genres
Comedy, Drama, Mystery
Cast
Felicity Huffman, Eva Longoria, Teri Hatcher, Marcia Cross, Ricardo Antonio Chavira, Brenda Strong, James Denton, Doug Savant, Shawn Pyfrom, Nicolette Sheridan, Andrea Bowen, Kyle MacLachlan, Kathryn Joosten, Shane Kinsman, Zane Huett, Mark Moses, Madison De La Garza, Dana Delany, Neal McDonough, Lyndsy Fonseca, Josh Henderson, Dougray Scott, Alfre Woodard, Joy Lauren, Charles Mesure, NaShawn Kearse, Mehcad Brooks, Cody Kasch, Steven Culp, Jesse Metcalfe, Mason Vale Cotton, Jeffrey Nordling, Maiara Walsh, Drea de Matteo, Vanessa Lynn Williams

Similar Shows like Desperate Housewives