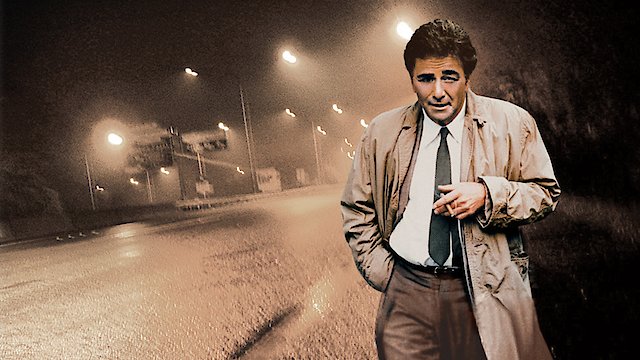 Where to Watch Columbo
14
Columbo Likes the Nightlife
The final Columbo story starring Peter Falk, Los Angeles rave promoter Justin Price (Matthew Rhys) helps his girlfriend Vanessa (Jennifer Sky) get rid of the corpse of her ex-husband, who was backing Price's new club, after he drops dead in Vanessa's apartment. When an investigative reporter pieces the crime together and threatens to blackmail Justin, Justin kills him.
Watch Columbo Season 10 Episode 14 Now
13
Murder with Too Many Notes
Hollywood film composer and conductor Findlay Crawford (Billy Connolly) has been mentor to a talented young composer who has been ghostwriting most of Crawford's work for the last few years, and penned Crawford's entire last movie score, which won an Oscar. When the protege wants to venture out on his own, Crawford, whose own talent seems to have run dry, concocts the perfect murder, made to look like a suicide.
Watch Columbo Season 10 Episode 13 Now
Hollywood gossip reporter Verity Chandler has a deal with mortician Eric Prince, who handles many of the funerals of the rich and famous. Prince gives her the inside scoop on funeral arrangements and in return she keeps the door closed on the closet containing Prince's many skeletons.
Watch Columbo Season 10 Episode 12 Now
Cathleen Calvert (Shera Danese) and her lover, crime scene investigator Patrick Kinsley (David Rasche), plot to get rid of Calvert's husband, Clifford (Barry Corbin), a powerful businessman, by killing an investment broker with whom he is currently feuding, and pinning the murder on Clifford. As long as he is alive and in prison, Cathleen has access to all his money.
Watch Columbo Season 10 Episode 11 Now
Wealthy horse breeder and trainer Graham McVeigh is exasperated by his younger brother Teddy's compulsive gambling, and is tired of bailing him out of debt and scrapes with the mob, so he decides to rid himself of the problem. He convinces Teddy to bet heavily on one of his (Graham's) horses, then drugs the horse so that it loses the race, costing Teddy thousands and sinking his chances of winning enough money to pay off mob bookie Bruno Romano.
Watch Columbo Season 10 Episode 10 Now
When two men kill each other in a run-down tenement, Columbo is ready to close the case until a fragment of a photograph is found clutched in one of the dead men's hands. The plot thickens when an insurance investigator, Irving Krutch, turns up at police headquarters claiming that the piece of the photograph is part of a treasure map leading to $4 million that was stolen from a bank several years earlier.
Watch Columbo Season 10 Episode 9 Now
8
Butterfly in Shades of Grey
Irascible talk-show host Fielding Chase's adopted daughter Victoria wants to break away from her father's protective clutches. At 25, she is locked into a job as Chase's assistant, but she has written a novel which a literary agent, Lou Cates, thinks is brilliant and wants to publish.
Watch Columbo Season 10 Episode 8 Now
Nick Franco is a suave Italian womanizer who is carrying on simultaneous affairs with wealthy socialite Lauren Stanton and another mysterious woman named Lisa Martin. Stanton and Martin are shown to be very close on some emotional level, and they both share a hatred of Franco and his unscrupulous, violent ways with women.
Watch Columbo Season 10 Episode 7 Now
Given a deadline to pay his debts or else, chronic gambler Harold (Greg Evigan) plants a bomb under the Rolls Royce of his uncle, sports magnate Big Fred (Steve Forrest). However, Big Fred is killed by a hit-and-run driver while jogging that very morning, and the Rolls Royce explodes when Fred's gardener tries to move it out of the way of the TV camera crews.
Watch Columbo Season 10 Episode 6 Now
Columbo is attending the wedding reception for his nephew Andy Parma, also a detective on the LAPD, and his bride Melissa Hayes, a fashion model and daughter of wealthy Seattle businessman Sheldon Hayes. After the reception Parma and his new wife return to their bridal suite in the hotel, but while Parma is taking a shower, Melissa is kidnapped by an unknown assailant.
Watch Columbo Season 10 Episode 5 Now
Young photographer Freddy Brower is in the middle of divorce proceedings with his wife Nancy. One night, when Freddy is at Nancy's house trying to sort things out, he watches the lottery draw on TV while Nancy is out of the room and discovers that he has won $30 million.
Watch Columbo Season 10 Episode 4 Now
3
Columbo and the Murder of a Rock Star
High-powered criminal lawyer Hugh Creighton has been living with fading rock star Marcy Edwards for several years, but discovers that Marcy is having an affair with the drummer from her band of some years back, Neddy Malcolm. Creighton attempts to break up with Marcy, but Marcy is aware of the dubious methods that Creighton uses to win his legal cases, and threatens to expose him unless he takes her back.
Watch Columbo Season 10 Episode 3 Now
2
Murder Can Be Hazardous to Your Health
TV presenter Wade Anders has used underhanded tactics to steal the plum job of anchorman on Crime Alert (a programme that reconstructs unsolved crimes and invites the public to help solve them) from rival Budd Clarke. Clarke, who has been relegated to be the presenter of the 11:00 news, has obtained a copy of a pornographic video made by Anders some years ago.
Watch Columbo Season 10 Episode 2 Now
College students and frat buddies Justin Rowe and Cooper Redman both come from rich, prestigious families and are under strong parental pressure to excel at everything they do. As a result, they steal an exam paper from Professor D.
Watch Columbo Season 10 Episode 1 Now

Columbo is a distinguished American television series that aired on ABC from 1971 to 1978. The show is renowned for its unique crime fiction formula, formative narrative structure, and unforgettable central character, Lieutenant Columbo, portrayed with immense depth and skill by Peter Falk. In contrast to many detective dramas of the era, Columbo eschews the conventional mystery paradigm, where audiences are left guessing the perpetrator's identity. Instead, the series employs an 'inverted' detective story format, known as a howcatchem rather than a whodunit. The episodes typically commence with the crime being perpetrated, revealing the killer and their methods to the viewers. This innovative approach places less emphasis on suspense over the identity of the guilty party, turning the primary focus towards the intellectual cat and mouse game between Columbo and the culprit. The character of Columbo himself is a significant element of the show's enduring appeal. He appears to be a disheveled, seemingly absent-minded police investigator, always seen wearing his iconic rumpled raincoat and rarely without a cigar in hand. However, beneath this deceptive appearance lies an exceptionally astute and determined detective. His unconventional methods and deceptive modesty serve to unnerve suspects, slowly but surely maneuvering them into a position where they unwittingly incriminate themselves. Lieutenant Columbo's investigating style is persistently polite but subtly relentless, often described as a 'pest' by frustrated culprits. He typically expresses admiration for the offender's intellect and achievements, frequently sharing personal anecdotes and asking seemingly tangential questions. These conversational approaches seem irrelevant or innocuous initially but often turn out to be crucial in solving the case. The settings of Columbo's investigations also add a unique flavor to the series. The show is largely set amongst the high society and wealthy elite of Los Angeles, where beautiful homes and glamorous lifestyles contrast starkly with the crimes committed behind closed doors. These high-profile cases heighten the dramatic effect of the narratives, bringing forth the theme of corruption within privileged circles and the relentless pursuit of justice. The series received several Emmy awards and a Golden Globe during its original run, largely due to Falk's extraordinary performance. The character of Columbo has also been consistently ranked as one of the greatest television characters of all time. The series has undoubtedly left a lasting impression on the detective genre's landscape, with its unique formula being employed and referenced by numerous subsequent crime dramas. Each episode of Columbo stands alone as a self-contained story, making it accessible for casual viewers, while the recurring character traits and idiosyncratic behaviors of the protagonist provide a sense of continuity for regular viewers. The show maintains a balance between dry humor, intellectual stimulation, and tense drama, appealing to a wide range of audiences despite its dark themes. Besides the title character, Columbo features a rotating ensemble of notable guest stars. Several famous faces of the period, including revered actors, musicians, and Hollywood luminaries, make appearances as the criminals in each episode, adding an element of star-studded appeal to the series. Despite the show's end in the late 70s, Columbo continues to be celebrated for its innovative narrative approach, rich characterizations, and engaging plotlines. Even decades later, the series remains a standout piece of television, a testament to its timeless appeal. Whether for first-time viewers or those revisiting the series, Columbo provides an enjoyable exploration into the psychological face-off between a shrewd detective and sophisticated criminals from a nostalgic Hollywood era perspective. In conclusion, Columbo serves as a fascinating study in character development and narrative creativity within the crime drama genre.
Columbo is a series categorized as a canceled. Spanning 10 seasons with a total of 69 episodes, the show debuted on 1968. The series has earned a mostly positive reviews from both critics and viewers. The IMDb score stands at 8.3.
How to Watch Columbo
How can I watch Columbo online? Columbo is available on ABC with seasons and full episodes. You can also watch Columbo on demand at Peacock Premium online.
Genres
Drama, Crime, Mystery

Similar Shows like Columbo