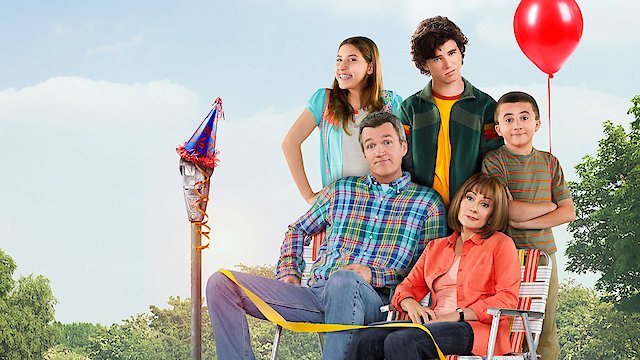 Where to Watch The Middle
24
A Heck of a Ride: Part Two
Conclusion. A Heck leaves the nest as the family takes a road trip to Denver, where Axl will start his new job
Watch The Middle Season 9 Episode 24 Now
23
A Heck of a Ride: Part One
After nine hilarious and heartfelt seasons, a Heck leaves the nest as the family takes a road trip to Denver, where Axl will start his new job
Watch The Middle Season 9 Episode 23 Now
Now that Frankie knows Axl was offered a job in Denver, she makes it her mission to sway him from taking it and moving away. Meanwhile, the usually overly optimistic Sue is depressed over Sean leaving for Ghana, without ever expressing her feelings for him; and Brick drives everyone crazy when he buys a huge amount of lawn chairs to replace the one he's been using for nine years.
Watch The Middle Season 9 Episode 22 Now
In an attempt to get Frankie the best Mother's Day gift ever, Sue and Brick enter a trivia contest where they could win a trip for two to London for the upcoming royal wedding; and Axl is offered a job interview that could change his life.
Watch The Middle Season 9 Episode 21 Now
Frankie has to force Brick into asking Cindy to the high school prom but worries that his quirkiness could spoil the happy event; Lexie talks a clueless Axl into giving Sue a belated 21st birthday present; and Mike becomes frustrated over how to get used to a new TV remote.
Watch The Middle Season 9 Episode 20 Now
Frankie is surprised but relieved when Dr. Goodwin agrees to buy all of the peanut brittle that Brick needs to sell for school.
Watch The Middle Season 9 Episode 19 Now
18
Thank You for Not Kissing
After Dr. Fulton calls Frankie and Mike into his office to inform them that Brick and Cindy have been making out all over school, Frankie tasks Mike into having a talk with his son to discuss dating etiquette.
Watch The Middle Season 9 Episode 18 Now
17
Hecks vs. Glossners: The Final Battle
It's the Orson showdown of the century when the Hecks
Watch The Middle Season 9 Episode 17 Now
While Frankie feels the need to have a good cry after having a bad week, Mike shares the good news that, after 25 years as manager at the local quarry, he is being offered the job of regional manager but feels uncomfortable saying goodbye to his co-workers. Meanwhile, Brick suspects that he's being treated unfairly by his health teacher because of how horribly Axl treated her back when he was a student.
Watch The Middle Season 9 Episode 16 Now
Things don't go as smoothly as planned for the Hecks when Frankie helps Sue celebrate her 21st birthday by taking her to a bar close to the college, Mike begrudgingly accompanies Brick to a "Planet Nowhere" convention, and Axl and Hutch head to Ohio in the Winnebago to attend and make a toast at ex-college roomie Kenny's wedding.
Watch The Middle Season 9 Episode 15 Now
14
Guess Who's Coming to Frozen Dinner
Mike's wayward brother, Rusty, comes to town and presents Sue with an extravagant gift, which Mike thinks is stolen goods. Meanwhile, with Sue now older and living the college life, Mike feels like he's not as close to her as he used to be and tries to figure out a way to reconnect; Axl blows the money from his first paycheck on a big screen TV and blames his spending spree on years of learning from Frankie's lack of financial wisdom; and Brick is stumped, but delighted to discover mysterious, unmarked gifts being left at the front door of the house.
Watch The Middle Season 9 Episode 14 Now
Frankie decides that she needs to find something new that she's passionate about
Watch The Middle Season 9 Episode 13 Now
Now that Axl has a real job, he begins to bond more with Mike and spends a lot of time with him
Watch The Middle Season 9 Episode 12 Now
As New Year's Eve approaches, Sue admits to Frankie that she likes Sean Donahue and that she kissed him at the Christmas party. But she's still trying to figure out if her kiss with Sean was a fluke or if it actually meant that he likes her.
Watch The Middle Season 9 Episode 11 Now
It's Christmastime, and Frankie and Sue are devastated after Axl informs them that he's not going to church this year because he's beginning to question his faith. Meanwhile, Mike goes to war with the Glossner kids after they keep defacing his new, giant inflatable snowman; and Brick goes all out in an attempt to wrap his first present for a planned Christmas Yankee Swap.
Watch The Middle Season 9 Episode 10 Now
The Middle celebrates its milestone 200th episode! When Orson is named as one of the top 200 most livable cities in Indiana, Frankie is reminded that she has to come up with something to place in the time capsule that will be buried in the base of the newly rededicated Orson Cow.
Watch The Middle Season 9 Episode 9 Now
Axl heads to Chicago to visit Hutch for the weekend but discovers that his friend, who has his own apartment and a job, is now acting more like a responsible adult than the free-spirited college student he once knew. Meanwhile, Sue's excitement over having the apartment to herself over the weekend turns to horror when she is unable to sleep after watching "Silence of the Lambs"; and Brick enlists Frankie and Mike's aid to help convince Lilah, a new student who doesn't know anyone at school yet, that she and Brick would make a cute coupe.
Watch The Middle Season 9 Episode 8 Now
The Hecks take a hectic road trip for Thanksgiving to Frankie's sister's house but soon find themselves running into barriers that could make them late to the feast; and with Axl now working with Sue and Brick at Spudsy's, they have been informed by their manager that, due to budget issues, one of them needs to quit, and they must decide amongst themselves which one will take the hit.
Watch The Middle Season 9 Episode 7 Now
Frankie is tasked with being at her mom Pat's beck and call when she has to stay for a few days at the Heck house after coming down with an ailment. Meanwhile, just when it looks like Sean is about to ask Sue out on a date, Sue nervously blurts out that maybe they should both try to set each other up on a date with one of their friends; and Axl and Brick ponder what it is exactly that Mike does at the quarry,.
Watch The Middle Season 9 Episode 6 Now
While Axl tries to invent a new beverage that mixes wine with beer and Brick decides to join the school orchestra in an attempt to play the field and find himself a new girlfriend, Mike asks Sue to take the reins in putting together a romantic evening for him and Frankie to celebrate their 25th wedding anniversary
Watch The Middle Season 9 Episode 5 Now
4
Halloween VIII: Orson Murder Mystery
As Halloween approaches, Frankie discovers that a woman had died in the bathtub of the Heck house close to 50 years ago, and Frankie and Brick become convinced that she was murdered and, much to Mike's chagrin, attempt to track down and find the murderer. Meanwhile, Axl and Lexie become frustrated over losing their alone time when Sue insists on hanging out with them wherever they go.
Watch The Middle Season 9 Episode 4 Now
Lexi's wealthy parents have dinner with Mike and Frankie, who worry about their humble lifestyle. Meanwhile, Brick is excited about taking part in the Sophomore Slammer fund-raiser, but the event doesn't go as he planned.
Watch The Middle Season 9 Episode 3 Now
2
Please Don't Feed the Hecks
After Frankie gives neighbor Nancy Donahue an old scarf that is just sitting around gathering dust, Nancy returns the favor by baking her a delicious apple pie. Believing she's stumbled upon a way to get free and tasty meals, Frankie makes it her mission to find miscellaneous items around the house to give to her in exchange for some culinary delights.
Watch The Middle Season 9 Episode 2 Now
Axl returns home from Europe with a new outlook on life; Sue decides to cram a whole summer of fun into two days; Brick doesn't know if he should break up with Cindy; Frankie tries to come up with an item for a time capsule.
Watch The Middle Season 9 Episode 1 Now

"The Middle" is an American comedy TV series that aired on ABC from 2009 to 2018. The show sheds light on the everyday life of a blue-collar, lower middle-class family living in the small fictional town of Orson, Indiana. With Patricia Heaton and Neil Flynn at the helm, the show offers a refreshing and relatable take on the modern American family, highlighting the harsh realities and humorous aspects of life in the Midwest. In the series, Patricia Heaton stars as Frances "Frankie" Heck, a middle-aged, frazzled woman juggling her variable job in a car dealership while managing her unconventional family. On the other hand, Neil Flynn plays the role of Mike Heck, Frankie's calm, stoic husband who is employed as a manager at the local quarry and most often the voice of reason in the Heck household. The show also stars Charlie McDermott as the oldest sibling Axl, a stereotypical and lightheaded teenager constantly at odds with his parents and siblings. Eden Sher brilliantly portrays the socially awkward Sue Heck, who is perpetually upbeat despite her continuous bad luck. Finally, the family ensemble is completed by Atticus Shaffer, who plays Brick, the introverted, bookish youngest child with eccentric behaviors making him stand out from his family and peers. The Middle's humor draws heavily from the pitfalls and absurdities of mundane, everyday life. Its storylines often revolve around financial struggle, the difficulty of maintaining a successful work-life balance, and the chaos of raising a family in the modern era. The Hecks are not immune to life's trials and tribulations, a stark contrast to the glamorous, problem-free life often portrayed on screen. "The Middle" is not short on its array of star-studded guest appearances. Renowned actors such as Chris Kattan, Betty White, Ray Romano and Whoopi Goldberg have made appearances on the show, adding their unique flavor to the humor. Brooke Shields plays Rita Glossner, an infamous and feared neighborhood resident. John Cullum is a recurring character as Big Mike, the father to Mike Heck, adding to the family dynamics. Other notable guest appearances are Marsha Mason and Jerry Van Dyke, who play Frankie's parents. Staying true to its working-class roots, "The Middle" is a show that emphasizes that life doesn't have to be perfect to be meaningful. It focuses on the ordinariness of life, and how humor can be found in the most unlikely situations. There is a realness that resonates in every episode - from Frankie's struggle to be the perfect mother while balancing her job, Mike's constant effort to instill work ethics in his children, to Sue's never-ending optimism and determination in the face of constant failure. From season to season, "The Middle" effectively captures the hustle and bustle, calamities and celebrations of the Heck family. Their story is narrated by Frankie Heck, whose audible reflections on her family and their misadventures draw in the viewers and offer an interesting perspective on parenthood and adulthood. While all of this might give "The Middle" the appearance of a typical sitcom, it isn't. The show is unique because it takes a simplistic approach, highlighting how life's most momentous occasions often happen in the midst of the ordinary. It is a heartwarming, funny, sometimes painfully relatable snapshot of everyday American life, making it both entertaining and touching. Over its nine-season run, "The Middle" gathered a dedicated following, earning a reputation as one of the most relatable and honest family sitcoms on television. All in all, "The Middle" offers a wholesome outlook on family life, bundling humor, warmth, and relatability with unforgettable characters and life lessons. It is truly a show that anyone, from any part of the demographic spectrum, can relate to and enjoy. Its laughs are hearty, its tears genuine, and its appeal universal, creating a memorable TV viewing experience.
The Middle is a series categorized as a canceled/ended. Spanning 9 seasons with a total of 215 episodes, the show debuted on 2009. The series has earned a moderate reviews from both critics and viewers. The IMDb score stands at 7.7.
How to Watch The Middle
How can I watch The Middle online? The Middle is available on ABC with seasons and full episodes. You can also watch The Middle on demand at Amazon Prime, Peacock Premium, Apple TV, Google Play online.
Cast
Patricia Heaton, Neil Flynn, Charlie McDermott, Eden Sher, Atticus Shaffer, Chris Kattan, Brian Doyle-Murray, Blaine Saunders, John Gammon, Beau Wirick, Tommy Bechtold, Jerry Van Dyke, Bryce Hurless, Bonnie Hellman

Stream shows like The Middle