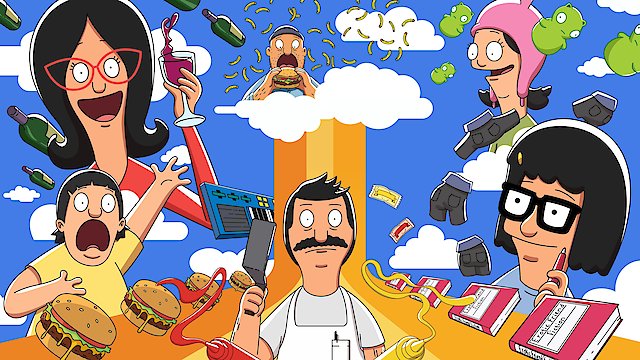 Where to Watch Bob's Burgers
9
Fraud of the Dead: Docu-pocalypse
A documentary film profiling world class archer Louise Belcher is interrupted by unexpected visitors.
Watch Bob's Burgers Season 14 Episode 9 Now
During their special day at the wharf with Big Bob, the kids get into trouble with the Wharf's newest fortune-telling giant clam.
Watch Bob's Burgers Season 14 Episode 8 Now
7
The (Raccoon) King and I
During a neighborhood block party, Linda makes a mistake that could threaten the life of her favorite alley raccoon.
Watch Bob's Burgers Season 14 Episode 7 Now
6
Escape from Which Island?
Mr. Fischoeder enlists Bob to be his personal chef for a glamping trip on his exclusive club's secret island.
Watch Bob's Burgers Season 14 Episode 6 Now
The Belcher kids learn a secret about Zeke's past, while Bob rekindles his feud with Jimmy Pesto.
Watch Bob's Burgers Season 14 Episode 5 Now
Gene tries to learn how to lucid dream in order to recover the world's most perfect song that he wrote while asleep. Meanwhile, Louise and Tina try to trap a cricket whose chirping is keeping Linda up at night.
Watch Bob's Burgers Season 14 Episode 4 Now
Bob and Linda help Gretchen throw her sister's bachelorette party. Meanwhile, Tina forces Gene and Louise to play a board game they found on the street.
Watch Bob's Burgers Season 14 Episode 3 Now
Rudy attends an important dinner. The Belchers make an important casserole.
Watch Bob's Burgers Season 14 Episode 2 Now
1
Fight at the Not Okay Chore-ral
When Linda and Bob suggest the kids do chores, the family ends up in a showdown.
Watch Bob's Burgers Season 14 Episode 1 Now

Bob's Burgers is an animated sitcom that first hit the airwaves in 2011 under the auspices of the Fox Broadcasting Company. Envisioned and brought to life by Loren Bouchard, the show is primarily set in a fictional seaside community and revolves around the hilarious and often surreal experiences of the Belcher family. The Belcher family consists of Bob, his wife Linda, and their three unique children: the eccentric and impulsive Louise, the socially awkward and musically inclined Gene, and the imaginative, romantically obsessed teenager Tina. Together, they run a family-owned burger joint, fondly named Bob's Burgers. The restaurant, perpetually teetering on the brink of success and failure, features in the backdrop of each episode, with the show deriving its title from this central enterprise. Bob Belcher, the patriarch of the family, is a hardworking and dedicated burger joint proprietor with a deep passion for his craft. He is unwaveringly devoted to his restaurant, his burgers, and, of course, his family. His character is a nod to the quintessential middle-class man, striving to make ends meet while dreaming of gastronomic greatness. His endearing optimism, despite the many business and personal hiccups he encounters, forms the lynchpin of the show's charm. Linda Belcher, Bob's enthusiastic and eccentric wife, is a powerhouse of energy and optimism. Often seen donning her characteristic red glasses, she is noted for her support and love for her family, her distinctive singing habits, and her unwavering belief in the restaurant's success. Her character provides a healthy balance to Bob's pragmatism and is the bedrock upon which their family dynamics stand. The three Belcher children, Tina, Gene, and Louise, each carry their idiosyncrasies that contribute to family adventures. Tina, the eldest, is a socially awkward teen navigating the whirlwind of adolescence, full of romantic fantasies and fumbling interactions. Gene is the middle child, known for his unwavering optimism, love for music, and comedic quips while the youngest, Louise, brings in chaos with her manipulative, cunning, and slightly malevolent personality masked by her adorable bunny-ear hat. Furthermore, the show also teems with an ensemble of characters from their closely-knit community, including Teddy, the Belchers' regular patron and loyal friend, and their business rivals the Pesto family. The variety of personalities and interactions between these characters add depth to the narrative and foster a sense of authenticity to the fictional town's vibe. A gripping feature of Bob's Burgers is its consistent ability to balance mundane reality with clever humor in a way that is both engaging and refreshingly relatable. The show is lauded for its ability to handle the trials and tribulations of daily life with warmth and wit. The Belchers' life is far from perfect, evidenced by their struggling business, their clashing personalities, and their children's unique exploits, yet they stand together in the face of adversity, expressing their love and support for each other in unique and often unexpected ways. The allure of Bob's Burgers is mainly in its ingenious storytelling. Each story is a cohesive blend of the regular and the ridiculous, with scenarios packed with humorous dialogue, surreal circumstances, and the surprising depth of character development. Moreover, the series is interestingly marked by a variety of musical numbers, showcasing the characters' musical talents and adding an additional layer of fun to the narrative. Furthermore, the show's commendable ability to tackle socio-cultural themes with sensitivity and humor sets it apart. Amidst all the laughter and merry chaos, Bob's Burgers touches on topics such as gender identity, puberty, passion for work, balancing family duties, and acceptance of self and others. Bob's Burgers is an animated series that blends humor with heartfelt, relatable characters, snippets of wisdom, and unique interpretations of day-to-day living. The show offers an encouraging approach to life, human relationships, and the pursuit of dreams, while celebrating the diversity and quirkiness of its characters. Its strength resides not only in the humorously bizarre but also in the enticingly ordinary, making it a wholesome, unforgettable viewing experience that resonates with viewers long after turning off the screen.
Bob's Burgers is a series categorized as a currently airing. Spanning 14 seasons with a total of 269 episodes, the show debuted on 2011. The series has earned a mostly positive reviews from both critics and viewers. The IMDb score stands at 8.2.
How to Watch Bob's Burgers
How can I watch Bob's Burgers online? Bob's Burgers is available on FOX with seasons and full episodes. You can also watch Bob's Burgers on demand at Hulu Plus, FuboTV, FOX, Apple TV, Google Play, Amazon online.
Genres
Animation & Cartoon, Comedy
Cast
H. Jon Benjamin, Dan Mintz, Eugene Mirman

Stream shows like Bob's Burgers