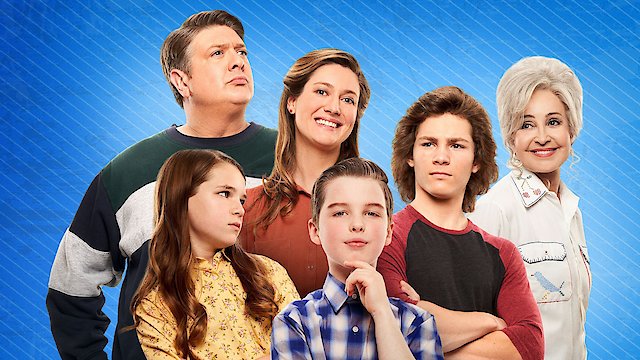 Where to Watch Young Sheldon
22
A Tornado, a 10-Hour Flight and a Darn Fine Ring
Sheldon and Mary head to Germany while the rest of the Cooper family braves a tornado that is heading straight for Medford.
Watch Young Sheldon Season 6 Episode 22 Now
21
A Romantic Getaway and a Germanic Meat-Based Diet
Mandy surprises Georgie with a spa weekend and Sheldon prepares for his summer in Germany.
Watch Young Sheldon Season 6 Episode 21 Now
20
German for Beginners and a Crazy Old Man with a Bat
The gambling room gets broken into and Sheldon wants to study abroad. Also, Missy makes a new friend.
Watch Young Sheldon Season 6 Episode 20 Now
19
A New Weather Girl and a Stay-at-Home Coddler
Mandy gets an exciting job opportunity and Sheldon worries that he's falling behind. Also, Georgie takes his daughter to work.
Watch Young Sheldon Season 6 Episode 19 Now
18
Little Green Men and a Fella's Marriage Proposal
Sheldon wants to search for life on other planets and Mandy answers Georgie's marriage proposal. Also, Missy is caught between two friends.
Watch Young Sheldon Season 6 Episode 18 Now
17
A German Folk Song and an Actual Adult
Georgie goes on a birthday date and Mary confronts Brenda about her relationship with George. Also, Sheldon takes an interest in Missy's favorite TV show,
Watch Young Sheldon Season 6 Episode 17 Now
16
A Stolen Truck and Going on the Lam
Missy steals her dad's truck and hits the road with her friend Paige.
Watch Young Sheldon Season 6 Episode 16 Now
15
Teen Angst and a Smart-Boy Walk of Shame
Sheldon confronts the failure of his database. Also, Georgie and Mandy struggle as new parents and Missy feels forgotten.
Watch Young Sheldon Season 6 Episode 15 Now
14
A Launch Party and a Whole Human Being
The Coopers can't be found as Mandy goes into labor. Also, Sheldon is excited about the launch of his database.
Watch Young Sheldon Season 6 Episode 14 Now
13
A Frat Party, a Sleepover and the Mother of All Blisters
Paige drags Sheldon to a college party and Missy gets caught in a lie.
Watch Young Sheldon Season 6 Episode 13 Now
12
A Baby Shower and a Testosterone-Rich Banter
Mary butts heads with Mandy's mother, Audrey, and Sheldon attempts male bonding.
Watch Young Sheldon Season 6 Episode 12 Now
11
Ruthless, Toothless, and a Week of Bed Rest
Sheldon learns the university is building a database without him. Also, Mary takes care of a bedridden Mandy and Meemaw.
Watch Young Sheldon Season 6 Episode 11 Now
10
Pancake Sunday and Textbook Flirting
Mary struggles to make new friends while Mandy pushes Georgie to date another woman.
Watch Young Sheldon Season 6 Episode 10 Now
9
College Dropouts and the Medford Miracle
Sheldon considers dropping out of college to focus on building his database. Also, George Sr. is frustrated when someone else gets credit for his football wins.
Watch Young Sheldon Season 6 Episode 9 Now
8
Legalese and a Whole Hoo-Ha
Sheldon's database invention puts him at odds with the university. Also, the church takes issue with Meemaw's video store.
Watch Young Sheldon Season 6 Episode 8 Now
7
A Tougher Nut and a Note on File
Sheldon's search for a comic book leads him to a breakthrough. Also, Georgie and Mandy have an uncomfortable first encounter with her parents, Jim and Audrey.
Watch Young Sheldon Season 6 Episode 7 Now
6
An Ugly Car, an Affair and Some Kickass Football
George Sr. is asked to help with the football team. Also, Mandy discovers Georgie and Meemaw's secret business.
Watch Young Sheldon Season 6 Episode 6 Now
5
A Resident Advisor and the Word 'Sketchy'
At college, Sheldon decides to expand his responsibilities and become a dorm resident advisor. Also, Meemaw and Dale make a sketchy business deal and Mary and George Sr.
Watch Young Sheldon Season 6 Episode 5 Now
4
Blonde Ambition and the Concept of Zero
Sheldon makes a terrifying mathematical discovery while tutoring Billy. Also, Mary is jealous of Missy's relationship with Mandy and MeeMaw.
Watch Young Sheldon Season 6 Episode 4 Now
3
Passion's Harvest and a Sheldocracy
Sheldon must choose sides in an ethical dilemma. Also, Mary tries her hand at writing and Mandy needs a new place to live.
Watch Young Sheldon Season 6 Episode 3 Now
2
Future Worf and the Margarita of the South Pacific
Sheldon and Missy try to help the family's finances. Also, Mary struggles to find her footing without the church.
Watch Young Sheldon Season 6 Episode 2 Now
1
Four Hundred Cartons of Undeclared Cigarettes and a Niblingo
George Sr. bails Meemaw and Georgie out of jail. Also, Sheldon and Missy meet Mandy, and Mary feels unwelcome at church.
Watch Young Sheldon Season 6 Episode 1 Now

Young Sheldon is an American sitcom premiered on CBS in 2017, created and produced by Chuck Lorre and Steven Molaro. The show is a delightful and whimsical spin-off prequel to the iconic series, The Big Bang Theory. The narrative revolves around the early years of the intellectually gifted Sheldon Cooper, expertly portrayed by Iain Armitage. He navigates his way through the complexities of life in a world that doesn't fully appreciate his striking genius. Set in the late 1980s and early 1990s in the small, faith-filled city of Medford, Texas, Young Sheldon paints a picture of a 9-year-old Sheldon as he starts high school, dealing with not just the academic challenges, but also the social pressures that come along with it. Though his extraordinary intelligence is unparalleled, Sheldon's innocence and inexperienced social understanding often leave him out of sync with the people around him, from his family to his peers and teachers. The show cleverly creates a backstory to key elements of The Big Bang Theory's nerdy protagonist. It explains why adult Sheldon knocks three times, why he's unyielding with his spot on the couch, his unusual fashion sense, and his fear of germs, forming an elaborate and detailed origination tale for the fan-beloved character. Young Sheldon creatively delves into the dynamics of the Cooper family. Sheldon's father, George Sr., played by Lance Barber, is a hardworking high school football coach grappling with raising a prodigy. On the other hand, Sheldon's mother, Mary, portrayed by Zoe Perry, is a devout conservative Christian who often serves as the bridge between Sheldon and the outside world. Sheldon also shares the screen with his twin sister Missy, played by Raegan Revord, who, unlike Sheldon, is much more in sync with the 'normal' world, and his older brother George Jr., interpreted by Montana Jordan, who is more commonly engaged in typical teenage issues. Young Sheldon offers a more heartwarming exploration of Sheldon's life. Whereas Sheldon's quirkiness and lack of understanding of social cues are often the punchline in The Big Bang Theory, Young Sheldon depicts these qualities as an endearing part of his personality, set against the backdrop of his struggle to fit in. It's a shift from The Big Bang Theory's comedic approach to Sheldon's personality, fleshing out a more intimate and affectionate examination of his character. Notwithstanding the intriguing storylines centered on young Sheldon, the series also focuses on the nuances of the supporting characters by giving them their individual development arcs. The influence of Sheldon's parents, siblings, friends, and teachers in shaping his personality and quirks forms a significant part of the storyline. Young Sheldon brilliantly weaves humor, affection, and pathos in its storytelling, making it an emotionally resonate show. The show also includes the popular physics experimentations and scientific theories, maintaining the essence of The Big Bang Theory. No less, it provides a lighter and more digestible approach, easing viewers whether they're familiar with complex scientific theories or not. Voice-over narration by Jim Parsons, who portrayed adult Sheldon in The Big Bang Theory, adds an intriguing element to Young Sheldon. Parsons' contribution extends beyond lending his voice, as he's also a executive producer on the show. His familiarity with the character aids in effectively showcasing young Sheldon's thought processes, thereby strengthening the connection between the two representations of the character. Throughout its progression, Young Sheldon balances the elements of humor, familial relationships, and the challenges that come with growing up differently, in a manner that's engaging and delightful for viewers of all ages. Young Sheldon thus becomes an insight into the growth and development of a unique character, adding depth and emotional richness to the iconic Sheldon Cooper. It brilliantly caters to the curiosity of The Big Bang Theory's fans about Sheldon's youth while also carving its own delightful niche. Despite living under the considerable shadow of its incredibly successful predecessor series, Young Sheldon carves out an identity of its own, shining a sympathetic light on the challenging but captivating world of an endearing young prodigy.
Young Sheldon is a series categorized as a new series. Spanning 6 seasons with a total of 128 episodes, the show debuted on 2017. The series has earned a moderate reviews from both critics and viewers. The IMDb score stands at 7.6.
How to Watch Young Sheldon
How can I watch Young Sheldon online? Young Sheldon is available on CBS with seasons and full episodes. You can also watch Young Sheldon on demand at Max, Amazon Prime, Netflix, Apple TV Channels, Apple TV, Amazon, Google Play, Microsoft Movies & TV, Vudu, Paramount+ online.
Cast
Iain Armitage, Zoe Perry, Lance Barber

Similar Shows like Young Sheldon