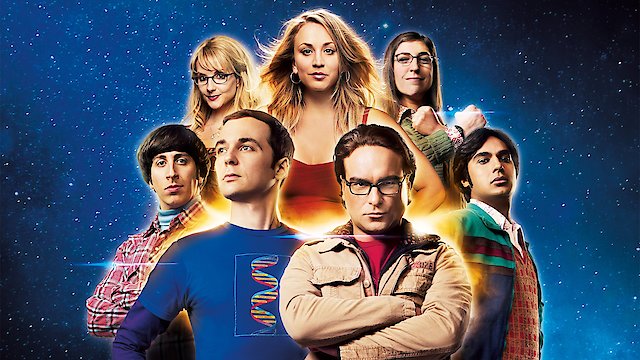 Where to Watch The Big Bang Theory
25
Unraveling the Mystery: A Big Bang Farewell
Series stars Johnny Galecki and Kaley Cuoco lead fans on a trip down memory lane, sharing some of the best-kept backstage secrets and personal memories from the past 12 years.
Watch The Big Bang Theory Season 12 Episode 25 Now
Bernadette and Wolowitz leave their kids for the first time; Penny and Leonard try to keep a secret; Sheldon and Amy stick together; and Koothrappali makes a new friend, as the gang travels together into an uncharted future.
Watch The Big Bang Theory Season 12 Episode 24 Now
Everything changes as Sheldon and Amy await big news in the first of a two-part series finale.
Watch The Big Bang Theory Season 12 Episode 23 Now
22
The Maternal Conclusion
Leonard is pleasantly surprised when Beverly comes to visit and she's genuinely kind to him, until he finds out the real reason she's there. Also, Denise and Stuart overstay their welcome at the Wolowitz house.
Watch The Big Bang Theory Season 12 Episode 22 Now
Kripke has proof that Dr. Pemberton plagiarized his thesis in college, and Sheldon and Amy aren't sure if they should turn him in or not.
Watch The Big Bang Theory Season 12 Episode 21 Now
20
The Decision Reverberation
Koothrappali is worried people won't take him seriously in his own field after publishing a paper that suggests he may have discovered alien life. Also, Leonard wants to be the principal investigator on a plasma physics study.
Watch The Big Bang Theory Season 12 Episode 20 Now
19
The Inspiration Deprivation
The concept of what it would mean for women everywhere if Amy were to win a Nobel Prize causes Amy to have a meltdown. Also, Koothrappali and Wolowitz try to relive the good old days after Wolowitz buys a scooter that looks like the one he had years ago.
Watch The Big Bang Theory Season 12 Episode 19 Now
18
The Laureate Accumulation
When competitors Pemberton and Campbell charm America on a publicity tour, Sheldon and Amy try to bring Nobel laureates Kip Thorne, George Smoot and Frances Arnold to their side. Also, Halley's fear of the dark leads to opportunity and conflict for Howard, Bernadette and Stuart.
Watch The Big Bang Theory Season 12 Episode 18 Now
17
The Conference Valuation
When Penny and Bernadette go to San Diego for a pharmaceutical sales convention, Wolowitz is in charge of the kids. Also, Sheldon finds a book on experimenting on kids, and the guys plus Amy make a day of it.
Watch The Big Bang Theory Season 12 Episode 17 Now
When the gang finds out Wil Wheaton hosts a celebrity Dungeons and Dragons game involving William Shatner, Joe Manganiello, Kareem Abdul-Jabbar and Kevin Smith, deception and betrayal are the path to make it to the one open seat.
Watch The Big Bang Theory Season 12 Episode 16 Now
15
The Donation Oscillation
Penny tries to seduce an abstaining Leonard to ruin his "donation" for her ex-boyfriend, Zack, and his wife, Marissa.
Watch The Big Bang Theory Season 12 Episode 15 Now
14
The Meteorite Manifestation
Sheldon is thrilled to help Bernadette and Wolowitz navigate bureaucratic paperwork, until he discovers they are breaking the law. Also, Leonard is disappointed when his friends exclude him from a scientific project.
Watch The Big Bang Theory Season 12 Episode 14 Now
13
The Confirmation Polarization
When Sheldon and Amy's super asymmetry theory is proven by two physicists, Dr. Pemberton and Dr. Campbell from Chicago, they're thrilled, until they try to kick Amy off the Nobel nomination. Also, Bernadette has a big success at work and Penny's going to be a part of it
Watch The Big Bang Theory Season 12 Episode 13 Now
12
The Propagation Proposition
Penny's ex-boyfriend, Zack, and his wife want a baby, but when Zack is infertile, they ask Leonard for help. Also, Koothrappali attempts to mend things with his ex-fiancée, Anu.
Watch The Big Bang Theory Season 12 Episode 12 Now
11
The Paintball Scattering
Penny and Leonard organize a paintball game that results in mayhem when Sheldon is jealous of Amy. Also, Koothrappali catches Anu with her ex-boyfriend, and Stuart doesn't want to move in with Denise.
Watch The Big Bang Theory Season 12 Episode 11 Now
Sheldon and Amy are still down about their theory being disproven, but a VHS tape from Sheldon's past inspires him not to give up. Also, Bernadette turns into a pageant mom when she tries to help Wolowitz ace his Magic Castle audition.
Watch The Big Bang Theory Season 12 Episode 10 Now
Sheldon and Amy are devastated after learning from a Russian paper that Super Asymmetry has already been discovered and disproven. Also, ultra-competitive Bernadette asks Stuart's girlfriend, Denise, to teach her how to beat Howard in a popular videogame.
Watch The Big Bang Theory Season 12 Episode 9 Now
8
The Consummation Deviation
Sheldon tries to bond with Amy's father, but when Wolowitz lures Mr. Fowler away with magic tricks, Sheldon has no choice but to bond with Mrs.
Watch The Big Bang Theory Season 12 Episode 8 Now
7
The Grant Allocation Derivation
Leonard is caught between a rock and a hard place when he's responsible for distributing extra grant money. Also, Bernadette turns the backyard playhouse into a hideaway from her husband and kids.
Watch The Big Bang Theory Season 12 Episode 7 Now
6
The Imitation Perturbation
When Wolowitz dresses up as Sheldon for Halloween, Sheldon seeks retaliation at Leonard and Penny's Halloween party. Also, Leonard is shocked that Penny doesn't remember their first kiss.
Watch The Big Bang Theory Season 12 Episode 6 Now
5
The Planetarium Collision
When Amy doesn't have time to work on super-asymmetry, Sheldon goes to great lengths to ensure she's available to work with him even it if means accidentally sabotaging her career in the process. Also, Koothrappali doesn't want Wolowitz to join him in hosting a show at the planetarium.
Watch The Big Bang Theory Season 12 Episode 5 Now
When Sheldon won't tell anyone why he's never mentioned Tam, his childhood best friend, Leonard takes matters into his own hands. Also, Bernadette and Penny take out Raj's fiancée, Anu, for dinner to get the skinny on her.
Watch The Big Bang Theory Season 12 Episode 4 Now
3
The Procreation Calculation
Life gets complicated when Stuart starts bringing his new girlfriend home; Penny and Leonard talk about starting a family; Koothrappali explores an arranged marriage.
Watch The Big Bang Theory Season 12 Episode 3 Now
2
The Wedding Gift Wormhole
Sheldon and Amy go crazy trying to figure out what "perfect gift" Leonard and Penny gave them for their wedding; Koothrappali decides to settle down and asks his father to arrange a marriage for him.
Watch The Big Bang Theory Season 12 Episode 2 Now
1
The Conjugal Configuration
Sheldon and Amy's honeymoon runs aground in New York, while Penny and Leonard discover they are uncomfortably similar to Amy's parents, Mr. and Mrs.
Watch The Big Bang Theory Season 12 Episode 1 Now

The Big Bang Theory, produced by CBS, is a groundbreaking American sitcom that aired from 2007 to 2019. The show captured the hearts of millions with its original blend of humor, characters, and storylines. Combining elements of comedy with scientific concepts and pop culture references, it became an iconic series that both amused and educated. Primarily set in Pasadena, California, The Big Bang Theory revolves around the lives of two roommates: physicists Leonard Hofstadter and Sheldon Cooper, brilliantly portrayed by Johnny Galecki and Jim Parsons, respectively. These two characters, both highly intellectual but socially inexperienced, find their world turned upside down when an outgoing and confident neighbour, Penny, played by Kaley Cuoco, moves into the apartment across the hall. The dynamic between smart yet socially awkward scientists and a free-spirited, street-smart woman gives the show its unique flavor. Supplementing this trio are Howard Wolowitz and Raj Koothrappali, endearingly played by Simon Helberg and Kunal Nayyar. Howard, a mechanical engineer, is self-deprecating about his lack of a doctorate, while Koothrappali, an astrophysicist, suffers from selective mutism, which adds more laughter to the equation. Throughout its twelve-season run, the Big Bang Theory introduces several added characters who further enrich the plot. Among them are scientist Bernadette Rostenkowski-Wolowitz, neurobiologist Amy Farrah Fowler, comic book store manager Stuart Bloom, and numerous guest stars that include family members, love interests, and iconic figures from the science and geek culture realms. Melissa Rauch, Mayim Bialik, and Kevin Sussman brilliantly portray Bernadette, Amy, and Stuart. The frequent cameos, such as Bob Newhart's recurring role as Sheldon's childhood idol Professor Proton and Wil Wheaton as a heightened version of himself, are sheer delight to viewers. The late Carol Ann Susi's off-screen performance as Howard's overbearing mother is also a standout comedic element of the series. Even with its fun, light-hearted elements, The Big Bang Theory doesn't shy away from addressing deeper aspects of life. It explores nuances of friendships, romantic relationships, professional rivalry, and personal growth with a great deal of sensitivity. It embodies the trials and tribulations, the successes, and the failures of its characters, making them relatable to audiences worldwide, whether they are physics geeks or not. The character development of the series is commendable. Over the span of 12 years, it presents the transition of the main characters from socially misfit scientists to individuals capable of being in meaningful relationships. Penny's growth from struggling actress to pharmaceutical sales representative is also engaging to follow. Each episode offers an assortment of scientific theories and facts, woven seamlessly into the dialogue and plots, underscoring but never dominating its comedic elements. The blend of theoretical physics and comic punchlines makes the series intellectually stimulating while ensuring a hearty laugh. Additionally, The Big Bang Theory proudly adds to its geek charm with frequent nods to comic books, science fiction movies, video games, and board games, which it injects into its jokes and plot scenarios. These neatly integrated pop-culture references complement the humor, making the series a cultural phenomenon. The Big Bang Theory, a winner of multiple primetime Emmy Awards, was praised not only for its memorable characters and sharp-witted writing but also for making science cool and accessible to its diverse and dedicated viewership. As it navigates the quirky, eccentric, intelligent, yet often hilarious world of its characters, the series emerges as a half-hour ride of laughter and surprisingly poignant moments. For its legions of fans, The Big Bang Theory has affirmed that loving science and superheroes, being adorably awkward, and valuing friendship above all else is not just acceptable but entirely wonderful.
The Big Bang Theory is a series categorized as a currently airing. Spanning 12 seasons with a total of 280 episodes, the show debuted on 2007. The series has earned a mostly positive reviews from both critics and viewers. The IMDb score stands at 8.2.
How to Watch The Big Bang Theory
How can I watch The Big Bang Theory online? The Big Bang Theory is available on CBS with seasons and full episodes. You can also watch The Big Bang Theory on demand at Max, Amazon Prime, Netflix, Apple TV, Amazon, Google Play, Microsoft Movies & TV, Vudu, Sling online.
Cast
Johnny Galecki, Jim Parsons, Kaley Cuoco, Simon Helberg, Kunal Nayyar, Melissa Rauch, Mayim Bialik, Sara Gilbert, Aarti Mann, Kevin Sussman, Carol Ann Susi, John Ross Bowie, Alice Amter, Kate Micucci, Bob Newhart

Stream shows like The Big Bang Theory