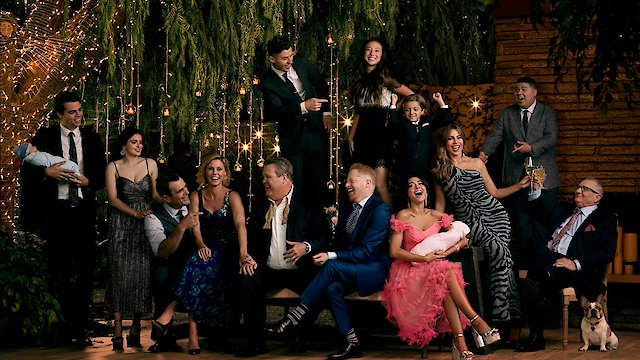 Where to Watch Modern Family
The entire family discovers saying goodbye is much harder than it seems.
Watch Modern Family Season 11 Episode 18 Now
In part 1 of the series finale, Mitchell and Cam settle in on their new normal, and Phil and Claire decide that one of the kids needs to move out in order to take control of the house again. Meanwhile, as Gloria becomes more successful at work, she notices Jay, Manny and Joe don't seem to need her as much.
Watch Modern Family Season 11 Episode 17 Now
Mitchell is having a hard time letting go of his old life and Gloria steps in to help him say goodbye. Meanwhile, Haley, Luke and Alex decide to throw a party at the Dunphy house when Claire and Phil leave for a trip, and Dylan's mom takes the twins for the night.
Watch Modern Family Season 11 Episode 16 Now
Claire has landed an interview for her dream job and is thwarted on her way to the interview by Phil's tricky staircase. Meanwhile, Cam and Mitch debate the pros and cons of adopting another baby after unexpectedly receiving a call from their adoption agency.
Watch Modern Family Season 11 Episode 15 Now
Phil and Claire take Haley and Dylan to dinner to reassure them they are not bad parents. While out to dinner, they run into Mitch and Cam who are chaperoning Lily's first date, as well as Jay and Gloria after attending Joe's school play.
Watch Modern Family Season 11 Episode 14 Now
In one last family trip, they head to Paris so Jay can accept a lifetime achievement award for his work in the closet industry. However, his old nemesis, Earl Chambers, finds a way to haunt him.
Watch Modern Family Season 11 Episode 13 Now
Mitchell learns a valuable life lesson when Murray, a former resident of the house, shows up unexpectedly. Meanwhile, the Dunphy's old neighbor-turned-tech-titan, Kenneth, comes to visit with a big surprise for Phil.
Watch Modern Family Season 11 Episode 12 Now
Phil pays a visit to his dad to make sure he is ok after hearing some concerning news about him. Meanwhile, Jay gives Claire and Mitch a bunch of their old childhood memorabilia that triggers them to reevaluate a long-held story about their first family vacation.
Watch Modern Family Season 11 Episode 11 Now
Alex's new company is putting her up at a new luxury apartment with full amenities and a list of high-profile residents that the family is eager to take advantage of, without her knowing. Phil is on a mission to review the restaurant's famous sliders for his food blog, while Mitch and Cam sneak in separately to meet its most famous resident, David Beckham.
Watch Modern Family Season 11 Episode 10 Now
Cameron is hoping to keep everyone happy for their annual Christmas dinner as he hides and prepares for his big interview for a head coaching position out of state. Meanwhile, Haley is excited to finally be reunited with wine; and Mitchell is suspicious of Cam's holiday trip to visit his family in Missouri.
Watch Modern Family Season 11 Episode 9 Now
The Dunphy house is bursting at the seams when Dylan's hippie mom moves in and Claire's lonely stepdad, Jerry, wants to pay them a visit.
Watch Modern Family Season 11 Episode 8 Now
Cameron and Mitchell's friends mistakenly assume they have split up and have definitely chosen a side, and Haley attempts to cook Thanksgiving dinner as a thank you for Claire and Phil's support with the twins. Meanwhile, Jay invites Phil and Dylan out to fly his model plane, and Phil thinks this is his chance to reclaim his dignity after their first outing 10 years ago went so wrong.
Watch Modern Family Season 11 Episode 7 Now
Gloria is using her alone time with the twins as an opportunity to secretly baptize them before Haley and Dylan get home. Meanwhile, Claire is still dealing with the fallout from the smart closet fiasco, and Cam is at war with his school's mascot who is threatening his chance at securing a new college coaching job.
Watch Modern Family Season 11 Episode 6 Now
Phil is determined to finally scare Claire on Halloween. Meanwhile, for the first time, Gloria is feeling self-conscious about her age when someone correctly assumes she is Jay's wife; and Mitch and Cam head to the WeHo Halloween Carnival after Lily decides to go to her first Halloween party alone
Watch Modern Family Season 11 Episode 5 Now
Mitch and Cam help Lily overcome her insecurities about wearing a bathing suit to a pool party but discover their own. Meanwhile, now that Gloria's new internship is taking up so much of her time, Jay is feeling particularly neglected.
Watch Modern Family Season 11 Episode 4 Now
Phil, Claire, Alex and Luke love having the twins around, but taking care of them is exhausting! However, when they realize the babies might help them with a few things on their to-do lists, they offer to give Haley the day off .
Watch Modern Family Season 11 Episode 3 Now
Claire needs to get everyone out of the house before they make her look bad in front of a reporter from an important women's business magazine. Meanwhile, Jay invites Manny to a little wine tasting in an attempt to spend some quality time together.
Watch Modern Family Season 11 Episode 2 Now
Haley is determined to follow the advice in her parenting books with the twins, but Phil and Claire think their old methods are better. Meanwhile, Manny is set to direct Jay's dog bed commercial in the hopes of winning his ex-girlfriend back.
Watch Modern Family Season 11 Episode 1 Now
Exploring the 11-year run of the iconic series, from the writing and casting of the pilot, all the way up to the final table read; exclusive interviews and reflections with the cast and crew.
Watch Modern Family Season 11 Episode 199 Now

Modern Family is a critically acclaimed mockumentary-style sitcom that aired on ABC from 2009 to 2020. The program explores the different types of modern families through the prism of three interconnected families located in suburban Los Angeles. At the helm of the first family is Jay Pritchett, played by Ed O'Neill. He represents the traditional patriarch archetype, but this conception is subverted by his marriage to the much younger, vivacious and passionate Gloria Pritchett, played by Sofía Vergara, and his stepson, Manny (Rico Rodriguez), who possesses a romantic, old-world charm that belies his young age. The second family unit focuses on Claire Dunphy, née Pritchett, played by Julie Bowen, and her husband, Phil Dunphy, played by Ty Burrell. Together, they navigate the trials and tribulations of suburban parenthood with their three wildly different kids. The endearing but gaffe-prone Phil, a real estate agent, strives to maintain a "cool dad" image while trying to handle family chaos. Overachieving Claire is a household drill sergeant always aiming for the perfect balance in parenting their three children; Haley (Sarah Hyland), a popular and carefree young adult who struggles to find her path; neurotic academic overachiever, Alex (Ariel Winter); and the youngest Luke (Nolan Gould), quirky and clueless. Lastly, there's Mitchell Pritchett, Jay's son, played by Jesse Tyler Ferguson, and his partner, Cameron Tucker, played by Eric Stonestreet. This family unit provides a humorous window into the life of same-sex parents raising an adopted Vietnamese daughter, Lily. Cameron and Mitchell's love story is full of affection and gentle rivalry, with Cameron's flamboyance and theatrical nature often contrasted with Mitchell's stoic and slightly uptight persona. The brilliance of Modern Family lies in how it interweaves these three very different family stories together, using the mockumentary style to add an extra layer of realism and relatability. Viewers are taken on a roller-coaster ride of emotions, all the while, gaining insight into societal changes in family dynamics in the modern world. The situations the families find themselves in run the gamut from the trivial, like dealing with the school carpool line, to the extraordinary, like adopting a child from overseas. Yet, in each of these situations, the families find a way to come together, often in the hilarious fashion that has become a trademark of the program. Modern Family presents an unfiltered portrayal of familial relationships fabulously woven into the humor and decoded in the funniest yet authentic way. The contrasting personalities within the families provide an endless source of comedy, underlined by the warm-hearted reconciliation and understanding by the end of each episode. The show mirrors realistic family dynamics and interactions, providing a hilarious, touching, and at times, poignant representation of what it truly means to be a family in the modern era. The sitcom's core premise emphasizes that while our family may drive us crazy, they're undeniably a source of strength, love, and the odd yet endearing humor. Modern Family boasts of an incredibly strong ensemble cast fronted by the likes of Ty Burrell, Sarah Hyland, Jesse Tyler Ferguson, and Sofía Vergara. Bowen, O'Neill, Vergara, Burrell, Ferguson, and Stonestreet, have been hailed for their incredible performances, and the show has enjoyed a massively successful 11-season run, bagging several industry awards, including multiple Primetime Emmy Awards for Outstanding Comedy Series. In essence, Modern Family bent conventional sitcom tropes and carefully tackled numerous contemporary issues—infusing them with humor and warmth—to paint the shifting landscape of the American family. Furthermore, its unique storytelling style, combined with an exceptional and diverse cast brings multiple dimensions to the narrative, making the series a hallmark of exemplarity in television's modern era. In conclusion, Modern Family, with its compelling narrative structure, reflective humor and authentically flawed yet lovable characters, is a sitcom that expertly encapsulates the essence of an ever-evolving modern-day family.
Modern Family is a series categorized as a currently airing. Spanning 11 seasons with a total of 251 episodes, the show debuted on 2009. The series has earned a mostly positive reviews from both critics and viewers. The IMDb score stands at 8.5.
How to Watch Modern Family
How can I watch Modern Family online? Modern Family is available on ABC with seasons and full episodes. You can also watch Modern Family on demand at Peacock Premium, Apple TV, Amazon, Hulu Plus, ABC, Google Play, Microsoft Movies & TV, Vudu online.
Cast
Ed O'Neill, Sofija Vergara, Ty Burrell, Jesse Tyler Ferguson, Julie Bowen, Rico Rodriguez, Eric Stonestreet, Ariel Winter, Nolan Gould, Ella Hiller, Jaden Hiller, Aubrey Anderson-Emmons, Reid Ewing, Nathan Lane, Sarah Hyland

Stream shows like Modern Family