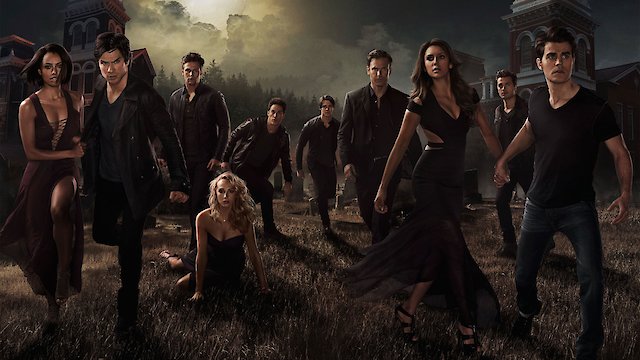 Where to Watch The Vampire Diaries
In the series finale, Stefan and Damon fight their greatest enemy in a final battle to save Mystic Falls.
Watch The Vampire Diaries Season 8 Episode 16 Now
15
We're Planning a June Wedding
A shotgun wedding is planned so that Damon and Stefan can lure a dangerous enemy out into the open. This looming threat puts the fate of Mystic Falls in eminent danger and must be destroyed.
Watch The Vampire Diaries Season 8 Episode 15 Now
14
It's Been a Hell of a Ride
Damon and Stefan team up against Cade in effort to save Elena's casket. Meanwhile, Caroline and Alaric address their daughters' burgeoning magical powers.
Watch The Vampire Diaries Season 8 Episode 14 Now
13
The Lies Will Catch Up With You
Damon and Alaric are met by an old enemy after they obtain a weapon that could destroy Cade. Stefan is held captive by an unexpected acquaintance and must expose a dark secret from his past.
Watch The Vampire Diaries Season 8 Episode 13 Now
In order to save Stefan's soul, Damon makes a deal with Cade to retrieve the Maxwell journal. Alaric and Matt refuse to hand the journal over as it may contain the key to destroying Cade.
Watch The Vampire Diaries Season 8 Episode 12 Now
11
You Made a Choice to Be Good
Cade returns to Mystic Falls and offers Damon and Stefan additional assignments, each with inconceivable consequences. Despite mounting tension in their friendship, Caroline and Matt do their best to protect the town's residents from Cade's appetite for their souls.
Watch The Vampire Diaries Season 8 Episode 11 Now
Sybil seeks vengeance on Damon by putting him in a catatonic state. Caroline and Bonnie enter Damon's mind and encounter familiar faces from the past, only to discover Stefan is the key to Damon's fate.
Watch The Vampire Diaries Season 8 Episode 10 Now
9
The Simple Intimacy of the Near Touch
Sybil seeks the help of Stefan and Damon in her search of the historical artifact in Mystic Falls. Bonnie returns from Paris wearing a vile of Enzo's blood, making Caroline doubt she will become a vampire.
Watch The Vampire Diaries Season 8 Episode 9 Now
8
We Have History Together
In their search for their next victim, Stefan and Damon attend an anger management support group. Sybil is still alive and using a group of high school students to manipulate Caroline.
Watch The Vampire Diaries Season 8 Episode 8 Now
7
The Next Time I Hurt Somebody, It Could Be You
In the aftermath of his interaction with Cade, Stefan is determined to have a perfect Christmas Eve with Caroline. However, their dinner is anything but perfect.
Watch The Vampire Diaries Season 8 Episode 7 Now
6
Detoured On Some Random Backwoods Path to Hell
When her children become the focus of the Siren's latest plan, Caroline is determined to ensure the safety of her family.
Watch The Vampire Diaries Season 8 Episode 6 Now
5
Coming Home Was A Mistake
Damon's s latest actions prove he may have spiraled completely out of control. Unwilling to give up on his brother, Stefan is faced with a choice that will change their relationship forever.
Watch The Vampire Diaries Season 8 Episode 5 Now
In an effort to find a mysterious artifact, Damon travels to Texas where a violent encounter with Peter Maxwell leads to an unexpected revelation. Meanwhile, after gaining the upper hand in their fight to save Damon and Enzo, Stefan and Alaric team up and uncover the origins of the mysterious force they're up against.
Watch The Vampire Diaries Season 8 Episode 4 Now
3
You Decided That I Was Worth Saving
As Enzo continues to fight the control over him, Bonnie faces a major dilemma. At the Armory, Alaric researches a mysterious artifact that he hopes will help in their fight to get Damon and Enzo back.
Watch The Vampire Diaries Season 8 Episode 3 Now
Upon their discovery that someone from Stefan's past may be Damon and Enzo's next target, Stefan, Bonnie and Caroline head to North Carolina. There, Bonnie takes extreme measures in an attempt to break Enzo free of whatever has control over him.
Watch The Vampire Diaries Season 8 Episode 2 Now
In the eighth season premiere, it's been months since Damon and Enzo mysteriously vanished from the Armory vault. Stefan has exhausted his search, while Bonnie's hope that they will be found has diminished.
Watch The Vampire Diaries Season 8 Episode 1 Now

The Vampire Diaries is an American supernatural drama series aired by The CW from 2009 to 2017. It is based on the bestselling book series of the same name written by L.J. Smith. The show boasts an ensemble cast that includes Paul Wesley, Ian Somerhalder, Nina Dobrev, and many others who brought life to the world of Mystic Falls, Virginia. The show primarily revolves around the characters of Elena Gilbert (Nina Dobrev), Stefan Salvatore (Paul Wesley), and Damon Salvatore (Ian Somerhalder). Elena is a high school cheerleader who falls in love with vampire Stefan Salvatore shortly after the death of her parents. Throughout the series, she becomes entangled in a love triangle between Stefan and his older brother, Damon, two vampire brothers with a long and bitter history. Paul Wesley shines as Stefan Salvatore, a benevolent vampire struggling with his nature, trying to live a peaceful and 'human-like' life. He falls in love with mortal Elena and grapples with the ups and downs of their relationship, intensified by his inherent vampiric instincts. His older brother, Damon Salvatore, played by Ian Somerhalder, is the opposite - a reckless and ruthless vampire with a penchant for chaos who is also surprisingly complex, carrying a deeply rooted pain which frequently surfaces. Nina Dobrev effortlessly transitions from playing the human Elena to portraying a dual role as Katherine Pierce, a ruthless vampire from the brothers' past who spells trouble for Mystic Falls. This layered performance adds another dimension to the series, increasing the stakes and the drama. The extended ensemble cast, including Steven R. McQueen, Sara Canning, Kat Graham, Candice King, Zach Roerig, Kayla Ewell, Michael Trevino, Matthew Davis, Joseph Morgan, and Michael Malarkey play pivotal and gripping roles. Each character transports the viewer into their life and struggles, holding their own amidst the heavy storyline of the main characters. There's the quirky and resourceful witch Bonnie Bennett (Kat Graham), Caroline Forbes (Candice King) who undergoes a profound character transformation, the troubled teen turned werewolf Tyler Lockwood (Michael Trevino), and many more. Joseph Morgan as Klaus Mikaelson, an original vampire/werewolf hybrid, is a standout. His cunning, unfeeling charisma is terrifying and magnetic. His character brought a new level of tension to the series, which later led to a spin-off series, The Originals. The Vampire Diaries goes beyond the common trope of a teenage supernatural drama. It incorporates a compelling mix of romance, horror, drama, suspense, and supernatural elements. The overarching narrative delves into the rich history of the town of Mystic Falls, personal histories of the Salvatore brothers, and the complex relationships between humans, vampires, werewolves, witches, amongst others. The show's strength lies in its ability to balance these elements. Fast-paced and packed with plot twists and turns, it takes the audience on a thrilling journey. The powerful emotional depth in the storylines and relationships, combined with high-stakes supernatural drama, makes it both a teen drama and a mature exploration of life, death, love, and what it means to be human. The Vampire Diaries is richly cinematic, with a captivating atmospheric style, consistent dark tones, and an brilliant soundtrack that lent a particular depth to the narrative. From its picturesque setting of a seemingly typical small town with a mysterious underbelly to the frighteningly beautiful depiction of supernatural beings, it's a visual feast. The series delighted audiences for eight seasons, continuing to keep them on the edge of their seats with its unexpected plot twists and explosive season finales. Throughout its journey, The Vampire Diaries successfully managed to reinvent itself, introducing new characters and narratives that only enriched its captivating mythos. On the whole, The Vampire Diaries is a compelling and multi-dimensional TV series that weaves a bewitching tale of love, loss, camaraderie, and the supernatural. Its strength lies in its storytelling, complex characters, compelling chemistry, and well-executed supernatural elements. It remains a touchstone of supernatural drama, making it a show that's worth sinking your teeth into. Whether you're a fan of supernatural drama, a lover of complicated love triangles, or a sucker for thrilling sequences, The Vampire Diaries proves to be an immersive experience that draws viewers into its spellbinding world.
The Vampire Diaries is a series categorized as a currently airing. Spanning 8 seasons with a total of 172 episodes, the show debuted on 2009. The series has earned a moderate reviews from both critics and viewers. The IMDb score stands at 7.7.
How to Watch The Vampire Diaries
How can I watch The Vampire Diaries online? The Vampire Diaries is available on The CW with seasons and full episodes. You can also watch The Vampire Diaries on demand at Max, Amazon Prime, Netflix, Peacock Premium, Apple TV, Amazon, Google Play, Microsoft Movies & TV, Vudu online.
Genres
Drama, Science Fiction, Fantasy
Cast
Nina Dobrev, Paul Wesley, Ian Somerhalder, Steven R. McQueen, Sara Canning, Kat Graham, Candice King, Zach Roerig, Michael Trevino, Matthew Davis, Joseph Morgan

Similar Shows like The Vampire Diaries