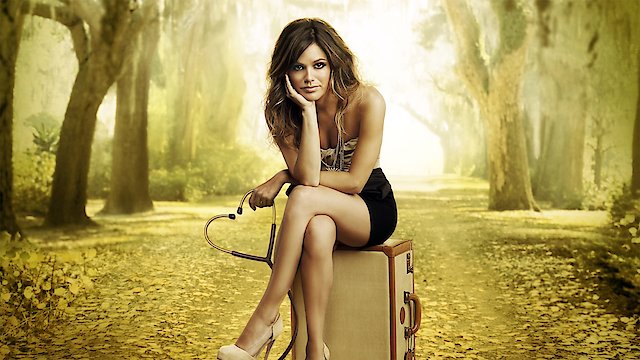 Where to Watch Hart of Dixie
Zoe reaches a conclusion and Wade tries to prepare before the birth of the baby.
Watch Hart of Dixie Season 4 Episode 10 Now
Wade and Zoe have opposing opinions about marriage. George receives a potentially life-changing offer.
Watch Hart of Dixie Season 4 Episode 9 Now
Zoe and Wade search for an heirloom to pass down to their offspring.
Watch Hart of Dixie Season 4 Episode 8 Now
Zoe gets upset when she sees Wade flirt with a few ladies, so she forces him to change his ways. Needing some guidance, Wade turns to Lavon for help, but soon finds himself in even worse trouble.
Watch Hart of Dixie Season 4 Episode 7 Now
Zoe and Wade are not ready to be parents. Brick has a startling revelation.
Watch Hart of Dixie Season 4 Episode 6 Now
Wade tries to attract customers to the Rammer Jammer with a surprise musical performance.
Watch Hart of Dixie Season 4 Episode 5 Now
Lavon plans a talent show. Wade and Zoe are found in a questionable situation.
Watch Hart of Dixie Season 4 Episode 4 Now
Wade and Zoe finally make headway after weeks of relationship issues.
Watch Hart of Dixie Season 4 Episode 3 Now
Confused by Zoe's efforts to reconcile, Wade seeks advice from Lemon.
Watch Hart of Dixie Season 4 Episode 2 Now
In the fourth season premiere, Wade fails to pick up on Zoe's romantic advances. Meanwhile, George and Lavon both vie for Lemon's attention.
Watch Hart of Dixie Season 4 Episode 1 Now

Hart of Dixie is an American comedy-drama television series that aired on The CW from 2011 to 2015. The central character in this delightful series is Dr. Zoe Hart, played by Rachel Bilson, best known from her role in the hit TV show "The O.C.". The series is a heartwarming tale of the personal and professional journey of Dr. Hart as she navigates through a cultural shock, rural living, commitment to her medical profession and intriguing relationships. It is a captivating blend of comedy, drama, and romance, offering plenty of emotion and feel-good moments. Dr. Zoe Hart is a fast-paced New Yorker, a medical school graduate at the top of her class who dreams of following in her father's footsteps and becoming a cardio-thoracic surgeon. But her dreams take a detour when she is not offered a desired fellowship. Instead, she is offered a general practitioner role in the tiny, rural town of Bluebell, Alabama, by a stranger. Initially, she dismisses the offer, but with no other options on the table, a desperate Zoe decides to take up the opportunity and moves to Bluebell. The series follows Zoe's journey as she proceeds from being a fish out of water to gradually adjusting to the idiosyncrasies of small-town life. Bluebell is as Southern as it gets, with gators in the water, belles throwing tea parties, and a mayor who is also the town DJ. The town has a flavor and energy of its own with charming traditions and eccentric residents that Zoe must learn to navigate. The show introduces several interesting characters who add charm to the small-town setting. There's Lemon Breeland (Jaime King), the Southern Belle and queen bee of Bluebell, with whom Zoe locks horns right away. Lemon is engaged to George Tucker (Scott Porter), a local lawyer who Zoe shares a connection with. Then there's Wade Kinsella (Wilson Bethel), the roguish next-door neighbor who frustrates and intrigues Zoe in equal doses. As conflicts unfold, romance blooms and bonds are built, Zoe learns that her big-city sensibilities don't quite fit in Bluebell. However, being a doctor she builds a unique bond with the eclectic mix of characters in the town. Despite the challenges and culture shock, Zoe's determination to build a life in Bluebell forms the heart of the series. Her transition from a cold and dismissive personality to a warm-hearted community-lover is endearing. Throughout the show, the creators draw an intriguing comparison between Zoe's tough, work-centric New Yorker background and the relaxed, communal lifestyle of Alabama. The series represents a fascinating concoction of two different worlds colliding, creating an amusing clash of ideologies and traditions. It is this fusion of personalities, backgrounds and, lifestyles that makes this series an engaging watch. The tone of the series is light and humorous, filled with quirkiness and wholesomeness. Its charm lies in its simplicity and the basic human need for connection and belonging. Moreover, Rachel Bilson's performance as Dr. Zoe Hart is the backbone of the show, her portrayal of a vulnerable, resilient, and headstrong woman who strives to adapt to an unaccustomed lifestyle, is commendable and relatable. Furthermore, the chemistry among the cast is undeniable, adding a layer of authenticity to the overall show. The beautiful Southern landscape with the quaint architecture of Bluebell, forms a visually appealing backdrop. The scenic beauty is punctuated by the delightful soundtrack that seamlessly merges with the narrative and enhances the Southern vibe of the show. Hart of Dixie offers a break from intense, high-drama series and brings on the screen a delightful combination of romance, comedy, and a sense of community, wrapped up in the picturesque charm of a Southern town. It is a heartwarming, feel-good drama that weaves a magical tale of growth, romance and self-discovery in an enchanting small-town setting. The series delivers a poignant message about the profound value of community, friendship, and love while reminding us that home isn't a place, but where the heart is.
Hart of Dixie is a series categorized as a canceled/ended. Spanning 4 seasons with a total of 76 episodes, the show debuted on 2011. The series has earned a moderate reviews from both critics and viewers. The IMDb score stands at 7.7.
How to Watch Hart of Dixie
How can I watch Hart of Dixie online? Hart of Dixie is available on The CW with seasons and full episodes. You can also watch Hart of Dixie on demand at Amazon Prime, Apple TV online.
Cast
Tim Matheson, Cress Williams, Jaime King, Scott Porter, Wilson Bethel, Kaitlyn Black

Stream shows like Hart of Dixie