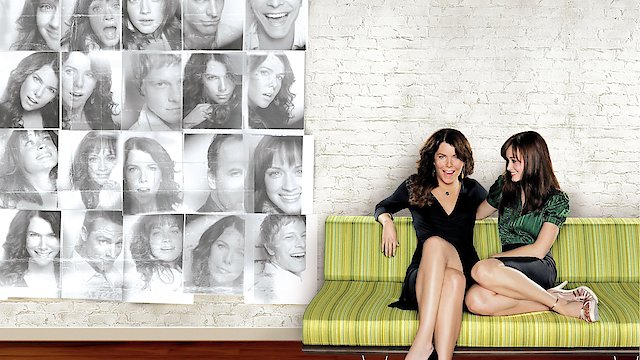 Where to Watch Gilmore Girls
As Rory rejoices after landing her dream job, Luke gets the residents of Stars Hollow together to throw Rory a grand graduation party. Emily and Richard are in attendance and listen teary-eyed with the rest of the guests as Rory gives a speech thanking Lorelai and everyone else for their support.
Watch Gilmore Girls Season 7 Episode 22 Now
The day before Rory's graduation from Yale, Emily and Richard throw Rory a party and during which they perform a song in her honor. During the party, Lorelai and Christopher come face-to-face for the first time following their separation and thrilled to find that they can still be friends despite their recent rocky relationship.
Watch Gilmore Girls Season 7 Episode 21 Now
With graduation rapidly approaching, Rory begins to become more and more stressed about her future. Lorelai tries to cheer her up by planning the perfect day of shopping and eating.
Watch Gilmore Girls Season 7 Episode 20 Now
19
It's Just Like Riding a Bike
Lorelai goes to Luke's for breakfast for the first time since their engagement break-up, but they both soon find that it's awkward to be around each other after everything that has happened. Later, when Lorelai's Jeep dies, she has Luke help her shop for a new car.
Watch Gilmore Girls Season 7 Episode 19 Now
As the citizens of Stars Hollow prepare for the annual Spring Fling festival, Rory decides to bring Logan home with her and takes him around the town. Lorelai, seeing how close the two have become, begins to worry that Logan's immaturity and irresponsibility make him someone that Rory shouldn't be with.
Watch Gilmore Girls Season 7 Episode 18 Now
Lorelai takes a road trip to North Carolina to attend Mia's wedding, and after Rory has a fight with Logan over his immaturity, she agrees to go with. Emily invites herself on the road trip to get away from Richard, who is driving her crazy as he continues to recover from his heart attack.
Watch Gilmore Girls Season 7 Episode 17 Now
16
Will You Be My Lorelai Gilmore?
While planning a baby shower for Lane, Rory gets an unexpected call from the The New York Times offering her an interview. Rory scrambles to prepare for the interview leaving Lorelai to take over baby shower preparations.
Watch Gilmore Girls Season 7 Episode 16 Now
15
I'm a Kayak, Hear Me Roar
At Friday night dinner, Lorelai finally decides to tell her parents that her marriage to Christopher has fallen apart, but doesn't get a chance to when an argument breaks out over Emily's new healthy, no-alcohol meals to help Richard recover from his heart attack. Lorelai gets Sookie to cook healthy and tasteful meals for Richard and Lorelai helps Emily with Richard's various business affairs.
Watch Gilmore Girls Season 7 Episode 15 Now
Days after his bypass, Richard begins the slow road to recovery and the Gilmores attempt to return to normalcy. Rory goes back to Yale and finds that her grandfather's class is now being taught by a young, attractive professor who catches Rory off-guard with his charm.
Watch Gilmore Girls Season 7 Episode 14 Now
13
I'd Rather Be In Philadelphia
Richard is admitted to the hospital and Lorelai, Rory and Emily nervously wait for news on his condition. Logan hears about what's happened and borrows a helicopter in order to be there for Rory.
Watch Gilmore Girls Season 7 Episode 13 Now
Lorelai confronts Jackson after she notices that Sookie's behavior has been off recently. Luke and Anna square off at a custody hearing regarding April.
Watch Gilmore Girls Season 7 Episode 12 Now
After spending her holiday break in London, Rory returns to the states. Lorelai, disappointed that she didn't get to spend Christmas with Rory, decides to throw a Christmas after Christmas" celebration as a family with the works -- a big, decorated tree, decorations, and shopping.
Watch Gilmore Girls Season 7 Episode 11 Now
Lorelai and Luke share a touching moment together when Luke brings by Liz's new baby for Lorelai to meet. When Christopher witnesses their moment, he begins to think that Lorelai isn't whole-heartedly in their marriage.
Watch Gilmore Girls Season 7 Episode 10 Now
Lorelai starts to avoid Christopher during her daily life in Stars Hollow, leading her to admit to him that she's worried her friends and neighbors won't accept him. Upon hearing this, Christopher tries to bond with the people of Stars Hollow, but his efforts end up bringing the town knit-a-thon to an early end.
Watch Gilmore Girls Season 7 Episode 9 Now
8
Introducing Lorelai Planetarium
Lorelai has Rory over for dinner to tell her that she and her father got married while they were in Paris. While Christopher is in the room, Rory pretends that she's thrilled about the marriage, but later confesses to Lorelai how angry she actually is.
Watch Gilmore Girls Season 7 Episode 8 Now
Christopher and Lorelai travel to Paris to take Gigi to visit Sherry and have a romantic and wonderful time together enjoying the sights of Paris as well as each other. Meanwhile back in Connecticut, Rory nears the end of her time as Editor-in-Chief of the Yale Daily News and begins to stress out when the reality of her uncertain future catches up to her.
Watch Gilmore Girls Season 7 Episode 7 Now
Christopher convinces Lorelai to accompany him to Parents' Day at Yale to visit Rory, and Lorelai is surprised to find that Emily and Richard are there as well. At Yale, Christopher tries prove himself as a "cool dad" by inviting the Yale Daily News staff to an expensive lunch.
Watch Gilmore Girls Season 7 Episode 6 Now
Lorelai brings Christopher to Friday night dinner, much to Richard and Emily's delight. However, when Christopher tells everyone that Sherry sent him a letter about how much she regrets leaving him and Gigi and how she wants Gigi to come visit her in Paris, Christopher and Lorelai get into an argument during dinner.
Watch Gilmore Girls Season 7 Episode 5 Now
4
'S Wonderful, 'S Marvelous
As Lorelai and Christopher begin to date, Lorelai finds it difficult to commit to the relationship wholeheartedly. Seeing this, Christopher plans romantic dates for Lorelai in order to win her heart.
Watch Gilmore Girls Season 7 Episode 4 Now
3
Lorelai's First Cotillion
Lorelai breaks the news of her break-up with Luke to Emily and Richard and has a startling realization about her emotional life when her parents have no reaction whatsoever. Later, Michel convinces Lorelai to attend a cotillion dance that Emily has planned and while there, Lorelai has a chance to reflect on her childhood, seeing that some things her parents made her do weren't all that bad.
Watch Gilmore Girls Season 7 Episode 3 Now
2
That's What You Get, Folks, For Makin' Whoopee
When Logan has to cancel his trip to Asia with Rory, Lorelai tries to cheer up Rory by transforming her house into an Asia-themed get-away. Lane returns from her honeymoon with Zach, which didn't go as well as planned.
Watch Gilmore Girls Season 7 Episode 2 Now
Lorelai wakes up the morning after her night with Christopher. Though Christopher begs her to stay, Lorelai makes a quick exit and heads home.
Watch Gilmore Girls Season 7 Episode 1 Now

Gilmore Girls is a much-loved American comedy-drama series that first aired on The WB (now The CW) from 2000 to 2007. The show focuses on the unique relationship between single mother Lorelai Gilmore (Lauren Graham) and her teenage daughter, nicknamed Rory (Alexis Bledel). It takes place in the quirky, idyllic, Connecticut town of Stars Hollow, which is filled with colorful characters and whimsical charm, making it a pivotal component of the series itself. The narrative is anchored by the tight-knit and often humorous dynamics between Lorelai and Rory, which is less a typical mother-daughter relationship and more like a bond between best friends - a witty banter, shared interests, and mutual respect define their camaraderie right from the start. This remarkable relationship between the two strong female protagonists forms the backbone of the series, and the excellent portrayal by the lead actresses makes it even more appealing to audiences. Lauren Graham, in her role as Lorelai, exudes strength and independence, coupled with vulnerability and an unyielding determination to provide Rory, a brilliant and academically driven teenager, with the best possible life - a life far different from her own privileged yet stifled upbringing. Alexis Bledel, as Rory, complements her on-screen mother with her youthful charm, intelligence, and a complex mix of ambition and naivety. The cast includes a wide array of actors who enrich the series with their performances. Melissa McCarthy embodies the character of Sookie St. James, Lorelai's warm-hearted best friend and business partner, with panache. Keiko Agena plays Rory's best friend, Lane Kim, exploring the challenge of balancing deeply ingrained cultural values and teenage rebellion. Scott Patterson rounds out the main cast as Luke Danes, the gruff yet well-meaning diner owner, who shares a complicated relationship with Lorelai. The supporting cast is just as engaging. Kelly Bishop and Edward Herrmann portray Lorelai's wealthy and often reserved parents, Emily and Richard Gilmore. Jared Padalecki, Milo Ventimiglia, and Matt Czuchry vividly play Rory's love interests at different stages. Yanic Truesdale, as the snobbish concierge Michel, and Liza Weil as the fiercely competitive Paris Geller, among others, further enrich the narrative. The real strength of Gilmore Girls lies not just in its heartwarming storytelling, but also in its capability to explore grand themes such as love, friendship, ambition, class divide, and generational gaps in a compassionate and humorous way. It dives into issues about societal expectations and the impossible pursuit of perfection, and it invites audiences to the realm of introspection rather than judgment. The show captures the essence of human relationships, youthful aspirations, and experiences through intelligent, wittily rapid dialogues, a staple of the show, that demands viewer attention while eliciting their genuine laughter. Creator Amy Sherman-Palladino's scripts are filled with high-brow, pop-cultural references that have garnered an eager, devoted following. Furthermore, Stars Hollow itself is a character in the series. Its vibrant populace and town activities in the show, be it the seasonal carnivals, quirky town meetings or eccentric traditions, render a nostalgic and magical charm that makes this imaginary town extraordinarily endearing to viewers. However, Gilmore Girls is not solely about the idiosyncrasies of a charming small town, appealing characters, or its quick-witted dialogues. At its heart, it's about the complexities of life, the relationships that shape us, the dreams that propel us and the choices we make along the way. It celebrates the highs and lows of parenthood, the bittersweet journey of growing up, and the romance of everyday life. In essence, Gilmore Girls is a slice-of-life series that celebrates womanhood, celebrates family, and celebrates friendship in an earnest, amusing, and refreshing way. Its well-drawn characters, eloquent script, and tender storytelling make it a series worth watching, one that remains relevant to this day and continues to captivate new and returning viewers alike.
Gilmore Girls is a series categorized as a canceled. Spanning 7 seasons with a total of 153 episodes, the show debuted on 2000. The series has earned a mostly positive reviews from both critics and viewers. The IMDb score stands at 8.2.
How to Watch Gilmore Girls
How can I watch Gilmore Girls online? Gilmore Girls is available on The WB with seasons and full episodes. You can also watch Gilmore Girls on demand at Netflix, Apple TV, Amazon, Google Play, Microsoft Movies & TV, Vudu online.
Cast
Lauren Graham, Alexis Bledel, Kelly Bishop, Scott Patterson, Yanic Truesdale, Matt Czuchry, Liza Weil, Milo Ventimiglia, Sean Gunn, Keiko Agena, Rose Abdoo, Melissa McCarthy

Similar Shows like Gilmore Girls