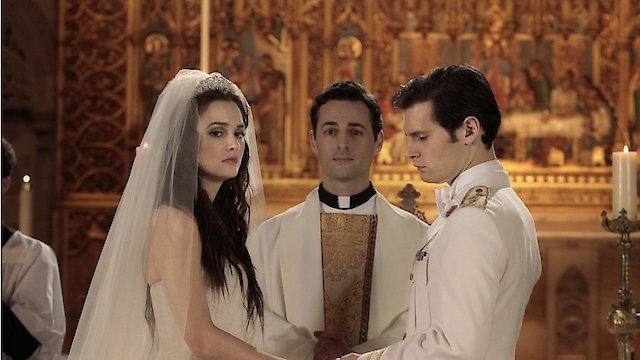 Where to Watch Gossip Girl
11
Gossip Girl Retrospective
The series comes to a close with the stars and executive producers saying goodbye to the Upper East Side with a look back at the series' memorable moments.
Watch Gossip Girl Season 6 Episode 11 Now
10
New York, I Love You XOXO
The series comes to a close when the friends gather for one last soiree, and the shocking identity of Gossip Girl is finally revealed.
Watch Gossip Girl Season 6 Episode 10 Now
Blair, concerned about Chuck's safety, plots with the help of Serena, Georgina and Sage to try to manipulate Bart. Meanwhile, Nate's financial dilemma finally lands him in a place that he never thought he would be.
Watch Gossip Girl Season 6 Episode 9 Now
Serena and Dan decide to host their first Thanksgiving together. Feeling demoralized by his father, Chuck begins spiraling out of control, forcing Blair to find a solution to his problems.
Watch Gossip Girl Season 6 Episode 8 Now
Serena and Dan feel they need to right their wrongs. Blair is desperate to prove herself to her mother as a fashion designer and with Serena's help, comes up with a plan to make her line the "it" look for Sage and her friends.
Watch Gossip Girl Season 6 Episode 7 Now
6
Where the Vile Things Are
Blair anticipates her mother's arrival, but is unprepared for her mother's expectations. Serena volunteers to help Dan find a new place to live, and is caught off guard by her emotions.
Watch Gossip Girl Season 6 Episode 6 Now
Blair must redeem herself and fix the mess she's caused at Waldorf Design's. She hopes to get noticed with an amazing dress at Cotillion however her dress is overshadowed by a shocking revelation that affects everyone.
Watch Gossip Girl Season 6 Episode 5 Now
4
Portrait of a Lady Alexander
Chuck's investigation of his father's dealings lead him to an unlikely source. Serena and Steven reveal their romantic pasts to each other, but are not prepared for the truth.
Watch Gossip Girl Season 6 Episode 4 Now
Blair needs help from an unexpected source to make her first fashion show a success, but as expected, scheming stirs up drama on the runway.
Watch Gossip Girl Season 6 Episode 3 Now
Serena hosts a big gala, Blair prepares to debut her new fashion line and Dan is faced with a moral dilemma.
Watch Gossip Girl Season 6 Episode 2 Now
The sixth season finds Chuck and Blair making a promise that leaves them once again apart; Dan teams up with Georgina to write a scathing tell-all book; Nate decides to take on Gossip Girl; the gang searches for a missing Serena.
Watch Gossip Girl Season 6 Episode 1 Now

Based on the best-selling book series of the same name by Cecily von Ziegesar, Gossip Girl is a teen drama television series that aired on The CW from 2007 to 2012. The series is set in the elite society of the Upper East Side of Manhattan, New York, and was widely recognized for its unique blend of fresh teen angst, opulent wealth, and high-society drama. The series was developed for television by Josh Schwartz and Stephanie Savage, known for their work on other notable teen dramas. Gossip Girl is narrated by an enigmatic, anonymous blogger, the titular "Gossip Girl," voiced by actress Kristen Bell, who shares the private lives and secrets of a group of rich teenagers to the public, through her frequently updated blog. It's this mysterious modern-day gossip column that sets the gears in motion for much of the drama in the series, with characters continuously anxious about who's sharing their intimate details, and how far the ripple effects from these shared secrets can reach. The series primarily focuses on two best friends, Serena van der Woodsen and Blair Waldorf, played by Blake Lively and Leighton Meester, respectively. Serena is characterized as the spontaneous, unpredictable "it-girl" with a wild past, while Blair is portrayed as the queen bee of the Upper East Side, meticulously image-conscious, ambitious, and competitive. These two characters are both adored and envied by their peers, despite the stark contrast in their personalities. Their friendship forms the heart of the series, driving much of the narrative as they navigate through wildly fluctuous relationships, school issues, and family dramas. Complementing Serena and Blair is a diverse cast of characters that greatly adds to the tapestry of this upper-class society. Nate Archibald (Chace Crawford), the dreamy love interest with his own share of familial dilemmas; Chuck Bass (Ed Westwick), the mischievous bad boy with a millionaire's charm; Dan Humphrey (Penn Badgley), the aspiring writer from Brooklyn, who incessantly tries to fit into this unfamiliar world of wealth - embody a spectrum of contrasting lifestyles and perspectives. Their intertwining relationships create a complex character dynamic that keeps the viewers constantly engaged. As the series progresses, it explores the group's transition from the protected bubble of high school to the real world, delving into their collegiate lives and then eventually to their early careers. It also scrutinizes their growth from sheltered teenagers to young adults, navigating through the highs and lows of their relationships, career aspirations, and above all, their continuous and highly publicized wrestling with their individual identities. Gossip Girl beautifully captures the tension between the image of an extravagant lifestyle and its inability to shield from life's realities, which is heightened by the constant voyeuristic pressure of the unseen Gossip Girl. Designers' wardrobes, majestic settings, prestigious schools, and high-profile parties openly highlight the privileges of this high society, yet the characters' composure crumbles under the spotlight, revealing their insecurities, mistakes, and the conflicts they face. The series gained significant popularity due to its fashionable outfits, contemporary pop-culture references, and its portrayal of social media usage even before it became a staple in our daily lives. Along with its modern elements, however, complex character development and dramatic story arcs provide a depth that only the best of teen dramas can offer, making Gossip Girl a compelling viewing experience for not only teenagers but also adults. Although Gossip Girl is set in an opulent world of privilege, at its essence, it's a show about relationships and living life under the magnifying glass of a voyeuristic society. It offers a perceptive gaze into the allure and the pitfalls of fame, exposing paradoxes of modern celebrity culture - where privacy is a luxury, and image, more often than not, overpowers reality. It leaves the audience questioning, in a world where your every move is watched, and your every secret is up for public consumption, who can you really trust? In the backdrop of luxury and grandeur, Gossip Girl offers a compelling adaptation of the price of fame and the complexities of youth, a cautionary tale of life in spotlight encased in designer labels, all narrated by an omnipresent blogger, leaving the audience with an emblematic sign-off, "You know you love me, xoxo, Gossip Girl."
Gossip Girl is a series categorized as a canceled. Spanning 6 seasons with a total of 123 episodes, the show debuted on 2007. The series has earned a moderate reviews from both critics and viewers. The IMDb score stands at 7.5.
How to Watch Gossip Girl
How can I watch Gossip Girl online? Gossip Girl is available on The CW with seasons and full episodes. You can also watch Gossip Girl on demand at Amazon Prime, Netflix, Apple TV, Max, Amazon, Google Play, Vudu online.
Cast
Blake Lively, Leighton Meester, Penn Badgley

Stream shows like Gossip Girl