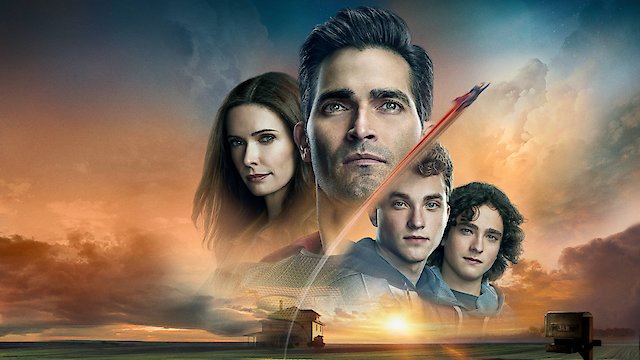 Where to Watch Superman & Lois
13
What Kills You Only Makes You Stronger
All of Smallville comes together to view a meteor shower, Lex Luthor makes his move.
Watch Superman & Lois Season 3 Episode 13 Now
Lois and Clark clash with Jordan over his carelessness around using his powers in public, while Jonathan struggles with Kyle's change in behavior at the firehouse. Meanwhile, Sarah grows frustrated with Lana after she accidentally makes things more complicated with Jordan.
Watch Superman & Lois Season 3 Episode 12 Now
Clark helps Lois prepare for a procedure but must leave the boys with her to help John Henry and General Lane track down the Mannheims. Meanwhile, John Henry and Nat butt heads over her desire to help Matteo and Bruno's plans go awry as Peia condition worsens.
Watch Superman & Lois Season 3 Episode 11 Now
Lois attempts to interview Peia in the hopes of unearthing the truth about an old case, while Clarke struggles to spend quality time with the boys. Meanwhile, Jonathan and Jordan find themselves at a party, where tensions between Sarah and Jordan come to a head.
Watch Superman & Lois Season 3 Episode 10 Now
Superman and John Henry clash over how to handle Bruno Mannheim, while Lois worries over upcoming treatments and confides in Lana about her early courtship with Clark. Meanwhile, Jonathan, Jordan, and Sarah work together to help Natalie deal with the aftermath of meeting Matteo's family.
Watch Superman & Lois Season 3 Episode 9 Now
8
Guess Who's Coming to Dinner
In the wake of learning that Bruno and Peia are married, Clark works to reignite Lois's interest in taking Bruno down; elsewhere, Natalie meets Matteo's parents for the first time, with disastrous consequences. Meanwhile, the Kent boys clash when Jordan interferes with Jonathan's training at the Firehouse, Lana bonds with General Lane over their shared fear of dating again, and Sarah realizes her mom needs a friend.
Watch Superman & Lois Season 3 Episode 8 Now
Lois and Clark dig deeper on Bruno Mannheim, starting with his connections to Hob's Bay Medical Center, while Jonathan and Jordan panic at home over Lois' dire diagnosis.
Watch Superman & Lois Season 3 Episode 7 Now
Clark finds himself in uncharted territory, and Lois bonds with a new friend. Meanwhile, Superman pays Bruno Mannheim a surprise visit.
Watch Superman & Lois Season 3 Episode 6 Now
Clark and General Lane are both having a hard time giving Lois room to make her own decisions. Meanwhile, Lana and Sarah have a run-in with an old friend at the diner.
Watch Superman & Lois Season 3 Episode 5 Now
Lois interrupts an intense conversation between Clark and John Henry. Meanwhile, Kyle tried to run interferrence between Sarah and Lana.
Watch Superman & Lois Season 3 Episode 4 Now
Lois and Chrissy pursue a new lead in the Mannheim investigation against Clark's wishes. Meanwhile, Jonathan, Jordan, and Nat's attempt at a kind gesture is complicated by an unexpected obstacle.
Watch Superman & Lois Season 3 Episode 3 Now
Clark and Chrissy both notice a small crack in Lois' game face. Meanwhile, Sarah and Jordan have an awkward encounter.
Watch Superman & Lois Season 3 Episode 2 Now
An undercover assignment reveals a deadly foe that promises to change the Kent family forever; John Henry is haunted by his doppelgänger's past; Sarah explores what the future holds for her and Jordan; Gen. Samuel Lane reclaims his post.
Watch Superman & Lois Season 3 Episode 1 Now

Superman & Lois is a cutting-edge TV series from The CW, first premiering in 2021. The show revolves around the iconic characters of Clark Kent/Superman and Lois Lane, reimagined for a fresh take within the vast DC Comics universe. The leading roles are portrayed by Tyler Hoechlin and Elizabeth Tulloch, whose captivating performances breathe life into these characters as they navigate through an intricate saga of family dynamics, superhuman responsibilities, and the weight of their own identities. The series takes a sharp turn from the conventional superhero narrative to focus on the duality of life shared by Clark Kent and Lois Lane. While Clark, aka Superman, is as ever the defender of truth and justice, he also struggles to manage his responsibilities as a father and husband. Lois Lane, an award-winning journalist, also balances her career with the demands of being a wife and mother. The plot explores the life of the couple as they move back to Smallville, the rural town where Clark grew up, to give their sons a more grounded upbringing. Tyler Hoechlin shines in the leading role as Clark Kent/Superman. Known for his prior work on projects such as "Teen Wolf," Hoechlin presents a layered portrayal of Superman. This is a Superman who is not only an omnipotent superhero but also a father striving to maintain the balance between these two lives. Hoechlin's portrayal delicately balances Clark's Smallville gentility and Superman's steel-hearted bravery. Elizabeth Tulloch brings an indomitable spirit to the character of Lois Lane. An experienced actress, Tulloch's Lois Lane is intelligent, feisty, and compassionate. She portrays Lane as a strong, independent woman adept at managing her demanding career as well as looking after her family. She stands tall in the face of dangers that come with being associated with Superman and, in many ways, challenges the traditional image of a superhero's love interest. The show's support cast is just as intrinsic to the narrative. Actor Dylan Walsh, known for his roles in "Nip/Tuck" and "Unforgettable," plays Samuel Lane, the father of Lois Lane. Walsh's character is a high-ranking military officer who, despite his often tumultuous relationship with his daughter, has a curious relationship with Superman. Emmanuelle Chriqui from "Entourage" fame is another exciting addition to the cast. She portrays Lana Lang, Clark Kent's first love who is now a loan officer at Smallville Bank. Chriqui's Lana adds a new dynamic to the narrative and the chemistry between her and Hoechlin's Kent adds an interesting layer to their characters. One of the distinct elements about this Superman tale is the focus on the Kent boys, Jonathan and Jordan Kent, played by Jordan Elsass and Alexander Garfin respectively. These characters provide an important perspective on how the tremendous responsibilities carried by their parents affect their normal teen lives. The creators and writers of Superman & Lois have crafted an engaging storyline that delves into the little-seen personal world of Clark Kent and Lois Lane. The series showcases a loving marriage and a realistic portrayal of their family life alongside an intriguing narrative filled with the perils and thrills characteristic of a superhero drama, providing a unique spin on the Superman legend. Wisely using the rich history of the Superman comic books, the TV series flawlessly combines elements of classic storytelling with modern-day issues. It's a superbly crafted family drama that also deals with a superhero's responsibilities. Substantial screen time is given to exploring the family's dynamic and the unique issues they face from concealing Superman's identity from their children as well as the daunting challenge of being world-saving heroes while being normal parents. Visually, the series is a treat, with high-quality special effects and a proficient use of CGI to create thrilling action sequences. The soundtrack, compiled by composer Dan Romer, adds to the atmosphere and the tension of the series. In conclusion, Superman & Lois from The CW is an action-packed, drama-filled series that intelligently balances the scale between high-stakes hero action and heartfelt familial bond. With engaging performances from a skilled cast headed by Tyler Hoechlin and Elizabeth Tulloch, the show offers a fresh take on these beloved characters and draws in viewers of all ages with its layered storytelling.
Superman & Lois is a series categorized as a new series. Spanning 3 seasons with a total of 44 episodes, the show debuted on 2021. The series has earned a moderate reviews from both critics and viewers. The IMDb score stands at 7.8.
How to Watch Superman & Lois
How can I watch Superman & Lois online? Superman & Lois is available on The CW with seasons and full episodes. You can also watch Superman & Lois on demand at Max, Amazon Prime, The CW, CW Seed, Apple TV, Amazon, Google Play, Microsoft Movies & TV, Vudu online.
Genres
Action & Adventure, Drama, Science Fiction
Cast
Tyler Hoechlin, Elizabeth Tulloch, Alex Garfin

Similar Shows like Superman & Lois