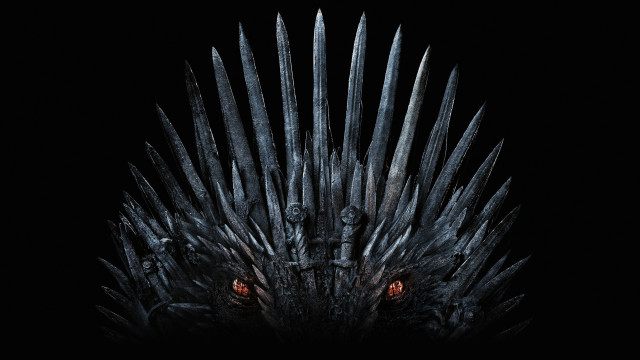 Where to Watch Game of Thrones
Series finale. The fate of the Seven Kingdoms is at stake as the final chapter of Game of Thrones is written.
Watch Game of Thrones Season 8 Episode 6 Now
Daenerys and Cersei weigh their options as an epic conflict looms at Kings Landing.
Watch Game of Thrones Season 8 Episode 5 Now
The Night King finally breaches the Wall alongside a full-grown dragon under his command. New alliances and betrayals determine the fate of everyone in Westeros.
Watch Game of Thrones Season 8 Episode 4 Now
The Night King finally breaches the Wall alongside a full-grown dragon under his command; the new alliances and betrayals will determine the fate of everyone in Westeros.
Watch Game of Thrones Season 8 Episode 3 Now
2
A Knight of the Seven Kingdoms
Jaime argues his case before a skeptical audience.
Watch Game of Thrones Season 8 Episode 2 Now
Season 8 premiere of the award-winning HBO series. Arriving at Winterfell, Jon and Daenerys struggle to unite a divided North.
Watch Game of Thrones Season 8 Episode 1 Now
[HBO] HD. A documentary in conjunction with Game of Thrones' final season.
Watch Game of Thrones Season 8 Episode 101 Now

Game of Thrones is a popular television series that aired on HBO from 2011 to 2019. Created by David Benioff and D.B. Weiss, the show is an adaptation of the best-selling book series "A Song of Ice and Fire" written by George R.R. Martin. Through eight seasons and 73 episodes, Game of Thrones takes the audience into an intricate, epic tale set in the mythical continent of Westeros, and to a lesser extent, Essos. Here, we see various royal families vie for the Iron Throne, the seat of power for the Seven Kingdoms of Westeros. Plots and subplots entwine families, allegiances, love, hate, war, and sorcery. With a vast list of characters and houses, the series introduces us primarily to key noble families such as the honorable House Stark of Winterfell, the wealthy and cunning House Lannister of Casterly Rock, the rebellious House Targaryen - the former ruling dynasty, and many others, each with its ambitions, internal dynamics, and intriguing characters. Each house and character reveal their own distinct complications, secrets, alliances, and conflicts, giving depth and grandeur to the storyline. Game of Thrones is renowned for its complex characters, each immaculately developed displaying a spectrum of human emotions, ambitions, and frailties. From the honorable Eddard 'Ned' Stark, the cunning Cersei Lannister, all the way to the exiled princess Daenerys Targaryen, each character adds a layer of depth and intrigue propelling the narrative drive of the series. Rife with political intrigue, Game of Thrones navigates the backstabbing world of Westeros politics that arguably pledges no loyalty to the idea of a protagonist. Whispers from King's Landing's shadowy corners, and machinations of characters, take the audience through a maze of unexpected plot twists and turns that constantly challenge and subvert expectations, often deviating sharply from traditional narrative norms. In addition to political machinations, the series also blends elements of magic, prophecy, and fantastical creatures like dragons and the ominous, semi-mythical beings known as White Walkers. These add a remarkable touch of fantasy that perfectly juxtaposes the gritty politicking, resulting in a uniquely captivating series that straddles both genres of fantasy and political drama. Moreover, the series is a spectacle of grand sets and stunning locations that create a historical yet fantastical world. From the snow-covered North and the eerie lands beyond the Wall to the sun-drenched cities of the East and the intimidating castles of the Seven Kingdoms, each location forms a crucial part of the narrative, cocooning the story in a realm of mesmerizing visuals. With superb storytelling, Game of Thrones challenges the moral compass of its audience. It consistently raises questions about power, leadership, moral obligations, and the grey areas of morality where good and evil blur. Game of Thrones' compelling narrative is bolstered by its high production values. The series features excellent cinematography and set designs, well-choreographed battle sequences, and top-notch visual effects, particularly manifested in its portrayal of dragons. Equally noteworthy is the iconic theme music and background score by Ramin Djawadi, which complements the mood of the show and has become synonymous with the series. The series garnered wide acclaim and a global fanbase during its run, though the final season elicited mixed reactions from fans and critics. Throughout its eight seasons, it was nominated for numerous awards and held the record for the most Emmy wins for a drama series. In summary, Game of Thrones is a sweeping epic of power, ambition, loyalty, and betrayal set in a world that flawlessly melds realism and fantasy. Its intricate storyline, multi-dimensional characters, and high production values make it one of the unforgettable landmarks of television history and a must-watch for fans of drama and fantasy alike.
Game of Thrones is a series categorized as a returning series. Spanning 8 seasons with a total of 77 episodes, the show debuted on 2011. The series has earned a outstanding reviews from both critics and viewers. The IMDb score stands at 9.2.
How to Watch Game of Thrones
How can I watch Game of Thrones online? Game of Thrones is available on HBO with seasons and full episodes. You can also watch Game of Thrones on demand at Hulu Plus, Max, Amazon Prime, Apple TV, Amazon, Google Play, Microsoft Movies & TV, Vudu online.
Genres
Action & Adventure, Drama, Fantasy, Science Fiction
Cast
Sean Bean, Mark Addy, Nikolaj Coster-Waldau, Michelle Fairley, Lena Headey, Emilia Clarke, Iain Glen, Aidan Gillen, Harry Lloyd, Kit Harington, Richard Madden, Alfie Allen, Isaac Hempstead-Wright, Jack Gleeson, Rory McCann, Peter Dinklage, Jason Momoa, Donald Sumpter, Conleth Hill, Jerome Flynn, James Cosmo, Esme Bianco, Charles Dance, Maisie Williams, Sophie Turner, Carice van Houten, Stephen Dillane, Liam Cunningham, Natalie Dormer, Elyes Gabel, Nonso Anozie, Kate Dickie, Peter Vaughan, Patrick Malahide, Natalia Tena, Julian Glover, Joe Dempsie, Finn Jones, John Bradley-West, Sibel Kekilli, Joseph Mawle, Eugene Simon, Ron Donachie, Oona Chaplin, Gwendoline Christie, Kristian Nairn, Ian McElhinney, Rose Leslie, Art Parkinson, Michael McElhatton, Kristofer Hivju, Michiel Huisman, Roger Ashton-Griffiths, Paola Dionisotti, Hoji Fortuna, Rupert Vansittart, Pedro Pascal, Joseph Gatt, Mark Gatiss, Joel Fry, Indira Varma, Iwan Rheon, Thomas Sangster, Gethin Anthony, Dominic Carter, Wilko Johnson, Callum Wharry, Dean-Charles Chapman, Diana Rigg, Sahara Knite, Daniel Portman, Owen Teale, Jacob Anderson, Burn Gorman, Ellie Kendrick, Gemma Whelan, Lino Facioli, Conan Stevens, Ian Whyte, Keisha Castle-Hughes, Ben Crompton, Nell Tiger Free, Enzo Cilenti, Jessica Henwick, Rosabell Laurenti Sellers, Deobia Oparei, Jonathan Pryce, Toby Sebastian, Alexander Siddig, Aimee Richardson, J.J. Murphy

Similar Shows like Game of Thrones