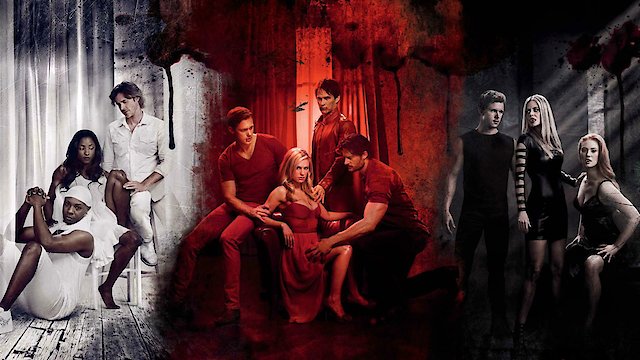 Where to Watch True Blood
Sookie must make a decision if she wants to have a future with Bill.
Watch True Blood Season 7 Episode 10 Now
Bill tries to push Sookie away; Sam makes a decision; Jason exercises self-control; Eric struggles with a dilemma.
Watch True Blood Season 7 Episode 9 Now
Eric thinks over his options. Sookie puts her life on the line for Bill. Lettie Mae finds closure. Violet craves revenge.
Watch True Blood Season 7 Episode 8 Now
Sookie wants a miracle to fix her current situation. Eric and Pam draw closer to Sarah.
Watch True Blood Season 7 Episode 7 Now
Eric and Pam make a new friend. Sookie happens upon shocking discovery.
Watch True Blood Season 7 Episode 6 Now
While searching for an enemy in Dallas, Eric and Pam go to a fundraising event. Sookie hesitantly throws a party.
Watch True Blood Season 7 Episode 5 Now
Following another bloodbath, Sam, Sookie and Jason must deliver the bad news. Meanwhile, Sookie discovers the H-Vamps in a group of humans and vampires and is completely surprised!
Watch True Blood Season 7 Episode 4 Now
Sookie hatches a dangerous plan to take down the H-Vamps, even as Vince and his armed vigilantes pose an equally serious threat. Lafayette gets high with James; Jason eyes a family future with Violet; Willa is forced to find a new place to stay; Sarah Newlin sheds her past.
Watch True Blood Season 7 Episode 3 Now
While taking on a mission in a nearby town, Sookie wants to know what the future may hold for Bon Temps. Lettie Mae delves into her past.
Watch True Blood Season 7 Episode 2 Now
The seventh season begins with the vampire-human mixer at Bellefleur's in full swing, but a gruesome attack by a band of H-vamps throws Bon Temps into chaos and prompts a wave of spiteful finger-pointing at one of its most well-known residents.
Watch True Blood Season 7 Episode 1 Now
0
True Blood Farewell Show
Reflecting back on the best moments of the series.
Watch True Blood Season 7 Episode 0 Now

True Blood is an American fantasy horror drama television series produced and created by Alan Ball, best known for creating HBO's iconic Six Feet Under. The series is based on Charlaine Harris' Southern Vampire Mysteries, a series of horror-fiction novels exploring an alternative universe where vampires, faeries, werewolves, and other supernatural creatures live virtually unnoticed amongst humans. The series premiered on HBO on September 7, 2008, and ran for seven seasons, concluding on August 24, 2014. Throughout its run, True Blood garnered a loyal fanbase due to its unique blend of steamy romance, gothic horror, and southern charm. This modern take on gothic horror cumulatively clocks in at 80 episodes, each carrying a runtime of approximately 55 minutes. True Blood is set in the fictional Louisiana town of Bon Temps, where Sookie Stackhouse, a telepathic waitress portrayed by Golden Globe-winner Anna Paquin, resides. The narrative follows her life and the complications she faces upon falling in love with 173-year-old vampire Bill Compton, compellingly played by Stephen Moyer. Their star-crossed love affair forms the beating heart of True Blood and sets the stage for the exploration of larger societal themes manifesting in this unique alternative universe. The series takes place in a world where vampires have only recently 'come out of the coffin', revealing their existence to humankind. Their coming out was facilitated by the creation of synthetic blood, known as Tru Blood, which allows vampires to survive without feeding on humans. This newfound coexistence of humans and vampires - and later, other supernatural beings - sets up a tantalizing premise that allows the show to explore contemporary issues like prejudice, civil rights, addiction, faith, and identity. The show's supporting characters are as diverse and engaging as the leading ones. These include Sookie's boss and shape-shifter Sam Merlotte, portrayed by Sam Trammell, her best friend and sharp-tongued Tara Thornton, played by Rutina Wesley, and her hunky brother, Jason Stackhouse, brought to life by Ryan Kwanten. Moreover, true to the vampire lore that has fascinated audiences for centuries, the series introduces an alluring and captivating vampire sheriff, Eric Northman, brilliantly enacted by Alexander Skarsgård. Through these characters and their intertwining storylines, the viewer is transported into a vivid exploration of love, human nature, acceptance, and survival. The show excellently combines elements of drama, horror, comedy, and supernatural fantasy to create a unique viewing experience. The Southern Gothic settings contribute significantly to the atmospheric charm and eerie tension that prevail throughout the series. The series never shies away from showcasing adult content, graphic violence, and dark humor, earning it a mature rating. True Blood distinguishes itself for its strong feminist undertone. With Sookie Stackhouse at its center, the show prominently features strong female characters in charge of their destinies, exhibiting mental fortitude and physical prowess, often braving the male-dominated supernatural world. Although True Blood primarily revolves around vampires, it progressively unveils a plethora of supernatural beings - from shape-shifters and werewolves to witches and faeries. This generous serving of otherworldly inhabitants only enhances the narrative's colorful intensity and unpredictability. Additionally, the series cleverly utilizes its supernatural characters to exemplify the human condition and societal structures and norms. With its engrossing plot arcs, rich character development, and non-stop surprises, True Blood can certainly be classified as addictive viewing. Laced with a distinctive sense of place, mesmerizing plot twists, and often gritty and visceral scenes, the series represents the height of its genre. It is a dark, sensual, and intricately textured show that mixes social commentary with unabashed entertainment value. All in all, True Blood is unlike anything else on television. It visually indulges in its fantasy roots while symbolically delving into social issues that continue to resonate with modern audiences. With award-winning performances and intelligent, daring storytelling, viewers are guaranteed to be hooked on this hauntingly fascinating universe where humans and supernatural beings uneasily coexist. The series maintains its suspenseful tension and seductive allure till the very end, cementing its status as a must-watch. While it has departed from our screens, True Blood's legacy as a pioneering piece of television with its genre-defying narrative continues to endure.
True Blood is a series categorized as a canceled. Spanning 7 seasons with a total of 83 episodes, the show debuted on 2008. The series has earned a moderate reviews from both critics and viewers. The IMDb score stands at 7.9.
How to Watch True Blood
How can I watch True Blood online? True Blood is available on HBO with seasons and full episodes. You can also watch True Blood on demand at Hulu Plus, Max, Amazon Prime, Netflix, Apple TV, Amazon, Google Play, Microsoft Movies & TV, Vudu online.
Genres
Drama, Science Fiction, Fantasy
Cast
Anna Paquin, Stephen Moyer, Sam Trammell, Ryan Kwanten, William Sanderson, Nelsan Ellis, Jim Parrack, Chris Bauer, Rutina Wesley, Kristin Bauer, Carrie Preston, Deborah Ann Woll, Todd Lowe, Scott Foley, Lois Smith, Valentina Cervi, Christopher Meloni, Lucy Griffiths, Lauren Bowles, Brit Morgan, Evan Rachel Wood, Jessica Tuck, Stephen Root, Adina Porter, Fiona Shaw, Denis O'Hare, Michael Raymond-James, Lindsay Pulsipher, Mariana Klaveno, Marshall Allman, Joe Manganiello, Kevin Alejandro, Janina Gavankar, Mehcad Brooks, Michelle Forbes, Michael McMillian, Anna Camp, Kelly Overton, Lynn Collins, Alfre Woodard, Amelia Rose Blaire, Bailey Noble, Dale Raoul, Jamie Gray Hyder

Stream shows like True Blood