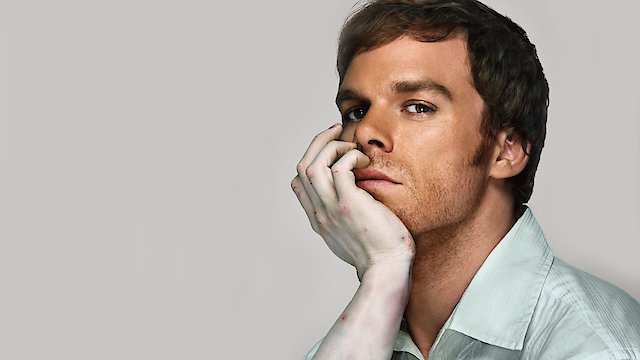 Where to Watch Dexter
In the series finale, Dexter is faced with impossible odds. With a hurricane looming in Miami, Dexter decides to take matters into his own hands.
Watch Dexter Season 8 Episode 12 Now
Dexter is faced with a major dilemma.
Watch Dexter Season 8 Episode 11 Now
Dexter recruits Dr. Vogel to help him lure the Brain Surgeon to a location in order to get him on the table.
Watch Dexter Season 8 Episode 10 Now
9
Make Your Own Kind Of Music
Dexter investigates a murder that seems all-too familiar. Meanwhile, Vogel is shocked when someone from her past shows up.
Watch Dexter Season 8 Episode 9 Now
Dexter believes his protégé murdered an innocent person. Meanwhile, Dexter tries to help Hannah escape.
Watch Dexter Season 8 Episode 8 Now
Dexter searches for Hannah to determine why she is back in Miami. He also takes on a protégé and begins educating him about the Code.
Watch Dexter Season 8 Episode 7 Now
Dexter could possibly use a psychopath as a candidate for his work. Meanwhile, Debra and he get back to basics before being interrupted.
Watch Dexter Season 8 Episode 6 Now
Dr. Vogel comes contacts the Brain Surgeon, and Dexter and Debra attempt to preserve her safety. Meanwhile, Masuka learns that he has a daughter.
Watch Dexter Season 8 Episode 5 Now
Dexter hunts for another potential serial killer from Dr. Vogel's list. Quinn celebrates his passing of the Sergeant's exam by defending Debra's honor in a fight. Dr. Vogel begins treating Debra for her PTSD.
Watch Dexter Season 8 Episode 4 Now
3
What's Eating Dexter Morgan?
Dexter continues his search for the Brain Surgeon. Dr. Vogel tries to prove his point to Dexter. Debra suffers from a PTSD episode and she makes a desperate plea to confess to LaGuerta's murder.
Watch Dexter Season 8 Episode 3 Now
Miami Metro searches for the Brain Surgeon, while Dr. Vogel recruits Dexter to do her bidding. Debra continues to investigate her PI case and takes matters into her own hands.
Watch Dexter Season 8 Episode 2 Now
In the eighth season premiere, Dexter is still managing life as a dad, brother, and serial killer. Debra is working as a PI for a private firm and Batista assumed Debra's old position.
Watch Dexter Season 8 Episode 1 Now

Dexter is a critically acclaimed Showtime television drama series that aired from 2006 to 2013. The show offers an intriguing blend of crime, drama, mystery, and psychological thriller genres. Boasting a captivating storyline and exceptional performances, the series serves as a prime example of Showtime's top-notch entertainment. The titular character Dexter Morgan, convincingly portrayed by the brilliant Michael C. Hall, lies at the heart of the show's captivating premise. An enigmatic character, Dexter, is a forensic blood splatter expert working for the Miami Metro Police Department by day. His charisma, charm, and sunny Miami life, however, harbor a chilling secret. He moonlights as a vigilante serial killer. But not just any serial killer, Dexter, influenced by a strict moral code instilled by his adoptive father, Harry (played by James Remar), targets only those who have evaded the realm of justice. This moral code, often referred to as 'The Code' throughout the series, proves to be a unique and masterful addition to the plot. It instigates a never-ending debate between morality and law inside the viewer's mind, challenging conventional concepts of right and wrong and elevating the viewing experience. Another significant aspect attached to Dexter's character is his constant struggle to balance his dark alter ego with his public and personal life. His interactions with various characters, including his sister, Debra Morgan (a role performed effortlessly by Jennifer Carpenter), a detective in the police force, and colleagues Angel Batista (David Zayas), Vince Masuka (C.S. Lee), and Maria LaGuerta (Lauren Vélez), further adds to this struggle. Dexter's chilling monologues, narrated with absolute finesse by Michael C. Hall, adds an extra layer of connection between the character and the audience. This feature is particularly striking as it offers viewers a fascinating, intimate window into the complex mind of a serial killer, an experience few television shows provide. The show's story unfurls against the sunny backdrop of Miami, and yet, it explores some of the darkest corners of human nature and morality. The contrast between the bright, lively city and the cold, brutal actions of Dexter only intensifies the dualism that defines his life. During its run, Dexter comprised eight addictive seasons, each diving deep into the protagonist's life, unveiling his past, his motives, and the consequences of the path he chose. Interlaced within these seasons are multiple suspenseful story arcs and unforgettable characters, each contributing significantly to the overall plot and Dexter's journey. With each season, the viewers follow Dexter as he deals with diverse adversaries, personal dilemmas, and emotional conflicts. It forces viewers to question and reflect upon their perceptions about justice, right and wrong, and the human capacity for empathy, thus making the entire viewing experience a roller-coaster ride filled with thrill and introspection. Every well-constructed frame in the show serves as a haunting and captivating portrait of a man living a dichotomous life. The highly intelligent storytelling further enriches Dexter's character and the series as a whole. The screenwriters present numerous twists and turns that keep the viewers on the edges of their seats at all times and ensure an immersive and gripping watch. With consistent quality and unforgettable performances, Dexter stands as a macabre exploration of a man's unique yet horrifying interpretation of justice. Its potent mix of thrills, suspense, and deep introspection ensures that the show remains as one of the paramount, groundbreaking drama series of the last decade, leaving a lasting impact on its viewers. To sum up, Dexter is an absorbing tale of a seemingly charming man living a double life, imbued with a mix of intense thrill, mystery, and psychological drama. Its multifaceted characters, suspense-driven plot, and poignant exploration of morality make it a must-watch for any fan of television drama.
Dexter is a series categorized as a canceled. Spanning 8 seasons with a total of 97 episodes, the show debuted on 2006. The series has earned a mostly positive reviews from both critics and viewers. The IMDb score stands at 8.7.
How to Watch Dexter
How can I watch Dexter online? Dexter is available on Showtime with seasons and full episodes. You can also watch Dexter on demand at Hulu Plus, Paramount+, Amazon Prime, Apple TV Channels, Showtime, FuboTV, Sling, Showtime Anytime, Apple TV, Amazon, Google Play, Microsoft Movies & TV, Vudu online.
Cast
Michael C. Hall, Jennifer Carpenter, David Zayas, James Remar, C.S. Lee, Lauren V

Similar Shows like Dexter