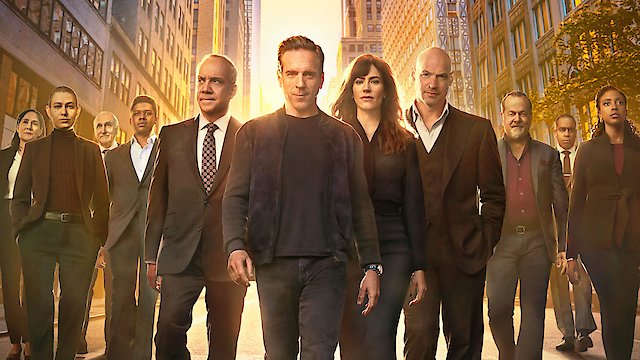 Where to Watch Billions
Prince's latest play promises to enhance his political platform but puts Philip in a tough position; Chuck and Wendy face a family crisis as a consequence of Senior's poor judgment; Wags and Scooter team up to boost employee morale at Prince Cap.
Watch Billions Season 7 Episode 7 Now
6
The Man in the Olive Drab T-Shirt
Axe turns to Chuck for a favor involving a common adversary; Prince maneuvers to raise his public profile; Chuck seeks counsel from an out-of-the-box business mind; Wendy works to run employee feedback rounds, even at the cost of Prince's pride.
Watch Billions Season 7 Episode 6 Now
Prince clashes with his employees over who has ultimate authority; Ira turns to Chuck for help with an embarrassing problem; Wendy and Luke forge a connection; Sacker confronts a figure from her past who poses a threat to her future.
Watch Billions Season 7 Episode 5 Now
Chuck embarks on a case with ties to Prince in his latest attempt to bring down his foe; the Prince Cappers face an ethical dilemma when a crucial aspect of their latest play is revealed; Wendy finds herself asking for guidance.
Watch Billions Season 7 Episode 4 Now
Prince attempts to leverage a past employee's work for his own gain; Chuck rallies the troops at his old stomping grounds; a betrayal from within Prince Cap shakes Wendy's confidence.
Watch Billions Season 7 Episode 3 Now
Prince recruits campaign support and encourages the Prince Cappers to aim high under a new directive for big swings. Chuck negotiates with a ghost from his past to advance a new agenda.
Watch Billions Season 7 Episode 2 Now
Prince's political ambitions come with a twist. Season premiere.
Watch Billions Season 7 Episode 1 Now

Billions, an American television series on Showtime, was first introduced to audiences in 2016. Embodying the world of high finance through its breathtaking narrative, this show peers behind the glossy exterior of Wall Street to explore the intricate dynamics of power, ambition, and corruption. The series anchors on two primary characters, Bobby "Axe" Axelrod and Chuck Rhoades. Bobby Axelrod, played by Damian Lewis, is a self-made billionaire who is the kingpin of Axe Capital, a highly successful hedge fund company. Bobby's ruthless, ambitious streak and sharp business acumen have helped him climb to dizzying heights in the financial world. He's known for his generosity towards those in his hometown but is also infamous for his shrewdness that borders on the illegal to maintain his reigning position. Unyielding US Attorney Chuck Rhoades, portrayed by Paul Giamatti, is another exceptional character. He's firm, relentless, and has an undeterred composure when it comes to enforcing justice. Chuck, who comes from a wealthy family and has made it his mission to bring down financial corrupt figures, soon finds himself locking horns with Axe. While Axe manipulates the market with his billions, Chuck uses his immense power to uphold law and justice, a battle of wills that sizzles with tension at every point. Billions establishes an intriguing balance by presenting these two characters on opposite sides of the spectrum. They are constantly at each other's throats, manipulating and combating each other in a modern-day twist on a cat and mouse game. The plot dually follows their personal and professional lives, exploring the shades of grey where morality blurs in the pursuit of their goals. Wendy Rhoades, played by Maggie Siff, is another pivotal character. Wendy is a psychiatrist working as an in-house performance coach at Axe Capital and happens to be Chuck's wife. She finds herself sandwiched between the two powerful men, torn between her loyalty and professional commitments. The show is a riveting mix of power plays, politics, high finance, and wealth. It showcases a world where loyalty changes hands overnight, where personal and professional lives intermingle, leading to dramatic consequences. The show-runner Brian Koppelman, David Levien, and Andrew Ross Sorkin, each having a rich body of work in Hollywood, expanded the show beyond just being another finance drama. They enrich the narrative by taking tried and tested motifs and giving them a fresh spin, presenting an authentic behind-the-scenes glimpse into the luxurious, cut-throat world of Wall Street. Billions' true genius lies in navigating seamlessly through a labyrinth of legal terms, Wall Street jargon, and economic theories, as it takes its audience on a thrilling ride, making the complex world of finance comprehensible and engaging for the viewers. The writing is candid, fast-paced, and drenched in pop culture references and acerbic, sarcastic dialogue that gives depth to the characters. The cast ensemble is studded with phenomenal performances. Damian Lewis brings a subtle charisma to Bobby Axelrod, a billionaire with humble beginnings. Paul Giamatti's portrayal of Chuck Rhoades is a class apart, with his steadfast commitment to justice and unbending moral compass. Maggie Siff as Wendy Rhoades delivers a potent performance, balancing a tough exterior with intrinsic vulnerability. Evolving over 5 seasons, Billions manages to sustain viewer interest by constantly reinventing the narrative and introducing new, nuanced characters. These include Taylor Mason, an analyst at Axe Capital with razor-sharp intelligence, and Lara Axelrod, Bobby's fiercely loyal wife, among others. The show effortlessly alternates between lavish parties showcasing excessive wealth and backroom deals, where each character strategizes their paths to power. In essence, Billions is not just another Wall Street-centered series. It's a thrilling display of brains and cunning, a battlefield where powerful minds and strong wills clash, and a captivating insight into high finance, power, and the human propensity towards corruption. Boasting stellar performances, a sharp script, and engrossing storylines, Billions has firmly cemented its place among Showtime's highest-rated TV series.
Billions is a series categorized as a currently airing. Spanning 7 seasons with a total of 78 episodes, the show debuted on 2016. The series has earned a mostly positive reviews from both critics and viewers. The IMDb score stands at 8.4.
How to Watch Billions
How can I watch Billions online? Billions is available on SHOWTIME with seasons and full episodes. You can also watch Billions on demand at Hulu Plus, Paramount+, Amazon Prime, Showtime, FuboTV, Showtime Anytime, Apple TV Channels online.
Cast
Condola Rashad As Kate Damian Lewis As Bobby "Axe" Axelrod David Costabile As Mike

Similar Shows like Billions