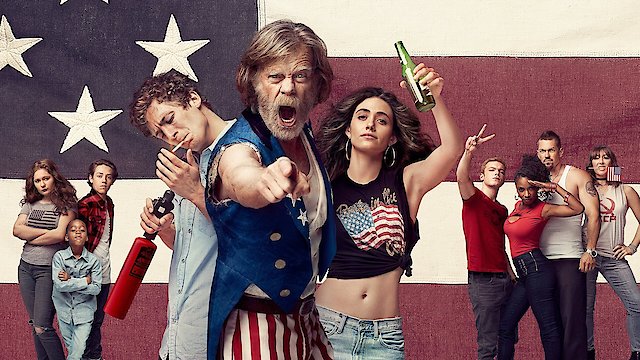 Where to Watch Shameless
12
Father Frank, Full of Grace
Ian and Mickey shop for furniture for their new place and Kev and V look for a buyer for the Alibi. While Lip settles for a new job, Carl finally finds his calling in a new role on the police force.
Watch Shameless Season 11 Episode 12 Now
11
The Fickle Lady is Calling it Quits
Kev and V announce their big news. Lip has some promising leads on selling the house, forcing Debbie to reevaluate her future and her history of regrettable love interests.
Watch Shameless Season 11 Episode 11 Now
Lip has a million projects going on, and Frank is one of them. Liam is forced to watch Frank, so the two of them embark on a journey to take down Liam's classmate in an effort to get Liam into STEM school.
Watch Shameless Season 11 Episode 10 Now
Frank wants to pull one last heist with the old gang; Debbie struggles with the idea of change and blames Lip, while Lip and Brad find out the new owners of Born Free are in the mob; Mickey and Ian learn a surprising truth about Terry's past, and Liam tries to find a new place to live; Veronica reluctantly helps her mom move to Louisville, while Kevin is forced to watch Gemma and Amy while running the Alibi all on his own; Carl is put on the eviction unit and reunited with an old partner.
Watch Shameless Season 11 Episode 9 Now
Frank and Liam compete in a renaming contest of the Dennis Hastert Middle School. Debbie has a day of zero responsibilities, while Ian and Mickey take on all the responsibility for Terry.
Watch Shameless Season 11 Episode 8 Now
7
Two at a Biker Bar, One in the Lake
The Gallaghers disagree on the fate of their childhood home so a stranded Frank tries to get back to weigh in on the matter. Realizing that they have none, Ian and Mickey embark on a journey to find gay friends.
Watch Shameless Season 11 Episode 7 Now
6
Do Not Go Gentle Into That Good....eh, Screw It
A surprising twist of fate has left the Milkovich's vulnerable, forcing Ian and Mickey to step in to help. Frank's day takes some unexpected turns and Liam deals with inner turmoil after doing a bad thing.
Watch Shameless Season 11 Episode 6 Now
Ian and Mickey get creative when the safety of their security gig comes into question; dynamic duo Frank and Kev make a last-ditch effort to take down the Milkovich's; V canvasses to get black people to the polls but realizes there's barely any black people left on the South Side; Lip and Tami get surprising news about their house that forces them to look elsewhere; Debbie takes Franny to a comic book signing for her favorite wrestler.
Watch Shameless Season 11 Episode 5 Now
The Milkoviches move in next door and wreak havoc, leading Frank, Kev and Liam to plot how to get rid of them; Mickey embarks on a new security gig for Kev and V and drags Ian along against his will; V and Debbie turn into stage moms when Gemma and Franny compete in the Little Miss South Side beauty pageant; Lip gets a big surprise when he reluctantly agrees to go to brunch with Tami and her old high-school music teacher.
Watch Shameless Season 11 Episode 4 Now
3
Frances Francis Franny Frank
In a rush to get out of the house, Debbie loses track of Franny and has to balance her search for Franny with her handy-woman jobs. Meanwhile, Frank and Franny have a day of weed runs and adventure.
Watch Shameless Season 11 Episode 3 Now
It's Franny's birthday, and with Tami and Sandy's help, Debbie prepares to throw her the best princess party Franny never wanted. Ian is on the straight and narrow which forces Mickey to get a real job.
Watch Shameless Season 11 Episode 2 Now
The Gallaghers adjust to life during the pandemic: Frank fears the loss of the South Side to gentrification, while bar closures force Kev and V to get creative at the Alibi. Sleep-deprived Lip and Tami work to make their new house a home as Carl finishes his time at the police academy.
Watch Shameless Season 11 Episode 1 Now

Shameless is a raw, gritty, and often darkly comedic drama series that aired on Showtime from 2011 to 2021. Based on the UK series of the same name by Paul Abbott, the American adaptation of Shameless was developed by John Wells. Starring an ensemble cast helmed by Emmy Rossum and William H. Macy, the series offers an unflinching look at life in the South Side of Chicago through the lens of the unconventional Gallagher family. The patriarch of the family, Frank Gallagher, played by the veteran actor William H. Macy, is an alcoholic who is often more a source of chaos than stability for his family. Frank's parental responsibilities often fall onto his eldest daughter, Fiona, played by Emmy Rossum, who keeps the Gallagher family together while juggling her own personal and romantic life. Justin Chatwin portrays Jimmy/Steve, Fiona's on-again, off-again lover who leads a double life. Ethan Cutkosky plays Carl Gallagher, the middle son who has counts among his notches a number of petty crimes. Shanola Hampton portrays the bold, assertive and feisty Veronica Fisher, the Gallaghers' next-door neighbor and Fiona's best friend. Steve Howey takes on the role of Kevin Ball, Veronica's husband, and the loveable yet slightly dense bar owner. Emma Kenney portrays Debbie Gallagher, the sensitive, nurturing yet fiercely independent youngest daughter. Cameron Monaghan embodies Ian Gallagher, the third oldest sibling who struggles with his own identity and sexuality while dealing with mental health issues. Jeremy Allen White plays Lip Gallagher, the second eldest sibling and the intellectual of the family, who both benefits and suffers from his intellect. Remarkably nuanced and memorable supporting roles are crafted by Joan Cusack, Emma Greenwell, Laura Slade Wiggins, Noel Fisher, Zach McGowan, Jake McDorman, Emily Bergl and Isidora Goreshter. Each contributes to the tapestry of Shameless, bringing depth, humor, pathos, and raw human emotion that keeps viewers engaged season after season. The show's core strength lies in its unapologetic portrayal of the Gallagher family's struggles with poverty, addiction, sexuality, mental health, and myriad family issues. The characters are deeply flawed yet compelling and the storylines expose the harsh realities of lower-middle-class life, counterbalanced with dark humor and instances of heartfelt compassion. Unlike many other television shows, Shameless does not shy away from the grey areas of morality, allowing its characters to make poor choices, face the consequences, and sometimes grow from the experience. Shameless employs a unique blend of sarcasm, farce, and touching family moments to offer a relevant critique of class disparities, notably captured through the grittiness of Chicago's South Side. One of the elements that sets Shameless apart is its refusal to take an objective or judgmental stance on the characters' actions, giving viewers the freedom to interpret the characters' decisions through their own moral lens. While Shameless explored the trials and tribulations of the Gallagher clan over ten seasons, its overall storyline refused to fall into the category of pure tragedy. Instead, it oscillated between emotional highs and lows, leaving its audience vacillating between sympathetic dismay, unexpected laughter, and a peculiar affection for the incredibly resilient family. In conclusion, Shameless is a roaring, often roller coaster ride that paints a raw yet compelling picture of a chaotic family living on the edge, beneath the specter of addiction and poverty. It is a poignant exploration of the harsh realities of life, offset with black comedy and crafted through striking performances. At its core, Shameless is a testament to resilience, unconditional familial love, and the perpetual quest for survival, presenting a uniquely unfiltered view of life seldom seen on the small screen.
Shameless is a series categorized as a currently airing. Spanning 11 seasons with a total of 135 episodes, the show debuted on 2010. The series has earned a mostly positive reviews from both critics and viewers. The IMDb score stands at 8.5.
How to Watch Shameless
How can I watch Shameless online? Shameless is available on Showtime with seasons and full episodes. You can also watch Shameless on demand at Netflix, Apple TV Channels, Sling, Apple TV, Microsoft Movies & TV online.
Cast
William H. Macy, Emmy Rossum, Jeremy Allen White, Cameron Monaghan, Emma Kenney, Ethan Cutkosky, Joan Cusack, Shanola Hampton, Steve Howey, Noel Fisher, Emily Bergl

Similar Shows like Shameless