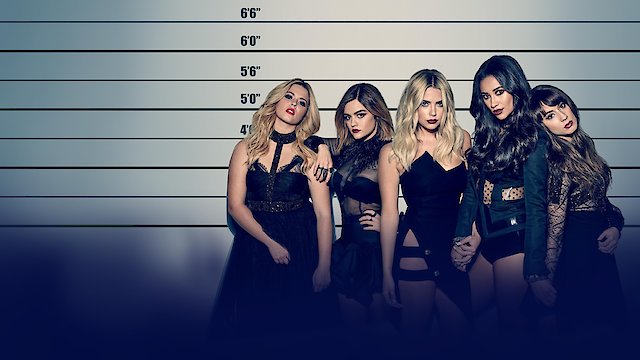 Where to Watch Pretty Little Liars
Troian Bellisario, Ashley Benson, Lucy Hale, Shay Mitchell, Sasha Pieterse and executive producer I. Marlene King sit down for an unbarred tell-all aftershow to discuss the series' tightly-held secrets, behind-the-scenes insights and top moments.
Watch Pretty Little Liars Season 7 Episode 21 Now
All is revealed as the ultimate endgame comes to light.
Watch Pretty Little Liars Season 7 Episode 20 Now
The Liars gear up for a confrontation with A.D.; Spencer, Hanna and Caleb discover new information regarding Charlotte's death; Mary Drake returns with a gift for Spencer and Alison.
Watch Pretty Little Liars Season 7 Episode 19 Now
In the episode "Choose or Lose," the Rosewood PD turn up the heat on the Liars, causing loved ones to try and close ranks. Aria's recent collaboration with A.
Watch Pretty Little Liars Season 7 Episode 18 Now
17
Happily Ever After... Not
With Mona making inroads in the game, Emily reluctantly teams up with her to investigate. Ashley returns to Rosewood to check on Hanna after learning some frightening information and asks Caleb what his intentions are with her daughter.
Watch Pretty Little Liars Season 7 Episode 17 Now
16
The Glove That Rocks the Cradle
As Detective Furey closes in on uncovering what happened to Archer Dunhill, the Liars team up to protect one of their own. Hanna continues to struggle with the idea that Lucas might be connected to A.
Watch Pretty Little Liars Season 7 Episode 16 Now
15
In the Eye Abides the Heart
After being blackmailed by A.D., one of the Liars begins to supply info to the dark side in order to protect those closest to her. Detective Furey questions how much the PLLs know about what happened to Archer Dunhill. Aria tries to issue an ultimatum to Ezra in regards to Nicole, while Emily struggles with how to support Ali. Spencer goes to elaborate lengths to meet up with Mary Drake and encounters Wren. After learning something surprising about Lucas, Hanna sets out to prove her friend is innocent and uncovers even more troubling info. And another person is brought in on the secret of A.D.'s game.
Watch Pretty Little Liars Season 7 Episode 15 Now
Ali's turn at the game forces her to face a monumental personal decision, made even more difficult when A.D.
Watch Pretty Little Liars Season 7 Episode 14 Now
Hanna is sure Jenna is to blame for a recent professional setback and is forced to bring Caleb up to speed on current events. Aria and Emily team up to investigate Sydney for more information about Jenna and her connection to A.
Watch Pretty Little Liars Season 7 Episode 13 Now
12
These Boots Were Made For Stalking
Emily clashes with teenager Addison, who appears to be the new and improved version of high school Ali, and who may have connections to a familiar enemy. Meanwhile, Spencer confronts her mother about keeping family secrets.
Watch Pretty Little Liars Season 7 Episode 12 Now
Spencer tries to find out more about her connection to Mary Drake, while Aria and Ezra realize their future is at risk now that Nicole is back. Mona helps Hanna get her fashion career back on track, and Emily struggles to keep things peaceful now that Ali and Paige are working at Rosewood High.
Watch Pretty Little Liars Season 7 Episode 11 Now
In the summer finale, the ladies combat old enemies and things turn deadly. Meanwhile, one liar makes a discovery about her past while another liar finds out about her future.
Watch Pretty Little Liars Season 7 Episode 10 Now
One of the ladies takes matters into her own hands in an effort to prove that Noel Kahn is Uber A, while the others search for evidence to support her theory. Meanwhile, Emily seeks comfort from Paige; and Jason and Aria team up to uncover the truth behind Mary's past.
Watch Pretty Little Liars Season 7 Episode 9 Now
Emily competes with her ex for the swim coach position at Rosewood High. Meanwhile, Hanna has a vision the ladies are in danger; the gals find the doctor who delivered Mary's baby; and Ali goes back to work.
Watch Pretty Little Liars Season 7 Episode 8 Now
Jason returns to Rosewood to caution Ali about Mary. Meanwhile, the ladies make a discovery about Mary and Mrs.
Watch Pretty Little Liars Season 7 Episode 7 Now
The Rosewood P.D. begins to untangle the Liars' cover, which leads them to question Rollins' death. Hanna faces a moral dilemma, while Ezria struggles with an awkwardness in their relationship.
Watch Pretty Little Liars Season 7 Episode 6 Now
Jenna is back in Rosewood and befriends another one of the Liars' enemies, makeing her the prime suspect for Uber A. In order to leave the psychiatric hospital, Ali must be released into the care of a relative, which happens to be Mary Drake.
Watch Pretty Little Liars Season 7 Episode 5 Now
The PLLs try to hide their mistake and end up jeopardizing their relationships with their respective bed buddies by keeping secrets from them.
Watch Pretty Little Liars Season 7 Episode 4 Now
3
The Talented Mr. Rollins
In a rescue attempt gone awry, the Liars make a deadly mistake that could ruin everything.
Watch Pretty Little Liars Season 7 Episode 3 Now
The Liars seek help from an unexpected source when they peg "Uber A" as the primary suspect in Ali's torture. Trouble mounts as Aria, Liam and Ezra focus on the book; Emily receives a disturbing phone call.
Watch Pretty Little Liars Season 7 Episode 2 Now
Following Hanna's abduction by "Uber A," the girls are desperate to save her before it's too late. The only way to do this is by handing over evidence of Charlotte's real murderer to "Uber A.
Watch Pretty Little Liars Season 7 Episode 1 Now

Pretty Little Liars is a riveting teen drama television series that aired on FreeForm from 2010 to 2017. The show is based on the book series written by Sara Shepard and is centered around five high school girls from an affluent town whose lives are turned upside down when their leader goes missing and they start receiving threatening messages from an unknown entity known as "A." The story begins with the four remaining friends - Aria Montgomery (Lucy Hale), Hanna Marin (Ashley Benson), Spencer Hastings (Troian Bellisario), and Emily Fields (Shay Mitchell). They drift apart after their queen bee, Alison DiLaurentis (Sasha Pieterse), disappears mysteriously one night during a sleepover. However, their lives intertwine once again when they start receiving cryptic and menacing messages from "A" that threaten to expose their deepest secrets, some involving their missing friend Alison. The show is set in the fictional town of Rosewood, Pennsylvania, a seemingly perfect suburb filled with secrets and lies. The narrative revolves around the tension-rich drama, as the four friends navigate the murky waters of high school while also conducting their investigation into who could be behind the sinister messages and what happened to Alison. As the series progresses, the girls endure endless manipulation and bullying from "A." They also confront real-life issues such as family pressures, romantic relationships, identity crises, and mental health issues. Each character is vividly portrayed, with unique personality traits, making for a relatable teen ensemble. Troian Bellisario as Spencer Hastings is the type-A perfectionist who struggles with her high-achieving family's expectations and her complicated romantic relationship with Toby Cavanaugh (Keegan Allen). Ashley Benson as Hanna Marin, the it-girl and fashion aficionada, navigates her way through her mother's financial struggles and her tumultuous on-again, off-again romance with Caleb Rivers (Tyler Blackburn). Shay Mitchell portrays Emily Fields, a competitive swimmer who comes to terms with her sexual orientation, while Lucy Hale's Aria Montgomery, a passionate artist, embarks upon a forbidden relationship with her former teacher, Ezra Fitz (Ian Harding). In addition to the main cast, a diverse group of supporting characters further strengthens the storyline. Mona Vanderwaal (Janel Parrish), Alison's main rival, is one such enigma whose appearance constantly keeps the girls and viewers on edge. Other characters such as the girls' parents, played by Laura Leighton, Holly Marie Combs, Chad Lowe, and Nia Peeples, as well as other town residents, create subplots that intertwine with the main narrative, adding depths to the overall mystery of the series. The overarching theme of Pretty Little Liars is the perpetual quest for truth. Throughout the course of the seven seasons, the girls, constantly at the mercy of cyber torment from "A," grapple with unraveling layers of lies and deceit. The appeal of the show lies in the horrifying suspenseful turns, teenage angst, gripping storyline, and captivating performance by the ensemble cast. It embodies a perfect blend of thriller, mystery, and teen drama. Pretty Little Liars, skillfully conceived by I. Marlene King, combines the thrill of whodunit mysteries and the charm of high school dramas, which have made it a cultural phenomenon among the young audience who often find themselves questioning — who is "A"? Striking a balance between revealing and concealing, the series effectively maintains the suspense till the last season while touching upon pressing teen issues. It manages to entertain and educate its viewers by not shying away from delicate subject matter, setting it apart from many other teen dramas of the time. Pretty Little Liars, thus, stands as a testament to its genre, woven intricately with elements of mystery, thriller, romance, and high school drama. Its captivating plot twists, enabled by strong character development and performances, make it a show that continues to enchant audiences even after its conclusion.
Pretty Little Liars is a series categorized as a currently airing. Spanning 7 seasons with a total of 166 episodes, the show debuted on 2010. The series has earned a moderate reviews from both critics and viewers. The IMDb score stands at 7.4.
How to Watch Pretty Little Liars
How can I watch Pretty Little Liars online? Pretty Little Liars is available on FreeForm with seasons and full episodes. You can also watch Pretty Little Liars on demand at Amazon Prime, Netflix, Amazon, Hulu Plus, Max, Apple TV, Google Play, Microsoft Movies & TV, Vudu online.
Cast
Troian Bellisario, Ashley Benson, Lucy Hale

Stream shows like Pretty Little Liars