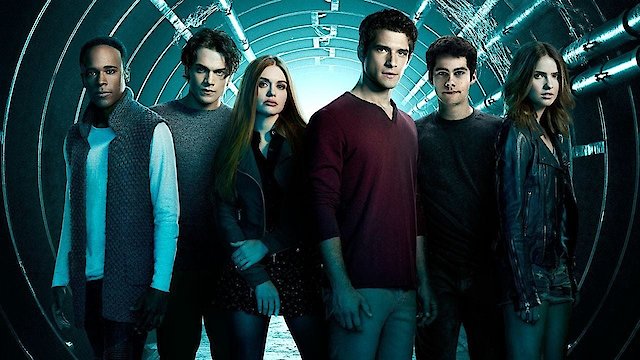 Where to Watch Teen Wolf
A full moon rises in Beacon Hills and with it a terrifying evil has emerged. The wolves are howling once again, calling for the return of banshees, werecoyotes, hellhounds, kitsunes and every other shapeshifter in the night.
Watch Teen Wolf Season 6 Episode 21 Now
Gerard initiates his final attack on the Supernaturals of Beacon Hills.
Watch Teen Wolf Season 6 Episode 20 Now
Scott and Malia prepare for battle while Argent searches for an old ally.
Watch Teen Wolf Season 6 Episode 19 Now
Scott and the others must make a discovery before it's too late.
Watch Teen Wolf Season 6 Episode 18 Now
After a shocking attack leaves the pack reeling, Scott sets out to recruit reinforcements.
Watch Teen Wolf Season 6 Episode 17 Now
Liam and Theo attempt to draw the Hunters away from Beacon Hills.
Watch Teen Wolf Season 6 Episode 16 Now
When Scott and the others try to protect two new werewolves, an unlikely ally joins the fight.
Watch Teen Wolf Season 6 Episode 15 Now
Scott, Lydia and Malia have to take drastic measures to quell the growing violence in Beacon Hills, while Liam endures his own gauntlet at the high school.
Watch Teen Wolf Season 6 Episode 14 Now
While Scott and the others desperately pursue a missing werewolf, Melissa McCall and Chris Argent investigate the nature of a strange body.
Watch Teen Wolf Season 6 Episode 13 Now
Scott and Malia search for the owner of a unique bullet, fearing that a new breed of werewolf hunter has come to Beacon Hills. At the same time, Lydia must face her own fears of Eichen House.
Watch Teen Wolf Season 6 Episode 12 Now
11
Said The Spider To The Fly
As Scott prepares Beacon Hills for his imminent departure, a mysterious presence breaks out of Eichen House.
Watch Teen Wolf Season 6 Episode 11 Now
The fate of Beacon Hills is uncertain as Scott and his pack face off against Douglas in a final battle.
Watch Teen Wolf Season 6 Episode 10 Now
Scott, Lydia and Malia attempt to recall Stiles while Liam and Theo pose as decoys.
Watch Teen Wolf Season 6 Episode 9 Now
Scott, Lydia and Malia decide to infiltrate the rift and rescue Stiles; Liam, Hayden and Mason make a deal with Theo in return for the details of Douglas' plan.
Watch Teen Wolf Season 6 Episode 8 Now
Scott and Liam make a move to capture a Ghost Rider; Malia and Peter try to hatch a plan to secure a way into the Wild Hunt.
Watch Teen Wolf Season 6 Episode 7 Now
Scott, Lydia and Malia search for evidence about the Wild Hunt in a peculiar place called Cannan while Liam and and Hayden go to great lengths in the fight against the Ghost Riders.
Watch Teen Wolf Season 6 Episode 6 Now
Trapped inside the Wild Hunt, Stiles connects with a surprising ally while Scott, Lydia and Malia discover Stiles's Jeep may have answers to his disappearance.
Watch Teen Wolf Season 6 Episode 5 Now
Scott and Liam keep the lacrosse team safe; Lydia searches for clues to find Stiles.
Watch Teen Wolf Season 6 Episode 4 Now
Scott, Lydia and Malia search for Stiles; Liam and the others throw a party in order to keep a friend safe from the Ghost Riders.
Watch Teen Wolf Season 6 Episode 3 Now
While Scott, Lydia and Malia search for lost memories of a missing friend, Corey makes an important connection.
Watch Teen Wolf Season 6 Episode 2 Now
With graduation just around the corner, a supernatural force infiltrates Beacon Hills and encounters Scott and his friends, while Liam discovers the presence of a new enemy in the high school.
Watch Teen Wolf Season 6 Episode 1 Now
0
Teen Wolf : The Final Season
A preview of the last season of the show.
Watch Teen Wolf Season 6 Episode 0 Now

Teen Wolf is an electrifying and captivating American supernatural drama television series that aired on MTV from 2011 to 2017. Created by Jeff Davis and inspired by the 1985 film of the same name directed by Rod Daniel, the series transforms the playful tone of its source material into a darker, more atmospheric story that will captivate both new and returning fans. With a runtime spanning six seasons and a total of 100 riveting episodes, Teen Wolf has indeed become a staple in the realm of supernatural television. The plot revolves around the transformation of Scott McCall, an ordinary high school student living in the fictional town of Beacon Hills, California. His life experiences a dramatic shift from the mundane to the extraordinary when he becomes a werewolf after being bitten by a mysterious creature in the woods during a late-night excursion. With his newfound wolf traits – enhanced strength, speed, and healing – life becomes a rollercoaster of epic and thrilling adventures, filled with countless dilemmas, supernatural entities, and underworld politics. Scott's transformation extends beyond the physical; his character undergoes significant growth and development throughout the series, displaying aspects of courage, leadership, and heroic tendencies as he navigates the everyday challenges of being a teenager whilst dealing with the complexities of his new identity. Moreover, how Scott manages his teenage life alongside his newer, somewhat hairy reality is depicted with a good balance, making the series a viable cross-genre offer. The characters in Teen Wolf are as diverse as they are multi-dimensional, each one possessing a set of unique characteristics that contribute to the breadth of the narrative. Stiles Stilinski, Scott's witty and reliable best friend, is a mere mortal amidst a crowd of supernatural entities, yet he plays a vital role in the story, serving as Scott's unwavering ally. There's also Allison Argent, Scott's initial love interest, who unbeknownst to him comes from a family of werewolf hunters. Lydia Martin, the seemingly superficial popular girl, in reality, possesses a keen intellect and later on reveals her own supernatural abilities and becomes integral to the plot. One of the distinctive attributes of Teen Wolf is its ability to handle multiple themes flawlessly. Amid the supernatural adventures the characters face, the show doesn't shy away from depicting teenage life accurately, from navigating complex romantic relationships to dealing with societal pressures and parental expectations. Furthermore, the series adeptly addresses themes of identity, friendship, sacrifice, and even loss, providing a much-needed depth making the story resonate with its audience beyond the supernatural element. Moreover, Teen Wolf displays remarkable creativity in its representation of mythology and folklore. It educates the audience about different mythical creatures, not limiting to werewolves, but also introducing other supernatural entities such as banshees, kanimas, and nogitsunes, to name a few. Each of these creatures is merged flawlessly into the series narrative, providing intricacies and diversions within the plot that serve to add details and layers to the storyline, enhancing the overall viewing experience. The show stands out not only because of its interesting plotline, but also because of its visual aesthetics. The setting of Beacon Hills and the beautifully choreographed actions scenes, paired with the thrilling suspenseful music, creates an enthralling atmosphere that complements the narrative perfectly. There are thrilling moments of action, suspense, and even horror, all balanced by periods of respite where the focus shifts to more personal and ordinary trials faced by the characters. Teen Wolf also excelled in character development, blending the supernatural genre with real-life teenage issues and coming-of-age tales. Unlike many high-school-themed dramas, Teen Wolf delves into the growth and maturity of its characters, charting their evolution not just through their supernatural journey, but also through their ordinary lives as high school students, demonstrating a balance between ordinary and extraordinary life. In conclusion, Teen Wolf is a gripping narrative filled with supernatural elements, relatable high school drama, multilayered characters, and formidable thematic depth. With action-packed sequences, and heart-warming friendships, each episode will make you want to watch more. It's a thrilling ride from start to finish, bridging the gap between fantasy and reality, and making the supernatural realm seem all too real.
Teen Wolf is a series categorized as a currently airing. Spanning 6 seasons with a total of 105 episodes, the show debuted on 2011. The series has earned a moderate reviews from both critics and viewers. The IMDb score stands at 7.7.
How to Watch Teen Wolf
How can I watch Teen Wolf online? Teen Wolf is available on MTV with seasons and full episodes. You can also watch Teen Wolf on demand at Google Play, Hulu Plus, Paramount+, Amazon Prime, Netflix, Apple TV Channels, Apple TV, Amazon, Microsoft Movies & TV, Vudu online.
Cast
Tyler Posey, Tyler Hoechlin, Colton Haynes, Jill Wagner, Crystal Reed, Dylan O'Brien, Linden Ashby, Melissa Ponzio, JR Bourne, Daniel Sharman, Holl, Roden, Keahu Kahuanui, Jill Wagner, Shelley Hennig, Dylan Sprayberry, Mason Dye, Maya Eshet

Stream shows like Teen Wolf