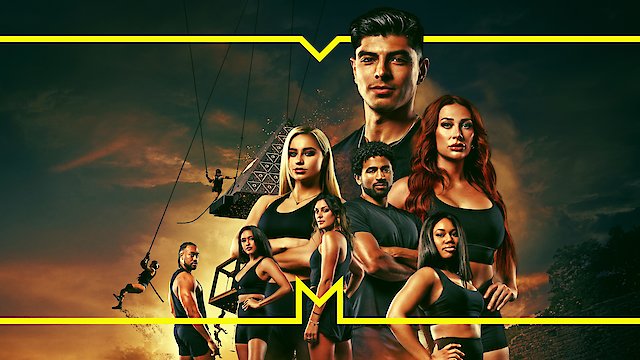 Where to Watch The Challenge
The Ride or Dies settle unfinished business; a familiar face makes a surprise appearance.
Watch The Challenge Season 40 Episode 21 Now
Maria Menounos is back and so are the dreaded daggers.
Watch The Challenge Season 40 Episode 20 Now
A brutal final elimination sends one pair out of the game just before the last push of the final. One Ride or Die pair takes home the one-million-dollar prize and title of Challenge Champion.
Watch The Challenge Season 40 Episode 19 Now
An injury threatens one pair's fate in the game, a gruesome feast brings out the competitive eater in one player and the tensions between a Ride or Die pair leads to an explosive argument.
Watch The Challenge Season 40 Episode 18 Now
With four pairs of Ride or Dies remaining, TJ reveals the shocking details of their grueling 100-hour final challenge; Nany and Bananas struggle to communicate efficiently, putting them at risk.
Watch The Challenge Season 40 Episode 17 Now
With the final challenge quickly approaching, players worry that they have let a champion skate by for far too long; the winning pair is conflicted on which team they should nominate for elimination.
Watch The Challenge Season 40 Episode 16 Now
The remaining pairs hoping to earn their spot back in the game must face off in a classic Challenge elimination. Ride or Dies must quickly readjust to a change in the game.
Watch The Challenge Season 40 Episode 15 Now
A nighttime challenge terrifies the challengers; Jordan and Tori's volatile relationship reaches a breaking point; TJ stuns the players with a twist they never saw coming.
Watch The Challenge Season 40 Episode 14 Now
Nany and Kaycee struggle with being on opposite teams; one player faces consequences after burning her vote instead of trying to protect her Ride or Die at all costs.
Watch The Challenge Season 40 Episode 13 Now
After multiple losses, one team realizes that they must come together to win; after losing his Ride or Die in the last elimination, one player feels vulnerable to danger while another player must count on their Ride or Die.
Watch The Challenge Season 40 Episode 12 Now
11
Nelly: Ride (or Die) Wit Me
Nelson finds himself frustrated, powerless, and paranoid that he has no voice on his team; Nurys worries that her relationship with Jordan will alienate Tori and place a target on her back; TJ's favorite challenge sends the players spinning out.
Watch The Challenge Season 40 Episode 11 Now
With the Ride or Dies now on opposite teams, friendship and loyalty are put to the ultimate test; a high adrenaline challenge will separate the lions from the scaredy cats.
Watch The Challenge Season 40 Episode 10 Now
The challengers make it to the halfway point and TJ stuns them with a game-changing twist; Tori and Jordan's complicated relationship is thrown for a loop when one catches feelings for another player; winning power tears a pair apart.
Watch The Challenge Season 40 Episode 9 Now
After a season of big moves, one pair of "Ride or Dies" finds themselves in the crosshairs of numerous teams; one player must choose between new love, old friendship, and playing a smart game.
Watch The Challenge Season 40 Episode 8 Now
The political game intensifies as a web of deception causes problems for one crafty player. Brainpower and endurance is put to the test at the Peaking Blinders challenge.
Watch The Challenge Season 40 Episode 7 Now
6
Come Michele or High Water
Michele and Jay find themselves in the hot seat after controversial decisions and hope for a win to survive. One player finds out that the man she was interested in has a girlfriend at home and so she seeks comfort with another.
Watch The Challenge Season 40 Episode 6 Now
5
Get Rich or Ride or Die Tryin'
A budding friendship is torn apart by betrayal. One player fears that she has made an enemy out of badass Laurel.
Watch The Challenge Season 40 Episode 5 Now
A terrifying challenge is a must-win for a Ride or Die pair after their public betrayal paints a massive target on their backs. At-risk players plot an elaborate plan with the winning pair to keep themselves safe.
Watch The Challenge Season 40 Episode 4 Now
Strength and endurance are tested at the "Build Me Up" challenge. Tori and Jordan try to make sense of their breakup.
Watch The Challenge Season 40 Episode 3 Now
Communication is key at the challenge, where one slip up could put pairs at risk; Turbo continues to be a menace but meets his match when an old friend becomes a new adversary; players receive a game changing shock that they never saw coming.
Watch The Challenge Season 40 Episode 2 Now
1
Don't Die For Me Argentina
Ride or Die partners hope to prove that their bonds can outlast the competition, as they battle for a massive cash prize; Laurel and Turbo get off on the wrong foot; TJ reveals a cutthroat twist disguised as a friendly gesture.
Watch The Challenge Season 40 Episode 1 Now

The Challenge is an American reality competition show that first aired on MTV in 1998. The series, originally named Real World/Road Rules Challenge, is MTV's most enduring and prolific reality show, which curates a thrilling, intense, adrenaline-hyped atmosphere that has captivated audiences for many seasons. It is a spin-off from two of MTV's reality shows, Road Rules and The Real World. The enduring format of The Challenge takes the competition reality genre to new heights with its high-stakes, often physically demanding challenges combined with the strategic gameplay typically seen on shows like Survivor. It takes previous contestants from The Real World and Road Rules, along with fresh prospects, dropping them into exotic locations to face grueling tasks, intense rivalries, and vivacious drama. The premise of The Challenge rotates around a series of competitive tasks or 'challenges', where contestants fight against each other for supremacy. The competitions involve physical vigor, strategic gameplay and oftentimes trivia, testing the competitors' endurance, strength, mental resilience, and interpersonal alliances. These challenges could range from swimming in icy waters, to scaling heights, to solving puzzles under pressure, or just plain wrestling in mud. Each episode cleverly weaves together these elements of physical feats and tests of cunning to deliver a compelling spectacle of athleticism, strategy, and drama. From the outset, the contestants are divided into teams or work individually depending on the season format. Highlighting aspects from other popular reality-TV shows, The Challenge incorporates voting systems, backstabbing alliances, sneaky strategies, and, of course, eliminations known as 'elimination rounds'. This fusion of Survivor's socio-political maneuvering and The Amazing Race's exciting and varied tasks is what gives the show its unique and addicting quality. These elimination rounds, known as the "Gulag", the "Duel", the "Gauntlet" or the "Inferno," depending on the season, usually involve a head-to-head struggle between members of the losing team or the least performing individuals. After these rounds, one or more contestants are sent home making the competition fierce, as the contestants know any mistake could lead to their departure from the show. Even with its heart-racing, physical challenges in exotic locales, an equally essential element of The Challenge is the drama that unfolds between contestants. The show utilizes a drama-filled house setting where all participants live together while not competing. This scenario brews enough personal conflicts, romances, betrayals, and heartbreaks that rivals the physical action, providing an engaging watch for lovers of intense reality game shows. The snippets of their life inside the dynamic reality house are often juxtaposed with tense face-offs, team strategies, and confessionals, where participants confront the camera in a private, confessional-like space to share their feelings, strategies, and reactions to various events in the competition. These behind-the-scenes insights act as gripping narrative threads that keep audiences invested in the show, making it more than just another physical ordeal-based game show. The grand reward for enduring through all these blistering challenges and outsmarting opponents is a jaw-dropping cash prize, which is either shared among a winning team or secured by a sole-conqueror based on each season's format. Over the years, The Challenge has evolved, introduced new twists, and spun new themes, keeping audiences hooked and guessing. From "Battle of the Sexes" to "Rivals" to "War of the Worlds", each season provides a different flavor, a unique backdrop against which the competition takes place. The show's long-lasting popularity stems from its raw, unscripted feel and the unpredictability of both its game and its players. It brings together diverse contestants, reviving fan-favourites and introducing new faces each season, each with a unique set of personalities that keeps the drama and the gameplay riveting. In a nutshell, The Challenge is not just about physical prowess but also presents a psychological game of alliances, betrayals, and perseverance. With its adrenaline-pumping challenges, fierce rivalries, interpersonal drama, and strategic gameplay, The Challenge offers a competitive reality experience that is unmatched. With more than two decades' worth of episodes, it remains entertaining, unpredictable, and above all, a staple in the world of reality television.
The Challenge is a series categorized as a . Spanning 40 seasons with a total of 641 episodes, the show debuted on 1998. The series has earned a mostly positive reviews from both critics and viewers. The IMDb score stands at 8.0.
How to Watch The Challenge
How can I watch The Challenge online? The Challenge is available on MTV with seasons and full episodes. You can also watch The Challenge on demand at Amazon Prime, Apple TV Channels, Philo, Apple TV, Amazon, Google Play, Vudu, Paramount+, Microsoft Movies & TV online.
Genres
Action & Adventure, Game Show, Health & Fitness, Mini-Series, Reality, Sports
Cast
T.J. Lavin, Johnny 'Bananas' Devenanzio, Chris 'C.T.' Tamburello

Similar Shows like The Challenge