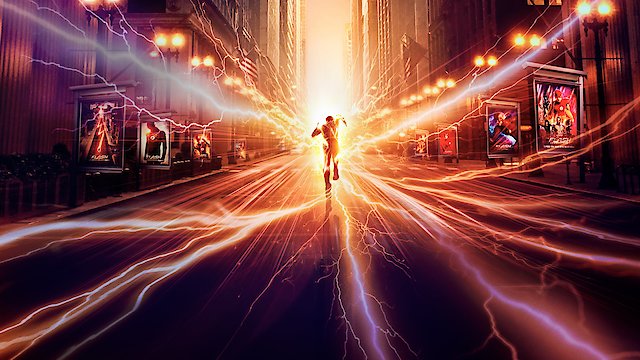 Where to Watch The Flash
The Flash, the fastest man alive, is tasked with his greatest challenge yet, to save the timeline and save existence. Friends old and new gather for an epic battle to save Central City, one last time.
Watch The Flash Season 9 Episode 13 Now
12
A New World, Part Three
Team Flash works together to figure out how to protect Barry, all while being very careful who they trust. Cecile is skeptical of the plan after an unsuccessful attempt.
Watch The Flash Season 9 Episode 12 Now
Iris is alarmed by Barry's disappearance and Cecile assures her everything will be ok, but does she know that for certain? Team Flash is affected by a mysterious substance and Khione develops a better understanding of what she can and cannot control.
Watch The Flash Season 9 Episode 11 Now
As Iris receives word of a career milestone, Barry is suddenly nowhere to be found. In trying to get back home, Barry runs across many familiar faces.
Watch The Flash Season 9 Episode 10 Now
9
It's My Party and I'll Die If I Want To
Team Flash throws a surprise birthday party for Barry but things go terribly awry when Ramsey Rosso crashes the festivities.
Watch The Flash Season 9 Episode 9 Now
A seemingly simple mold inspection at S.T.A.R. Labs leads to unexpected time anomalies. Barry and Iris try to make sense of the confusion – and figure out how to get back to their reality. Chester admits a secret to Allegra which makes things awkward between the two, and Allegra relies on Cecile to act as a buffer. Meanwhile, Khione meets with an old friend of Team Flash.
Watch The Flash Season 9 Episode 8 Now
Iris is visited by Nia Nal, as she needs Iris' help. When Iris and Nia fall into a fever dream and explore different possibilities for their lives, Barry, Chester, Allegra and Cecile desperately try to help them.
Watch The Flash Season 9 Episode 7 Now
6
The Good, the Bad, and the Lucky
As Barry and Iris prepare for their new life, luck changes for those in Central City. Cecile takes on a case with Allegra's help, involving a string of unfortunate - and highly unexpected - events.
Watch The Flash Season 9 Episode 6 Now
5
Mask of the Red Death, Part 2
As the Red Death wreaks havoc on Central City, Barry and Iris come up with a plan and turn to Cecile for help. Barry is faced with what he thinks was his greatest mistake, and the Red Death's greatest success.
Watch The Flash Season 9 Episode 5 Now
4
Mask of the Red Death, Part 1
The Flash is forced to make an impossible choice. With the power out in the city, Team Flash calls upon the Rogue Squad to help as Iris is visited by an old friend.
Watch The Flash Season 9 Episode 4 Now
Barry and Iris start to put together the pieces of what's happening in Central City and believe they know what the Rogues are after. Team Flash works together and recruits some unlikely allies to help, and the plan does not go as Team Flash expects.
Watch The Flash Season 9 Episode 3 Now
Barry feels guilty for what happened to Caitlin and Mark comes up with a plan which makes everyone skeptical. Meanwhile, Red Death looms in Central City and commands that failure is not an option.
Watch The Flash Season 9 Episode 2 Now
Barry creates a map book to guide him and Iris throughout their future in order to keep her safe, but the results are not what he expected, and instead, they relive the same day over and over again. Joe has a heart-to-heart with Cecile.
Watch The Flash Season 9 Episode 1 Now

The Flash is a high-octane, superhero drama series from The CW network, which was first aired in 2014 and ended in 2023. The show is an adaptation of the popular DC Comics franchise and is set in the same universe as other adaptations like 'Arrow,' 'Supergirl,' and 'Legends of Tomorrow.' Starring Grant Gustin in the title role, the show tells the story of forensics investigator Barry Allen, who acquires superhuman speed after a freak accident involving lightning and a cocktail of chemicals. Barry awakens from a coma to discover he's the fastest man alive and decides to use his newfound abilities to fight crime and uncover the truth about his mother's mysterious death in the crime-filled Central City. Candice Patton plays Iris West, Barry's lifelong best friend and eventual love interest. She is a perceptive and tenacious journalist known for her heart and determination. Danielle Panabaker stars as Dr. Caitlin Snow, a bio-engineer who becomes a part of Barry's close-knit team at S.T.A.R. Labs. Caitlin has her own layered backstory, which unfolds as the series progresses. Next in line is Tom Cavanagh who wears many hats in the series, primarily as the super-genius Dr. Harrison Wells. His nuanced and versatile performance brings various iterations of the same character, each with a unique twist. Carlos Valdes plays Cisco Ramon, the heart of the team, gifted with an incredible intellect that he uses to create gadgets to help Barry on his missions. Jesse L. Martin portrays Barry's father figure, Detective Joe West. He stands as the moral compass of the show, providing wisdom, insight, and unwavering loyalty often needed to keep everything grounded amidst super-powered chaos. The series also boasts an extensive ensemble with many recurring characters that add depth and variety to the storyline. Keiynan Lonsdale stars as Wally West, a major player from the comic books who grapples with his own superhero journey. Tom Felton, known for his work in Harry Potter, makes a memorable appearance. John Wesley Shipp, who starred in the 90's version of The Flash, adds a touch of nostalgia. Teddy Sears, Neil Sandilands, and other notable stars portray major villains, contributing to the show's dramatic tension. As the series progresses, The Flash delves into Barry's evolution, not only as a superhero but also a man. It juggles his personal struggles and heroic responsibilities while balancing epic showdowns with super-villains and complex relationship arcs with heartfelt touches of humor and humanity. Over its run, The Flash explores different dimensions and eras, tapping into various aspects of the rich mythology from the comics. At its heart, The Flash is about family, friendship, and valor tested against seemingly insurmountable odds. Themes of sacrifice, loyalty, and redemption prominently feature within the narrative, inspiring viewers as they follow Barry's quest to protect those he loves and serve justice. The technical aspects of the show, such as special effects and stunts, are commendable, bringing to life the high-speed action sequences synonymous with Flash. The detailed set designs help in setting the tone of both the mundane and extraordinary aspects of Central City. The Flash delivers a captivating superhero narrative – interlacing adventure, peril, humor, heart, and the inherent appeal of a man striving to do right by his city and his loved ones. It has garnered a dedicated fan following for its earnest storytelling and memorable characters, riding high on a wave of renewed interest in superhero content. The breadth and depth of the show's ensemble cast, coupled with intricate storytelling, make it a marquee series in The CW's roster of superhero TV series. Despite its action-packed premise, The Flash resonates with viewers primarily due to its ability to humanize superheroes. It shows their struggles, their triumph over their fears, their forging of alliances, and the price they pay for their power – altogether a testament to The CW's successful handling of the beloved comic book character's story. For fans of engrossing superhero adventures with a touch of heart, The Flash is a must-watch.
The Flash is a series categorized as a currently airing. Spanning 9 seasons with a total of 185 episodes, the show debuted on 2014. The series has earned a moderate reviews from both critics and viewers. The IMDb score stands at 7.5.
How to Watch The Flash
How can I watch The Flash online? The Flash is available on The CW with seasons and full episodes. You can also watch The Flash on demand at Netflix, The CW, Apple TV, Amazon, Vudu online.
Genres
Action & Adventure, Drama
Cast
Grant Gustin, Candice Patton, Danielle Panabaker, Carlos Valdes, Tom Cavanaugh, Jesse L. Martin, Keiynan Lonsdale

Stream shows like The Flash