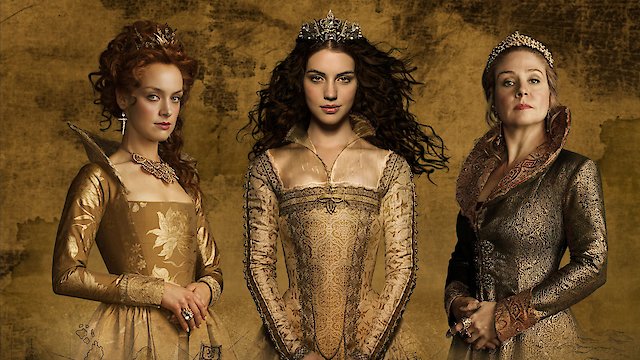 Where to Watch Reign
Mary makes a decision that will change the course of history -- forever shaping the fate of her nation, her crown, and her newborn son. Mary's perilous move for her survival causes the stunning realization that perhaps she is not the only one who may not survive.
Watch Reign Season 4 Episode 16 Now
Mary's life hangs in the balance — Childbirth threatens to take Mary's life, which leaves her and her unborn child's safety in jeopardy. Elizabeth discovers that someone in her inner circle was the cause of the death of someone close to her.
Watch Reign Season 4 Episode 15 Now
14
A Bride. A Box. A Body.
Mary pursues justice by launching a counterattack on her conspirators. Meanwhile, Elizabeth suffers a major setback, and it turns her world upside down.
Watch Reign Season 4 Episode 14 Now
Darnley teams up with John Knox to strip Mary of her throne, which will leave a close friend of Mary's dead. Elizabeth must banish Gideon from court at the request of her future husband, while Charles takes a bold stance against his brother Henri.
Watch Reign Season 4 Episode 13 Now
An earthquake hits Scotland, and Mary faces claims she isn't coming to the aid of her people. Meanwhile, Elizabeth takes drastic measures after she is discovered with Gideon; and Charles make a decision that backfires.
Watch Reign Season 4 Episode 12 Now
Mary and Darnley are at odds as they put their plan to seize England into action. Elizabeth is conflicted about her feelings for Gideon as she attempts to find a Catholic to marry.
Watch Reign Season 4 Episode 11 Now
Mary contemplates how to take over the English throne; Elizabeth struggles to find an appropriate suitor to marry; James gets caught up in a scheme orchestrated by John Knox.
Watch Reign Season 4 Episode 10 Now
Mary's marriage to Darnley keeps her in good political standing. James makes an interesting discovery about Greer, while Elizabeth is desperate to salvage England's power.
Watch Reign Season 4 Episode 9 Now
With the upcoming wedding, a terrible tragedy forces Mary and Darnley apart, forcing Mary to seek Catherine's help. Elizabeth encounters a traitor to Spain, who petitions her to support an expedition to the New World.
Watch Reign Season 4 Episode 8 Now
An unexpected visitor jeopardizes Darnley's marriage to Mary. Elizabeth discovers her attempt to stop Mary backfired.
Watch Reign Season 4 Episode 7 Now
Mary must deal with the political consequences of a potential marriage to Lord Darnley and King Charles disappears, leaving Catherine to repair the situation. Elizabeth comes to Gideon's aid, while Claude receives an interesting proposition.
Watch Reign Season 4 Episode 6 Now
Lord Darnley attempts to prove his loyalty to Mary in an effort to convince her to marry him. Catherine and Narcisse attempt to repair King Charles' reputation after rumors spread about his bizarre behavior.
Watch Reign Season 4 Episode 5 Now
When Lord Darnley surprises Mary with a visit in Scotland, Mary gets a taste of what a union with him could be like.
Watch Reign Season 4 Episode 4 Now
Gideon gives Mary a taste of what life could be like if she chose love over country. Catherine fights to conceal King Charles' increasingly erratic behavior, while Claude finds an enemy in her sister Leeza.
Watch Reign Season 4 Episode 3 Now
Queen Mary discovers there is a leak amongst her advisors and is determined to identify the traitor. Queen Elizabeth enlists in Narcisse to further her quest for supremacy.
Watch Reign Season 4 Episode 2 Now
Queen Mary, unsure who to trust, tests her brother James to ensure his loyalty after hearing of his meeting with John Knox. Queen Elizabeth agrees to help Lord Darnley, in an attempt to sabotage the powerful suitor's relationship with Mary.
Watch Reign Season 4 Episode 1 Now

"Reign" is a historical, romantic drama television series that aired from 2013 to 2017, on The CW network. This series is based around the extravagant and extraordinary world of the French court during the 16th century, showcasing an engaging blend of history, romance, adventure, and political intrigue. "Reign" centers on the young and charismatic Mary Stuart, portrayed by Adelaide Kane, the Queen of Scotland who is betrothed to Prince Francis, played by Toby Regbo, the future King of France. Arriving at the unpredictable and opulent French Court, the series delves into her attempts to maintain political harmony, strengthen alliances through her marriage, and deal with the challenges that come with being a young ruler. The series is not just about ruling, but also encapsulates the journey of a young girl, navigating through her personal life and surviving in an environment that is as treacherous as it is beautiful. Megan Follows brings the character of Catherine de' Medici, the Queen Consort of France, to life, while Craig Parker plays the ambitious nobleman, Lord Narcisse. Torrance Coombs is the dashing Sebastian, and Celina Sinden, Caitlin Stasey, and Anna Popplewell play Mary's loyal and courageous ladies-in-waiting. The lives of these key characters intertwine and unfold in a vivid display of love, conflicts, betrayals, and political maneuvers. To amalgamate history with fiction, "Reign" showcases period costumes which are a blend of historical and modern styles, thus creating an appealing visual aesthetic. The palace setting, complete with its lush gardens and grand halls, further adds substance to the viewing experience. To enrich the narrative, the show includes a myriad of subplots involving court intrigue, power plays, and romantic entanglements that include not just the monarchy, but also the nobles and other members of the court. The series was created by Laurie McCarthy and Stephanie Sengupta and set apart by its strong female lead characters who portray engrossing tales of love, heartbreak, and politics. The various battles, conspiracies, and schemes portrayed in the series are a true illustration of the dangerous game of thrones of that era. Supernatural elements such as prophecies and visions often lace the plot, using them as instruments of tension which flank the show's historical bones, providing an extra layer of mystery, and making the storyline more fascinating and unpredictable. One of the most unique aspects of "Reign" is its use of contemporary music in a historical setting. This stylistic choice illuminates the timeless and relatable emotions of the characters, adding a modern flavor to the historical backdrop. The narrative also explores the theme of feminism, power dynamics, religion, and sexuality, offering a more nuanced display of the era beyond the facade of royalty. "Reign" is successful in creating an alternate universe of the 16th century that fuses facts with fictional elements, resulting in an extraordinarily rich tapestry of romance, politics, and courtly scheming. The combination of stunning visuals, an impeccably talented cast, fascinating plotlines and a powerful narrative not only display grievous political warfare but also shed light on character-driven narratives. Overall, "Reign" is a captivating watch, offering a fresh perspective on historical dramas. It takes viewers on a roller coaster ride through the trials and tribulations of royalty in the 16th-century French court, while also finding space for complex and empathetic human stories. With its compelling storylines, complex characters, and strong performances, "Reign" emerges as a unique historical drama series that is filled with intrigue, love, passion, and danger.
Reign is a series categorized as a canceled/ended. Spanning 4 seasons with a total of 78 episodes, the show debuted on 2013. The series has earned a moderate reviews from both critics and viewers. The IMDb score stands at 7.5.
How to Watch Reign
How can I watch Reign online? Reign is available on The CW with seasons and full episodes. You can also watch Reign on demand at Amazon Prime, The CW, CW Seed, Apple TV, Amazon, Google Play, Microsoft Movies & TV, Vudu online.
Cast
Adelaide Kane, Toby Regbo, Torrance Coombs, Megan Follows, Alan Van Sprang, Rossif Sutherland, Anna Popplewell, Caitlin Stasey, Celina Sinden, Jenessa Grant, Jonathan Keltz