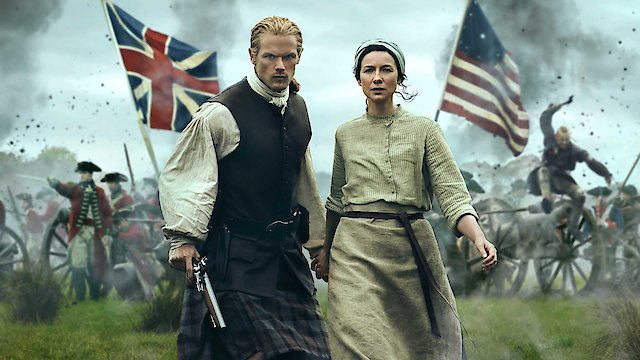 Where to Watch Outlander
Jamie fights in the pivotal Second Battle of Saratoga. Roger and Brianna search for Jemmy.
Watch Outlander Season 7 Episode 8 Now
7
A Practical Guide for Time-Travelers
Jamie prepares to face British forces in battle. Roger and Brianna question Buck MacKenzie's intentions in the 20th century.
Watch Outlander Season 7 Episode 7 Now
Jamie and Claire help civilians flee Ticonderoga after the fort falls into British hands. Roger discovers the identity of the mysterious 'Nuckelavee'.
Watch Outlander Season 7 Episode 6 Now
At Ticonderoga, Jamie and Claire prepare for an imminent British assault. Roger compiles information about time travel while Brianna earns the respect of her coworkers.
Watch Outlander Season 7 Episode 5 Now
4
A Most Uncomfortable Woman
On the way to Scotland, Jamie is pulled back into the Revolutionary war. William is sent on a covert mission.
Watch Outlander Season 7 Episode 4 Now
Jamie discovers Arch Bug has been keeping a dangerous secret. In the 20th century, Roger and Brianna find a link to Jamie and Claire.
Watch Outlander Season 7 Episode 3 Now
2
The Happiest Place on Earth
Claire makes a startling discovery about Roger and Brianna's newborn daughter. A familiar face returns to the Ridge with explosive consequences.
Watch Outlander Season 7 Episode 2 Now
Jamie races towards Wilmington to rescue Claire from the gallows, only to discover that the American Revolution has well and truly reached North Carolina.
Watch Outlander Season 7 Episode 1 Now

Outlander is an enthralling historical drama that amalgamates love, warfare, and time travel. Produced by Starz, the series was released first in 2014, stirring massive audience reception and increasing zeal for its succeeding seasons. The powerful show flourishes under the meticulous crafting of Ronald D. Moore and a team of talented creators. The captivating tale of Outlander is based on Diana Gabaldon's novel series. Incoming with the touch of reality in the form of historical events, the series plunges its viewers into the mid-to-late 18th-century Scottish Highlands while also periodically whisking you back to the post-World War II era. The campaign of Claire Beauchamp Randall, the series' lead character, played masterfully by Caitriona Balfe, sets the show's dual timeline action. Claire, a British army nurse in World War II, sets the plot in motion when her life gets entwined with the enigmatic stones of Craigh Na Dun during a second honeymoon in Scotland. This historical expedition with her husband Frank spills into a time-travel journey as she is mystically transported back to 1743 from 1945. Despite her anxiety and desperate attempts to return to her time, Claire finds herself entrenched in the tumultuous history of Scotland, ushering in a whirlwind of conflicting loyalties, love, and survival. The parallel plot further unfolds with Sam Heughan portraying Jamie Fraser, a chivalrous and courageous Scottish warrior who comes to Claire's rescue in her time of dire need in 1743. From being initially suspicious, Jamie becomes Claire's closest ally, leading to intriguing and emotionally laden crossovers of love, loyalty, deception, and betrayal. Their unlikely bond reflects through the backdrop of political unrest, power struggles between the Scottish clans, and advancing British forces. Outlander excels in creating exceptional characters. Apart from Claire and Jamie, Tobias Menzies leaves a superb impression in a dual role as Frank Randall, Claire's erudite and tender husband in the 20th century, and Captain Jack Randall, his brutish doppelganger in the 18th-century. The cast's convincing performances and palpable chemistry amplify the show's narrative brilliance. Subtly embedded moral dilemmas continue to serve as the show's unique selling points. The paradox of time travel — meddling or not meddling with the course of history — becomes a regular quandary for Claire. Her 20th-century knowledge, her formidable spirit, and her nursing skills become both her sanctity and affliction in the largely superstitious 18th-century society. The intriguing premise of Outlander gets further enriched through meticulous set designs, costumes, and nuanced performances that resonate the glorious yet brutal past. The series encapsulates the past's brutality while also cherishing it - the primitive ways of life, their customs, culture, superstitions, and politics. The aesthetically filmed romantic scenes and landscapes of the Scottish Highlands become intensely noticeable in Outlander. Ruggedly beautiful, sheep-filled glens, smoky pub rooms, grand castles, and murky warfields all come to life. Simultaneously, the series flourishes under the poignant and intense romantic scenes between Claire and Jamie. Their chemistry on screen is unmatched and defines the core essence of the series. Amid the picturesque setting and intriguing characters, Outlander is noteworthy for showcasing audacious topics. It brings to light issues related to power abuse, sexual assault, and traumatic experiences. These themes, portrayed with sensitivity and raw realism, offer a bold perspective on the brutality of the period, making the series hard to digest at times, but it contributes significantly to its depth and authenticity. Outlander is undeniably a treat for viewers who enjoy historical dramas infused with the time-travel element, nail-biting adventures, and a passionate love story. The saga of love across time brings out the complex human emotions in the face of challenges and choices, making it a compelling watch. An intricate tapestry of brilliantly interwoven plots, aesthetically pleasing cinematography, deft performances, and a brilliant narrative make Outlander an unmissable series. Its universal appeal mingled with the intricacies of the human struggle for survival in the unlikeliest of situations makes it a show that continues to captivate audiences worldwide.
Outlander is a series categorized as a currently airing. Spanning 7 seasons with a total of 84 episodes, the show debuted on 2014. The series has earned a mostly positive reviews from both critics and viewers. The IMDb score stands at 8.4.
How to Watch Outlander
How can I watch Outlander online? Outlander is available on Starz with seasons and full episodes. You can also watch Outlander on demand at Hulu Plus, Amazon Prime, Netflix, Apple TV Channels, Starz online.
Genres
Action & Adventure, Drama, Science Fiction
Cast
Caitriona Balfe, Sam Heughan, Tobias Menzies, Graham McTavish

Similar Shows like Outlander