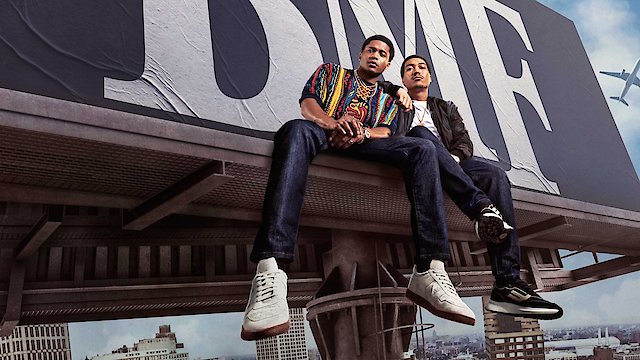 Where to Watch BMF
Meech and Terry finally handle Detective Bryant, Lamar and B-Mickie before charting the next big step for BMF's expansion, which will change the course of their relationship forever.
Watch BMF Season 2 Episode 10 Now
The Flenory brothers travel to Atlanta during "Freaknik" to set up a new distribution hub for BMF and reconnect with their business associates Ty Washington and Goldie; not everyone survives the road trip.
Watch BMF Season 2 Episode 9 Now
The Flenory brothers buy a car wash to pack cars after being flushed with product from a new plug.
Watch BMF Season 2 Episode 8 Now
In a risky move that could cost them their lives, Meech and Terry travel to St. Martin to steal K-9's Colombian connect.
Watch BMF Season 2 Episode 7 Now
Terry and Meech go back to Detroit from Atlanta with a product and a technique to flood the streets with BMF products.
Watch BMF Season 2 Episode 6 Now
On the run, broke and in search of a new plug, Meech and Terry discover the Black Mecca of Atlanta where they connect with old friends and make new allies in an effort to rebuild their business during the drug drought.
Watch BMF Season 2 Episode 5 Now
With Meech barely out of the hospital and still bleeding out, Terry assumes command of BMF; BMF is strapped for cash, out of product and down to its last men; Terry tries to find a new supply.
Watch BMF Season 2 Episode 4 Now
Devil's Night and a drug drought cause chaos and a spike in crime in the city of Detroit. Meech seeks a new supply from K-9 at a bloody cost, while Terry confronts a car service competitor.
Watch BMF Season 2 Episode 3 Now
Meech focuses on expanding BMF into Cleveland while Terry experiences growing pains as he launches his car-ride business with Charles; Terry learns Meech could be in danger.
Watch BMF Season 2 Episode 2 Now
Meech smuggles drugs from Las Vegas as a test to secure a new plug for BMF, a vicious gangster from the Brewster Projects, K-9; Terry begins his new car-ride business with Charles after leaving the drug game.
Watch BMF Season 2 Episode 1 Now

BMF, which stands for Black Mafia Family, is an American drama television series that premiered on Starz in 2021. Set in the late 80's and early 90's, the show is a rich, gritty, and highly-addictive interpretation of one of the most influential crime families in modern American history. Inspired by actual events, the series, through a blend of potent storytelling and a strong ensemble cast, captures the rise of the brother duo that built the powerful, notorious and sometimes feared crime organization. Created by Randy Huggins, known for "Power" and "The Shield", and executively produced by rapper Curtis '50 Cent' Jackson, the point of departure for this truly engaging series is the chronicle of the real-life Detroit siblings Demetrius 'Big Meech' and Terry 'Southwest T' Flenory, whose enterprising sense and undying ambition drove them to sculpt one of the most successful and prominent drug trafficking organizations in the United States. Drawing millions of viewers weekly, the story unfolds in the backdrop of a socio-economically struggling Detroit, breathing life into the narrative of how an underground empire was born and rose to power. BMF's central characters, Demetrius and Terry Flenory, are portrayed by actors Da'Vinchi and Demetrius Flenory Jr., the real-life son of Demetrius 'Big Meech' Flenory, respectively. Their portrayal of the ambitious and industrious Flenory brothers brings an engaging dynamism and authenticity into the series, capturing the essence of their relentless pursuit of the American Dream by any means necessary. The siblings start off making their early fortunes through selling drugs in high school. However, when their endeavors quickly turn lucrative, they must navigate through the complex web of adversities, territorial assertions, and police involvement. All the while dealing with issues back home among their family, friends, and loved ones. The series uniquely illustrates the juxtaposition between their normal lives as family men and the high-risk, high-reward lifestyle they led on the streets, captivating the viewers to the end. The world of BMF is filled with an ensemble cast that flaunts both depth and complexity. Love, family, loyalty, and betrayal infuse the stirring narrative with intense emotional beats. Apart from showing the glamorous side of their lives, the show never shies away from delving into the gritty and chaotic aspects of the underground world. It shows the violence, deception, and betrayal that goes hand in hand with the glitz and glamour of the crime lord's lifestyle. The show's aesthetics also play a substantial role in bringing the narrative to life. With its deliberate approach to cinematography, costume design, and mise-en-scene, each frame of BMF is a visual treat. The creators have paid particular attention to capturing the era's authenticity, with meticulously designed sets, vintage cars, and clothing styles accurately depicting the late 80s and early 90s era. Coupled with a carefully curated soundtrack that features a mix of hip-hop, RnB, and pop tracks from the era, the show presents a rich tapestry of time and place. BMF also makes a strong social commentary, highlighting the economic inequality that plagued the streets of Detroit, forcing many young men and women into a life of crime. It prods at the inherent struggles and systemic obstacles that limit opportunities for the disadvantaged sections and lead individuals towards the unforgiving life of crime. On the whole, BMF is a rousing saga of brotherhood, ambition, family, and power. An immersive plunge into a world less explored, it blends gripping storytelling with arresting performances and delivers one of the most compelling crime dramas of recent times. For enthusiasts of the genre or anyone interested in narratives highlighting the pursuit of the American Dream in the face of systemic struggles, the show is a must-watch. BMF stands as a raw, engaging, and insightful addition to Starz's array of unique, appealing content.
BMF is a series categorized as a . Spanning 2 seasons with a total of 18 episodes, the show debuted on 2021. The series has earned a moderate reviews from both critics and viewers. The IMDb score stands at 7.5.
How to Watch BMF
How can I watch BMF online? BMF is available on Starz with seasons and full episodes. You can also watch BMF on demand at Hulu Plus, Amazon Prime, Apple TV Channels, Starz, Apple TV, Vudu, Sling online.
Genres
Crime, Drama, Thriller
Cast
Da'Vinchi, Demetrius 'Lil Meech' Flenory, Myles Truitt