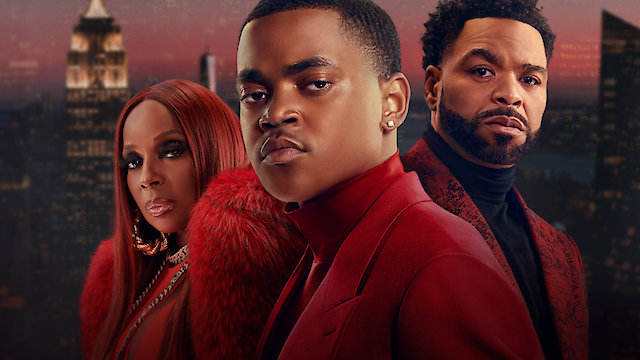 Where to Watch Power Book II: Ghost
Tariq is forced to join forces with those who betrayed him in order to prevent the worst possible outcome for everyone. Monet elevates her position within the business, reaffirming her power over the Tejada children.
Watch Power Book II: Ghost Season 3 Episode 10 Now
In the riveting ninth episode of Power Book II: Ghost's third season, aptly titled "A Last Gift," tensions run high and the stakes have never been greater. At the epicenter of this volatile narrative, we find Tariq St.
Watch Power Book II: Ghost Season 3 Episode 9 Now
The feds apply pressure to get their suspect to flip. Dru's erratic behavior leads the Castillos to grow suspicious.
Watch Power Book II: Ghost Season 3 Episode 8 Now
Tariq teams up with Tate to plot retaliation after an attack puts the street operation on pause. Monet makes a play to reestablish control over the business.
Watch Power Book II: Ghost Season 3 Episode 7 Now
Tariq demands answers after a startling revelation shakes up the relationships in his life — both business and personal. Tragedy brings the Tejadas to the brink of war as they work with the Castillos to enact revenge.
Watch Power Book II: Ghost Season 3 Episode 6 Now
A business deal takes Tariq, Brayden and Effie to Milan; Monet digs deeper after Davis provides her new information regarding Zeke's murder; Saxe doubles down to find out what Jenny is hiding.
Watch Power Book II: Ghost Season 3 Episode 5 Now
The Tejadas and Davis discuss how they're going to handle Whitman, and Dru sets up a risky deal with the help of a family friend.
Watch Power Book II: Ghost Season 3 Episode 4 Now
Tariq and the rest of the team must find a way to get the product flowing at an even bigger scale; tensions rise amongst the Tejadas when Lorenzo backs Cane's plan; Saxe digs into the Theo Rollins case.
Watch Power Book II: Ghost Season 3 Episode 3 Now
Tariq, Brayden, Effie and Cane divvy up Noma's product to push; Lorenzo sets a plan in motion to keep Monet off his trail after she orders him to find Zeke's killer; Cane looks into what happened at Mecca's hangar.
Watch Power Book II: Ghost Season 3 Episode 2 Now
1
Your Perception, Your Reality
A new semester at Stansfield means a fresh start for Tariq; Brayden learns the ropes at Weston Holdings under his uncle Lucas; Monet grieves the loss of Zeke; Cane searches for a new connect.
Watch Power Book II: Ghost Season 3 Episode 1 Now

Power Book II: Ghost is a compelling drama series that premiered on the Starz network in 2020. Created by Courtney A. Kemp in collaboration with Curtis '50 Cent' Jackson, this series satisfies the curiosity of fans of the original 'Power' series, providing a continuation and a fleshed-out exploration of the Power universe. The series serves as both a direct sequel and a standalone narrative to the preceding Power, which has often been lauded for its gripping storyline and intricate character portrayals. Power Book II: Ghost takes you on a journey into the life of Tariq St. Patrick, one of the primary characters from the original Power series. The enthralling storyline and multi-dimensional characters make the series a fantastic watch. Michael Rainey Jr. takes center stage as Tariq, whose character was introduced in the first Power series as the intelligent but rebellious son of James "Ghost" St. Patrick. It eloquently traverses Tariq's navigate through his complex existence, marked by critical decisions he has to make for his future and the survival of his family. In this series, Tariq finds himself entangled in a world of crime and corruption as he attempts to free his mother, while also maintaining his academic life. Balancing these varying aspects of his life forms the crux of the storyline, where the consequences of his past actions continue to loom large. He must strive to follow his father's legacy in the narcotics business to emancipate his mother, and simultaneously keep up with his studies, maintaining his grades to maintain his eligibility in a particular inheritance clause. This often leaves Tariq in a precarious position, conveying that the apple doesn't fall far from the tree. The series also introduces the Tejada family, a new faction of power players in the criminal underworld, that end up playing a significant role in Tariq's life. Endowed with a ruthless matriarch named Monet, wonderfully portrayed by Mary J. Blige, the Tejada family brings its unique flavor and cultural details to the series. Monet Tejada represents a different kind of female power, one drawn from strength, influence, and survival's need in a cut-throat world. Her interactions with Tariq lend more complexities to the narrative, driving it into unexplored territories and expanding the range of character development. While the primary narrative revolves around Tariq, we also witness the evolution of several other characters in their personal and professional capacities. This includes brilliant performances from Naturi Naughton, who reprises her role as Tariq's mother Tasha St. Patrick, Shane Johnson as Cooper Saxe, Gianni Paolo as Brayden, and Quincy Tyler Bernstine as Tameika Robinson, among others. Furthermore, the story stretches beyond Tariq's immediate world, digging deeper into the politics of the school, the criminal justice system, and the narcotics business. Importantly, this narrative expansion doesn't lose sight of its previous timelines. Instead, it keeps the past relevant, reiterating that while destiny can get carved, it never really gets erased. The title, Power Book II: Ghost, doesn't imply only to Tariq's father's nickname, but it acts as a constant reminder for viewers about Tariq's inescapable past and the ghost of his father's deeds that haunts him. Tariq's journey to find his identity amidst the chaos forms the gripping core of the series. With the niche blending of crime drama and a university setting, Power Book II: Ghost draws rampant comparisons to its predecessor. Yet it confidently distinguishes itself from the original Power and any other university-based drama, with novel storylines and professional execution. The series provides in-depth character sketches, a strong narrative structure, and a fantastic soundtrack, making it an intense viewing experience that keeps you on the edge of your seat. In conclusion, Power Book II: Ghost is a bold follow-up to its predecessor that intelligently balances the expectations of Power fans while also setting its own narrative bearings. It interestingly displays themes of power, legacy, and survival while being rooted in the universals of family, loyalty, and consequence. Tariq's journey is enhanced with multifaceted characters, unexpected plot turns, and edgy storytelling. It's a well-crafted insight into Tariq's quest for power, continuing the narrative from Power, and thrusts viewers into a complex and intriguing viewing experience. It pulls you into its world with its engaging storyline and thoughtful dialogue, making it an impressive sequel and just as addictive as its predecessor.
Power Book II: Ghost is a series categorized as a . Spanning 3 seasons with a total of 30 episodes, the show debuted on 2020. The series has earned a moderate reviews from both critics and viewers. The IMDb score stands at 7.5.
How to Watch Power Book II: Ghost
How can I watch Power Book II: Ghost online? Power Book II: Ghost is available on Starz with seasons and full episodes. You can also watch Power Book II: Ghost on demand at Hulu Plus, Amazon Prime, Apple TV Channels, Starz, Apple TV, Amazon online.
Cast
Michael Rainey Jr., Naturi Naughton, Mary J. Blige, Method Man, Daniel Bellomy, Gianni Paolo, Justin McManus, LaToya Tonedeo, Lovell Adams-Gray, Melanie Liburd, Paige Hurd, Quincy Tyler Bernstine, Shane Johsnon, Woody McClain

Stream shows like Power Book II: Ghost