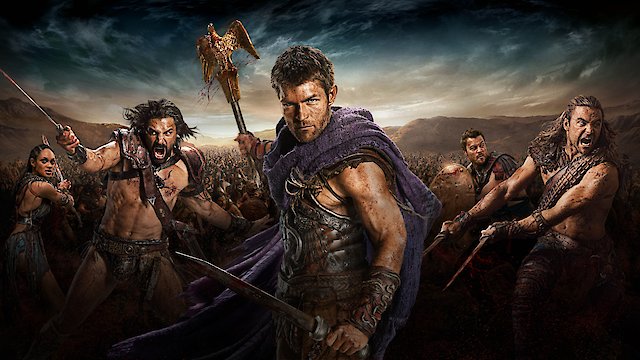 Where to Watch Spartacus
Trotz zahlenm
Watch Spartacus Season 4 Episode 10 Now
9
SPARTACUS The Dead and the Dying
Crassus learns that a fellow prominent Roman is attempting to steal the glory of defeating Spartacus he feels is rightfully his. Spartacus aims to secure a bargaining chip he can use against the Romans and celebrates the memory of a fallen brother.
Watch Spartacus Season 4 Episode 9 Now
Spartacus and the rebels arrive at a crossroads. With the relentless Crassus driving his men hard in the pursuit of Spartacus, the conflict between Tiberius and Caesar escalates.
Watch Spartacus Season 4 Episode 8 Now
Their forces pinned in on a snowbound, impassable ridge, Spartacus and Crixus come into conflict over the method of escape. Crassus discovers it increasingly difficult to control the actions of those closest to him.
Watch Spartacus Season 4 Episode 7 Now
As Crassus leads an onslaught against the rebel-occupied city, Gannicus finds himself trapped behind enemy lines. Tiberius is tasked by Crassus to hold a celebration in honor of a man he despises.
Watch Spartacus Season 4 Episode 6 Now
Spartacus setzt einen Plan in Gang, der ihm durch die Schw
Watch Spartacus Season 4 Episode 5 Now
Ein r
Watch Spartacus Season 4 Episode 4 Now
Spartacus erw
Watch Spartacus Season 4 Episode 3 Now
2
SPARTACUS Wolves at the Gate
Spartacus leads a daring assault to provide food and shelter for his people. Crassus builds a fearsome army and receives an unexpected visitor.
Watch Spartacus Season 4 Episode 2 Now
Spartacus f
Watch Spartacus Season 4 Episode 1 Now

Spartacus is an internationally acclaimed Starz television series that initially aired from 2010 to 2013. Inspired by the historical story of the famed Thracian gladiator, Spartacus, known for leading a massive slave uprising against the Roman Republic, the series offers a gripping depiction of ancient Rome's bloodiest aspects – brutal fights to the death, oppressive slave conditions, and cutthroat palace intrigue. The title role of the legendary fighter Spartacus was initially portrayed by the late Andy Whitfield until his untimely demise. Liam McIntyre then took up the mantle, delivering an equally compelling performance. Following Spartacus's painful transformation from the dutiful soldier of Thrace brutally forced into slavery by the Romans, he's masterfully transformed into the gladiatorial arena's superstar before eventually becoming an inspiring rebel leader uniting slaves in a fight for freedom. Anchored by a talented versatile cast, the series doesn't merely rest on its lead character. John Hannah shines as the cunning, slippery Batiatus, the owner of the gladiator training school where Spartacus is kept prisoner. Lucy Lawless stars alongside him as his calculating wife, Lucretia, while Manu Bennett plays the formidable gladiator trainer, Crixus, who becomes a key part of the explosive storyline. Supporting the main cast are familiar faces like Jai Courtney, Craig Parker, Nick E. Tarabay, Peter Mensah, and many others, whose individual plots weave together to create an intricate fabric of lust, power, betrayal, and vengeance. While the series is remarkable for its intense, brutal, and bloody battles inside the gladiator arenas, choreographed with cinematic precision, marred with visceral gore and highlighted by stunning visual effects, it is not a shallow spectacle. It is a sensitive, in-depth exploration of a dark time in human history. Spartacus delves carefully into the lives of those who were treated as less than human in the grand scale of Rome, painting a vivid picture of the slaves, gladiators, Romans, and the societal norms of that era. Spartacus is also remembered for its artful use of graphic visual storytelling, reminiscent of "300's" comic-book style, which lends itself well to the drama's high-octane fight scenes and the gorgeous landscape of ancient Rome. The show has a stylized aesthetic, using slow motion, freeze frames, and enhanced color and contrast for dramatic impact, thereby creating an atmospheric world that absorbs the viewers. While the show frequently deals with mature content – explicit violence and sexual scenes – these elements are woven into the storyline intrically, contributing to the narrative's core and the characters' development. They allow a more honest depiction of the grim reality of the era, hiding nothing of its ruthlessness or debauchery. Led by creator-executive producer Steven DeKnight, the writing team of Spartacus effectively fleshed out complex characters that moved beyond simple stereotypes through clever scripting and authentic story arcs. This storytelling mastery was balanced by episodes' pacing, which combined political maneuvering and intimate human moments with gladiatorial combat for a well-rounded appeal. What sets Spartacus apart is its determination to humanize its characters amidst violence and chaos. The viewers are offered a window into the poignant realities of slaves treated as mere entertainment or property, the vanity and ambition driving Roman politics, and the self-evolution of flawed characters that capture audience affections time and again. In its masterful depiction of a history often skipped over in traditional tellings, Spartacus not only creates a visually stunning spectacle but also leaves an indelible impact on its audiences. It fits perfectly into a niche of historical fiction, gladiatorial glory, and raw, human drama. The show's commitment to honoring history makes it a timeless classic that continues to captivate viewers long after its initial run.
Spartacus is a series categorized as a canceled. Spanning 4 seasons with a total of 47 episodes, the show debuted on 2010. The series has earned a mostly positive reviews from both critics and viewers. The IMDb score stands at 8.5.
How to Watch Spartacus
How can I watch Spartacus online? Spartacus is available on Starz with seasons and full episodes. You can also watch Spartacus on demand at Hulu Plus, Netflix, Apple TV Channels, Starz, Apple TV, Google Play online.
Genres
Action & Adventure, Drama
Cast
Andy Whitfield, John Hannah, Manu Bennett, Lucy Lawless, Peter Mensah, Nick E. Tarabay, Viva Bianca, Lesley-Ann Brandt, Jai Courtney, Siaosi Fonua

Stream shows like Spartacus