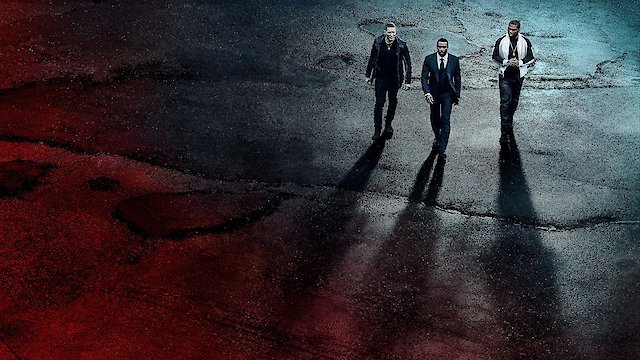 Where to Watch Power
James "Ghost" St. Patrick seeks vengeance. His former drug partner and brother in arms must pay for the ultimate betrayal.
Watch Power Season 6 Episode 15 Now
Tensions run high when Tate tasks Dre to kill Ghost; Tate's hatred toward St. Patrick motivates him to lie during a Federal questioning; the Feds are in striking distance of convicting St.
Watch Power Season 6 Episode 14 Now
Tommy is on a path to avenge LaKeisha's murder. Elisa Marie investigates whats on the USB stick given to her by her father.
Watch Power Season 6 Episode 13 Now
Paz, still grieving Angela's death, seeks allies in the pursuit of justice-or vengeance. She forms an alliance with Warner.
Watch Power Season 6 Episode 12 Now
After being framed by Ghost for the murder of Jason Micic, Dre (with nowhere to run) plans on leaving New York. But first he needs to take care of unfinished business.
Watch Power Season 6 Episode 11 Now
Ghost is on top of the world. Meanwhile the Feds work to prove St. Patrick is guilty for the murder of Terry Silver. But when Ghost makes a political move, it triggers resentment from his many enemies.
Watch Power Season 6 Episode 10 Now
As Ghost and Tommy move forward with their plan to kill Jason, Tommy enacts a plan of his own. Dre uses a ruse to force Tommy's organization to rebel against him.
Watch Power Season 6 Episode 9 Now
A successful New York entrepreneur lives a double life as the head of a drug empire that serves only the rich and influential, all while wanting to escape the underworld and keep his family safe.
Watch Power Season 6 Episode 8 Now
Ghost and Tasha butt heads on how to raise Tariq; Tate gets caught with his pants down; LaKeisha creates new enemies within Tommy's organization; Jason tasks Ghost and Tommy to work together.
Watch Power Season 6 Episode 7 Now
After being duped by Tariq, Vincent holds Tariq hostage. Ghost and Tommy call a temporary truce in order to face a common enemy.
Watch Power Season 6 Episode 6 Now
Tasha revisits old habits when she begins to recruit soldiers for her new empire. Tariq pulls a ruse on Vincent.
Watch Power Season 6 Episode 5 Now
4
Why Is Tommy Still Alive?
Tasha sparks a new flame. Ghost utilizes his resources in an attempt to kill Tommy. Tariq's in over his head with the Italians and Dre forms an unlikely alliance. Proctor hatches a plan to gain custody of his daughter.
Watch Power Season 6 Episode 4 Now
Dre remains in Fed custody. Jason tasks Tommy and Ghost to kidnap Alicia Jiminez. Tommy teaches LaKeisha the drug game. Tariq's business begins to flourish. Tasha has a business plan of her own.
Watch Power Season 6 Episode 3 Now
James "Ghost" St. Patrick has it all: a beautiful wife, a gorgeous Manhattan penthouse, and the hottest, up-and-coming new nightclub in New York.
Watch Power Season 6 Episode 2 Now
Ghost seeks vengeance due to the ill will of Tommy Egan. Tasha vows to get even with Ghost for the murder of Terry Silver.
Watch Power Season 6 Episode 1 Now

Power is a thrilling crime drama television series produced by Starz that ran from 2014 to 2020. Created and produced by Courtney A. Kemp, Power is an intense exploration of the New York underworld, the drug trade, and the struggles of balancing personal integrity against wealth and authority. The show, with a total of six chart-topping seasons, weaves together thrilling storylines of crime, passion, and the high stakes of power in its rawest form. Power unravels the perilous life of James St. Patrick, captivatingly portrayed by Omari Hardwick. A seemingly successful nightclub owner in Manhattan, he leads a double life as a prestigious drug dealer, affectionately known in the streets as "Ghost". James is entangled in a web of contradictions that draw him deeper into a world of crime, even as he wishes to extricate himself and be legitimate. As Ghost, James is an influential fixer in the New York drug empire and runs his operation under the cover of his popular club, Truth. However, he's constantly fighting an internal battle to disassociate himself from this criminal life, which continuously complicates his professional and personal relationships. James's strained relationships with his wife, Tasha, wonderfully portrayed by Naturi Naughton, and lifelong friend Tommy, suitably played by Joseph Sikora, provide significant depth to the plot. Notable series regulars include Luis Antonio Ramos, Rotimi, Shane Johnson, La La Anthony, and Michael Rainey Jr., to name a few. The multi Grammy-winning artist Curtis '50 Cent' Jackson not only executive produced the series but also starred as Kanan Stark, a shrewd and formidable player in the drug dealing business. These characters and their intricate relationships contribute to the charismatic narrative of Power. The series masterfully explores themes such as loyalty, family, identity, and the relentless pursuit of power. It's fundamentally a morality play, as it traverses the gray area between right and wrong, constantly prompting the viewer to question the nature of good and evil within a moral spectrum. As the show advances, further complications arise when James develops a relationship with Angela Valdes, portrayed by Lela Loren. As an Assistant U.S. Attorney, Angela's involvement with James straddles the rightful and the forbidden and further highlights the precarious design of James's double life. The side characters are developed with a depth that ensures no player can be disregarded. Every action has a consequential ripple effect that drives the narrative in unexpected ways, that is both exhilarating and suspenseful. Power houses tremendous performances from its talented cast, creating an extraordinary ensemble that fuels the riveting storyline. Power focuses primarily on the people involved in the drug trade, depicting their dynamics, the alliances, and the dangers inherent. The gritty street life of New York is painted vividly, powerfully contrasting it with the glamour and appeal of the nightclub scene. The series draws the viewers into a world where power coins the rules of survival while pushing its central character to question the path he must walk and the life he ultimately desires. In terms of technical merits, 'Power' impresses with its smart writing, well-choreographed action sequences, and an atmospheric cinematography that seamlessly captures the glamour and grime of the city that never sleeps. The series' soundtrack further enhances the viewing experience by perfectly complementing the mood and pace of the show. In summary, 'Power' is a gripping crime drama series that brilliantly explores the struggles and complexities of power, wealth, crime, and loyalty. Its authentic portrayal of characters, alluring narration, and fascinating plot make it an engaging watch. Its success was further underlined by spawning several successful spin-off series such as 'Power Book II: Ghost,' 'Power Book III: Raising Kanan,' 'Power Book IV: Influence,' and 'Power Book V: Force.' In its six-year run, 'Power' left an indelible mark on television crime drama and continues to be lauded for its exhilarating narrative and compelling performances. For those enticed by the game of power in the streets of New York, this show is not to be missed.
Power is a series categorized as a currently airing. Spanning 6 seasons with a total of 63 episodes, the show debuted on 2014. The series has earned a mostly positive reviews from both critics and viewers. The IMDb score stands at 8.1.
How to Watch Power
How can I watch Power online? Power is available on Starz with seasons and full episodes. You can also watch Power on demand at Hulu Plus, Amazon Prime, Netflix, Apple TV Channels, Philo, Starz, Apple TV, Amazon, Google Play, Vudu online.
Genres
Action & Adventure, Crime, Drama
Cast
Omari Hardwick, Lela Loren, Naturi Naughton, Joseph Sikora, Andy Bean, Adam Huss, Kathrine Narducci, Luis, Antonio Ramos, Greg Serano, Sinqua Walls, Lucy Walters, Rotimi, David Fumero, Shane Johnson, J.R. Ramirez, Jerry Ferrara, Curtis '50 Cent' Jackson, Callan Mulvey, Michael Rainey Jr., Patricia Kalember