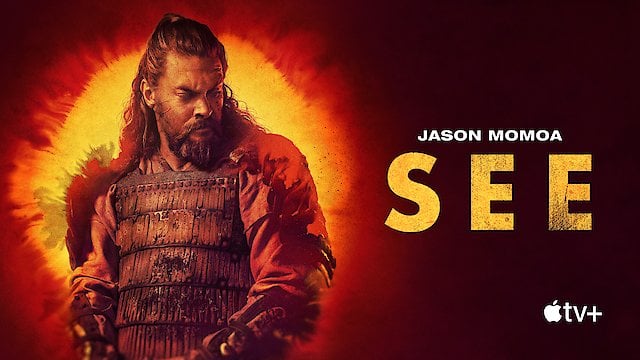 Where to Watch SEE
Series finale. Baba and Ranger infiltrate Sibeth's camp, determined to stop her and Tormada once and for all.
Watch SEE Season 3 Episode 8 Now
Tormada and Sibeth launch a violent attack on Pennsa that puts Maghra and the city's inhabitants in grave danger.
Watch SEE Season 3 Episode 7 Now
Baba and his group take a dangerous shortcut through the lowlands to get to Pennsa. Maghra and Tamacti Jun make a horrifying discovery.
Watch SEE Season 3 Episode 6 Now
5
The House of Enlightenment
A standoff at the House of Enlightenment gives way to a bloody siege between Baba's party and Tormada's soldiers.
Watch SEE Season 3 Episode 5 Now
Tormada presents his new weaponry to The Triangle as Baba leads a group to the House of Enlightenment to destroy Tormada's arsenal.
Watch SEE Season 3 Episode 4 Now
Wren arrives in Pennsa and shares information about Tormada's plans. Tamacti Jun tries once more to quell the Witchfinders' insurgency.
Watch SEE Season 3 Episode 3 Now
After a devastating loss, Baba heads to Pennsa to warn his family. Maghra debates the Witchfinders' fate.
Watch SEE Season 3 Episode 2 Now
Baba embraces life in the mountains as hatred for the sighted grows in Pennsa. A Trivantian scientist develops a terrifying new weapon.
Watch SEE Season 3 Episode 1 Now

SEE is a compelling drama series that airs on Apple TV+. This series debuted in 2019 and, due to its unique premise and strong storytelling, has continued its run through to 2022. The show is an ambitious blend of several genres, including action, drama, and science fiction. It has been warmly received due to its innovative narrative, well-developed character arcs, and beautifully cinematic visuals. Located in a post-apocalyptic setting like no other, SEE introduces a world where the majority of the human population has faced a devastating virus that leaves its survivors blind. Created by Steven Knight and directed by renowned filmmaker Francis Lawrence, SEE is set hundreds of years into a dystopian future following a deadly virus that decimated humankind and rendered the remaining population blind. This catastrophic event has forced society to find new ways to interact, build, hunt, and even survive, without the aid of sight. Over the centuries, human beings have adapted to their new world, evolving until even the concept of sight has become a myth. It's a world that has been shaped by its history, where the advent of sight is treated as a mystical legend by some and a dangerous myth by others. SEE stars Jason Momoa, notable for his past performances in Game of Thrones and Aquaman, who gives a compelling performance as the powerful and complex character Baba Voss. Voss is a feared warrior and the chieftain of the Alkenny Tribe, a group of people who rely on their other senses to face the struggles of their unique existence. Throughout the course of the show, the character of Baba Voss is put to test as he tries to keep his tribe safe from various threats and adversities that lurk in their world. Complementing Momoa's performance is Sylvia Hoeks who portrays Queen Kane, a calculating and imperious leader who rules over a faction of survivors with fervent religious dogmas. She has a keen interest in maintaining her dominion and is determined to eradicate any threats to her power. The plot of SEE takes an unexpected turn when Baba Voss becomes the guardian of twins born with the mythic ability to see. This miraculous event sets in motion a conflict as the news of the vision-bearing twins spread among the desperate survivors, stirring fear and hope in equal measure. The children's instinctive capacity to see is viewed as both a gift and a potential threat that shakes the very foundations of this newly evolved society. As a result, the twins become both a symbol of change for some and a target for others, standing at the centre of escalating conflicts that further shape the story. SEE boasts an intricate world-building scheme that encompasses not just the workings of a sightless society but also contains unique languages, culture, and traditions that the characters have developed to survive. The series creators have paid meticulous attention to detail in this regard, making SEE a truly immersive viewing experience. The landscapes are breathtaking, the costumes and props echo resilience and adaptability, and the choreography of action sequences is uniquely impressive to demonstrate combat without sight. Furthermore, the characterization in SEE is multilayered and thoughtfully constructed. The narrative deeply explores their motivations, fears, hopes, and flaws and provides the actors with a robust platform to deliver memorable performances. SEE maintains a tense and unpredictable narrative throughout the series, keeping viewers engaged with riveting plot developments and character evolution. And while it remains a thrilling tale of survival, the show also presents an interesting exploration of human resilience and adaptability in the face of unprecedented challenges. With its well-crafted storyline, strong performances, and evocative visuals, SEE is a sterling example of high-concept, high-quality television content now available on streaming platforms, and stands as an exceptional offering by Apple TV+.
SEE is a series categorized as a currently airing. Spanning 3 seasons with a total of 24 episodes, the show debuted on 2019. The series has earned a moderate reviews from both critics and viewers. The IMDb score stands at 7.6.
How to Watch SEE
How can I watch SEE online? SEE is available on Apple TV+ with seasons and full episodes. You can also watch SEE on demand at Apple TV+ online.
Cast
Jason Momoa, Sylvia Hoeks, Hera Hilmar