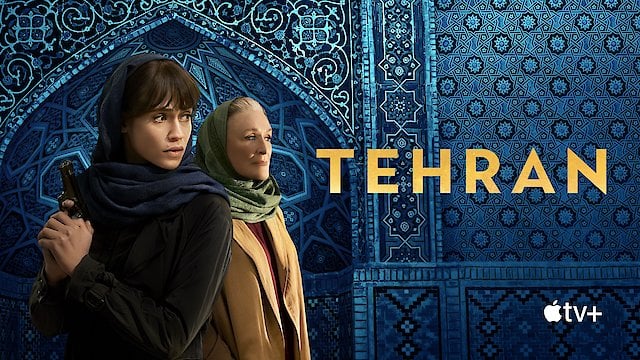 Where to Watch Tehran
Season finale. Tamar doesn't know who to trust. A cat-and-mouse game leads to deadly consequences.
Watch Tehran Season 2 Episode 8 Now
Peyman tells Tamar about his father's car race, leading the Mossad to devise a plan to take out Mohammadi once and for all.
Watch Tehran Season 2 Episode 7 Now
In a dire situation, Faraz makes a difficult decision. Tamar and Peyman continue getting closer as Milad begins to question her priorities.
Watch Tehran Season 2 Episode 6 Now
When Milad is arrested by Tehran police, Tamar and Faraz each race to reach him. Going against orders, Tamar continues pursuing Mohammadi.
Watch Tehran Season 2 Episode 5 Now
Tamar attends an elite pool party to target Peyman. Marjan reconsiders the orders she's been given about Faraz.
Watch Tehran Season 2 Episode 4 Now
Determined to neutralize Faraz, Marjan makes a risky move. Tamar finds a way to get closer to Mohammadi.
Watch Tehran Season 2 Episode 3 Now
A distraught Tamar chooses to stay in Tehran and seek justice
Watch Tehran Season 2 Episode 2 Now
Free of the Mossad and preparing to start a new life in Canada, Tamar is drawn back in by an irresistible offer.
Watch Tehran Season 2 Episode 1 Now

Tehran, an original Apple TV+ series released in 2020, is an international espionage thriller along the lines of series such as "Homeland" and "Fauda." It offers an intense, character-driven narrative, bridging the gap between personal human experiences and the high-stakes world of global intelligence operations. The storyline of Tehran is set in motion as two worlds intersect, straddling the line between the hustle and bustle of regular life in Tehran, Iran, and the clandestine world of espionage and intelligence operations. The series stands out with its blend of intriguing plot, meticulous attention to detail, realistic scenarios and interpersonal complexities of the characters. The lead of the show, Tamar Rabinyan, played by the talented Niv Sultan, is a computer hacker and Mossad agent. Born in Iran but raised in Israel, Tamar is sent undercover to the Iranian capital on a dangerous mission to disable a nuclear reactor, stirring an elaborate game of cat-and-mouse with the Iranian security services. Faraz Kamali, the chief of the Revolutionary Guard's intelligence agency is played by Shaun Toub. He becomes a personal adversary for Tamar, working ceaselessly to track her down. And thus, the show launches into a tense chase between the hunter and the hunted, providing an intriguing blend of espionage, suspense and drama. One uniqueness about the series is its setting. Too often spy dramas opt for the same familiar locations - Moscow, Washington DC, or Berlin. Tehran, however, takes a different route. Providing an almost palpable sense of place, the series draws viewers in with its enticing depiction of the Iranian capital. The city is shown as a location rich in culture and history, populated with everyday people, bazaars, food and nightlife, offering a humanizing portrait of a nation often simplistically portrayed in media. The series' humanization extends to other areas as well. While the espionage-based plot is at the heart of the show, Tehran does not lose sight of more intimate human stories. It depicts various facets of identity, including national, personal, and religious identity, and how these identities come to bear on the lives and decisions of its characters. For instance, Tamar's conflicted sense of identity, being an Iranian-born Israeli, adds depth to her character, making her more than just a cold, calculating spy. Added to the mix is Tehran's clever use of technology, depicting how modern-day technology and cyber warfare can contribute to espionage missions. It shows how the grand games of international politics is often enacted in small computer labs by quick-fingered hackers, revealing the less glamorized, but no less dramatic, tech side of spy operations. The show is in both Persian and Hebrew, with some parts subtitled for English viewers. This not only enhances the authenticity of the plot but also underpins the friction and connection between Israel and Iran, adding to the suspense and drama of the series. Created by "Fauda" writer Moshe Zonder, the Israeli-Iranian co-production includes both Israeli and Iranian cast members and was filmed in Athens fashioned to look like Tehran. The series' thoughtful production adds a level of authenticity and immersion, strengthening the sense of locale and the overall narrative. Tehran has been widely lauded for its nerve-racking suspense, strong character development, and its fairly nuanced portrayal of the conflicted Iran-Israel relationship. While the series offers thrilling, dramatic narrative arcs and viscerally intense scenes, it also invites viewers to ponder on the implications of geopolitical realities and their effects on individual lives. In essence, Tehran is a gripping, high-stakes spy drama enriched by complex characters and a multi-dimensional setting.
Tehran is a series categorized as a . Spanning 2 seasons with a total of 16 episodes, the show debuted on 2020. The series has earned a moderate reviews from both critics and viewers. The IMDb score stands at 7.6.
How to Watch Tehran
How can I watch Tehran online? Tehran is available on Apple TV+ with seasons and full episodes. You can also watch Tehran on demand at Apple TV+ online.
Cast
Niv Sultan, Shaun Toub, Shervin Alenabi

Similar Shows like Tehran