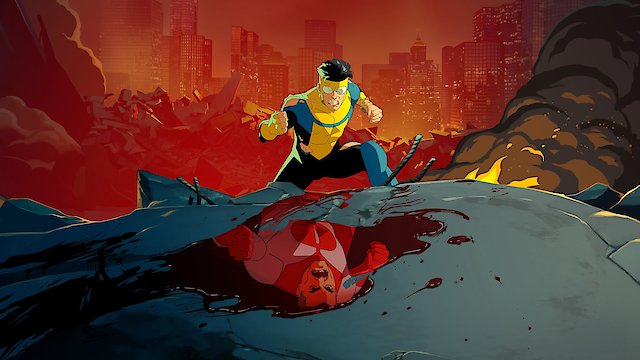 Where to Watch Invincible
8
WHERE I REALLY COME FROM
Mark must prove he's become the hero he's always wanted to be by stopping an unstoppable force.
Watch Invincible Season 1 Episode 8 Now
Feeling lost and confused, Mark looks for advice from Eve. At the same time, everyone's looking for him.
Watch Invincible Season 1 Episode 7 Now
Mark joins William and Amber on a campus visit to Upstate University, hoping to discover a new future for himself. Debbie makes her own disturbing discovery.
Watch Invincible Season 1 Episode 6 Now
Feeling confident in his new abilities, Mark risks a team-up with a local villain to take down a crime lord, while simultaneously juggling school and a new relationship.
Watch Invincible Season 1 Episode 5 Now
4
NEIL ARMSTRONG, EAT YOUR HEART OUT
It's two firsts for Mark: a first date and a first trip to another planet. At the same time, Nolan and Debbie revisit their own first vacation together.
Watch Invincible Season 1 Episode 4 Now
Mark has to cut a study date short to help save Mount Rushmore from a crazed scientist. Robot deals with Action - Comic as he assembles a new team of world-saving superheroes.
Watch Invincible Season 1 Episode 3 Now
With his father out of action, Mark struggles to defend the city against an interdimensional invasion, joining forces with a team of teenage superheroes.
Watch Invincible Season 1 Episode 2 Now
When Mark Grayson finally inherits powers from his superhero father, it's a dream come true. But there's more to being a hero than just choosing a name and costume.
Watch Invincible Season 1 Episode 1 Now

Invincible is an animated superhero television series that premiered on Amazon Prime in 2021. The show is derived from a comic book series of the same name by Robert Kirkman, the creator of the highly acclaimed series "The Walking Dead." Remarkably, the animated show has preserved the mature themes of the original comics, making it an outstanding viewing for older teenagers and adults. The storyline gravitates around Mark Grayson, a seventeen-year-old high schooler, who's trying to reconcile his typical teenage life with the sudden onset of superpowers reminiscent of his father's. His father, Nolan Grayson, otherwise known as Omni-Man, is regarded as the most powerful hero on the planet. Omni-Man is from alien Viltrumite race and his powers include superhuman strength, speed, durability, flight, and the power of longevity. Thrusted into a world of high-stake heroism far too early, Mark adapts to his hero moniker 'Invincible'. With his newly gained powers, Mark tries to follow in his father's steps. Still, he soon finds out that his father's job is a lot tougher and darker than he thought. How he navigates these newfound responsibilities forms the crux of the show. As a coming-of-age story that effectively combines humor, romance, and action amid a backdrop of high school drama, the show deep dives into the superhero genre, challenging the traditional notions of heroism and morality. It reflects on the weight of expectations and explores the ethical dilemmas that a superhero face when dealing with issues of life, death, and justice. The animation style smartly echoes the comic's original designs, and the voice-cast is star-studded. Featuring the voices of Steven Yeun as Mark Grayson, J.K. Simmons as Nolan, and Sandra Oh as his mother, Debbie Grayson, the casting is absolutely spot on. Plus, the guest voice cast list is impressive, including Seth Rogen, Mark Hamm, Zazie Beetz, and Walton Goggins among others. With its rich background of a remarkably well-constructed universe and an equally abundant roster of superheroes and villains with their unique power sets and deeper backstories, the show is a visual treat for comic book fans. However, it's the emotional core of the series, steeped in relationships and role conflicts that make it genuinely compelling. Whether it's Mark's relationship with his father, his mother, or his first love, Amber Bennett, these relationships add depth to his character and drive much of the story's drama. Though it is an animation, Invincible does not shy away from violence. It features plenty of brutal and bloody action scenes that add intensity and impact to the narrative. The stinging reality underneath the show's vibrant colors brings a noticeable grittiness to the look of the show. Thus, it perfectly encapsulates the violent consequences of battles in the superhero world that's often glossed over in other similar shows. Invincible, with its high-quality animation, first-rate voice acting, and layered storytelling, defies the conventional wisdom of what an animated series can be. It pushes the boundaries and offers something fresh and gripping. So, while it might seem like just another superhero show on the surface, it becomes wonderfully peculiar and fascinatingly profound as you delve deeper, making it a must-watch for any superhero genre buffs. The show promises to become a noteworthy addition to the world of animated superheroes with its fresh, adult take on the genre. And wrapping up its first season with a bang, the series has paved the way for an equally intriguing season two. In summary, Invincible is a unique offering in the animation genre, filled with unexpected turns and genuinely touching moments. It proves to be a mature, complex, and intelligent series, breaking new ground in its examination of superheroism, confronted with harsh realities. It's definitely not your typical superhero cartoon, and that's what makes it all the more invigorating to watch.
Invincible is a series categorized as a . Spanning 1 seasons with a total of 8 episodes, the show debuted on 2021. The series has earned a no reviews from both critics and viewers..
How to Watch Invincible
How can I watch Invincible online? Invincible is available on Amazon Prime Video with seasons and full episodes. You can also watch Invincible on demand at Amazon Prime online.
Genres
Drama, Fantasy, Thriller
Channel
Amazon Prime Video

Similar Shows like Invincible
Also on Amazon Prime Video