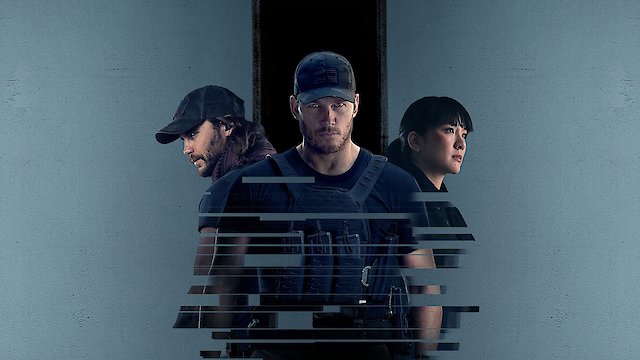 Where to Watch The Terminal List
A showdown brews at Secretary of Defense Hartley's Orcas Island estate--Reece, Katie, Ben, and Tony's paths and objectives collide.
Watch The Terminal List Season 1 Episode 8 Now
Reece returns to Coronado in search of those who betrayed him. Back in his family home, fragmented memories resurface.
Watch The Terminal List Season 1 Episode 7 Now
The FBI's manhunt intensifies as they close in on Reece. Without the medications, Reece's physical and mental symptoms escalate.
Watch The Terminal List Season 1 Episode 6 Now
Reece travels to San Francisco to seek answers on the drug that may have started it all. Katie attempts to recruit Tedesco to ruin Capstone's plans for Nubellum.
Watch The Terminal List Season 1 Episode 5 Now
With the help of his closest friends, Reece travels to Mexico to locate a target. Katie continues to research from a remote location.
Watch The Terminal List Season 1 Episode 4 Now
Reece is drawn deeper into a complex conspiracy and puts a new name on his list. Meanwhile, Secretary of Defense Lorraine Hartley announces a drastic policy overhaul to help Special Operators.
Watch The Terminal List Season 1 Episode 3 Now
Reece locks onto his first potential target, enlisting Ben's help. With his mental health in question, Katie and Reece strike up an uneasy but mutually beneficial partnership to find answers.
Watch The Terminal List Season 1 Episode 2 Now
In the wake of a disastrous mission overseas, Navy SEAL Commander James Reece returns home with conflicting memories of the op and questions about his own culpability.
Watch The Terminal List Season 1 Episode 1 Now

The Terminal List is an explosive, high-octane series that debuted on Amazon Prime in 2022. This intricate and thrilling narrative, based on Jack Carr's New York Times bestselling novel, expertly marries action and drama, offering viewers a deep dive into one man's relentless pursuit of justice, fueled by myriad secrets, lies, and powerful revelations. Chris Pratt, popularly known for his roles in Guardians of The Galaxy and Parks and Recreation, takes a more intense, dramatic turn in his portrayal of James Reece, a Navy SEAL who returns home from an intense combat mission only to discover the complexities of conspiracy and corruption reaching the highest corners of his country's power structure. Taylor Kitsch, known for his performances in Friday Night Lights and True Detective, plays a vital role, along with Constance Wu of Crazy Rich Asians fame. Jeanne Tripplehorn, recognized from her tenure in Criminal Minds, lends her expertise to the ensemble, while Riley Keough, recognized from Mad Max: Fury Road, brings her unique talent to the series. Patrick Schwarzenegger, son of Hollywood legend Arnold Schwarzenegger and an emerging talent himself, further bolsters this distinct cast. Arlo Mertz, Jai Courtney, J. D. Pardo, and LaMonica Garrett play significant roles throughout the narrative. Christina Vidal, Sean Gunn, Alexis Louder, Tom Amandes, Tyner Rushing, Nick Chinlund, Paul McCrane, and Arturo Castro each add their unique flair to the tapestry of characters in this richly woven spectacle. The story swings back and forth between James Reece's past – his friendships, loyalty, personal loss, core values, and military missions – and the haunting present, where he is sucked into a vortex of questions, betrayals, and hidden truths. The narrative deftly explores themes of loyalty, strength, struggle, and betrayal, while keeping viewers tightly gripped to their seats with doses of adrenaline fueling action. The Terminal List is a thrilling blend of military accuracy and daunting political intrigues, which, under the helm of a strong directorial vision, stays true to its source material, marking its unique footprint in the genre. Chris Pratt's visceral and unflinching performance, punctuated by the emotional turmoil his character endures, is a standout, contributing to the series' strength. Adding to the richness of the narrative are the diverse range of characters that surround James Reece, each played expertly by the robust cast. Their personal tales, perspectives, and association with the protagonist add layers of emotion and nuance, making the viewing experience more engaging and immersive. Moreover, The Terminal List also sheds light on the aftermath of combat, addressing mental health issues like PTSD subtly, making it more than just an action drama. This provides audiences with a fresh insight into the lives of those in the military and the battles they continue to fight off the battlefield. With a narrative that is as gripping as it is thought-provoking, The Terminal List promises an emotional journey filled with action, drama, secrets, and intense moments of revelation. It introduces its viewers to a world of dark secrets, high-speed combats, and devastating truths that are bound to keep them hooked until the very end. In conclusion, The Terminal List succeeds not just as an action-packed military drama, but also as a sober exploration of the extreme personal toll warfare takes on those who serve. Its blend of thrilling combat sequences, a plot abundant with high stakes corruption, and robust performances from the ensemble cast, makes it a worthy addition to any viewer's must-watch list. It's an intense investigation into the harsh realities of service, resilience, and the long road to justice. Whether you are an action enthusiast or drawn to narrative depth and character development, The Terminal List is a ride that caters to a broad spectrum of viewers, making it a potent addition to Amazon Prime's catalogue.
The Terminal List is a series categorized as a new series. Spanning 1 seasons with a total of 8 episodes, the show debuted on 2022. The series has earned a moderate reviews from both critics and viewers. The IMDb score stands at 7.9.
How to Watch The Terminal List
How can I watch The Terminal List online? The Terminal List is available on Amazon Prime with seasons and full episodes. You can also watch The Terminal List on demand at Amazon Prime online.
Genres
Action & Adventure, Drama, Thriller
Cast
Chris Pratt, Constance Wu, Taylor Kitsch

Similar Shows like The Terminal List