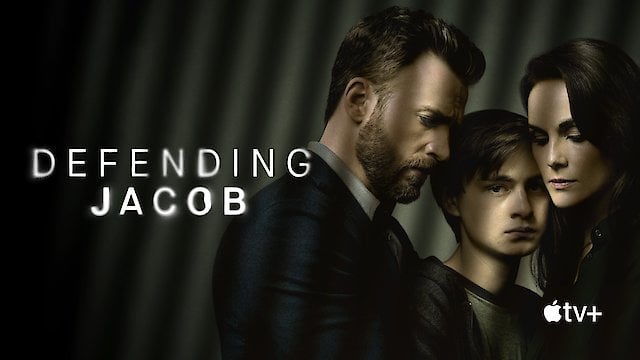 Where to Watch Defending Jacob
Series finale. The trial comes to an end, but with unexpected consequences.
Watch Defending Jacob Season 1 Episode 8 Now
As the trial begins, Jacob's fate hangs in the balance.
Watch Defending Jacob Season 1 Episode 7 Now
Andy and Klein explore two last-ditch efforts to prove Jacob's innocence.
Watch Defending Jacob Season 1 Episode 6 Now
Andy visits his father, and learns some troubling information from Jacob's friends Derek and Sarah.
Watch Defending Jacob Season 1 Episode 5 Now
Andy takes matters into his own hands. Laurie reexamines the life she knew.
Watch Defending Jacob Season 1 Episode 4 Now
Andy admits a family secret to Laurie before it becomes public.
Watch Defending Jacob Season 1 Episode 3 Now
When new evidence is discovered, Andy is taken off the case.
Watch Defending Jacob Season 1 Episode 2 Now
Assistant District Attorney Andy Barber is assigned as the lead prosecutor in the case of his son's murdered classmate.
Watch Defending Jacob Season 1 Episode 1 Now

Defending Jacob, premiered on Apple TV+ in 2020, is a compelling crime drama series that tackles the ever-challenging themes of family loyalty, justice, and the blurred lines between innocence and guilt. This mini-series, based on William Landay's 2012 novel of the same name, is an intriguing exploration of family bonds tested under immense legal and moral pressure. Set in the quiet town of Newton, Massachusetts, the series is led by an exceptional ensemble cast anchored by Chris Evans, Michelle Dockery, Jaeden Martell, and supported by notable performances from Cherry Jones, Pablo Schreiber, and J.K. Simmons. The golden thread running through the show's eight gripping episodes is a tragic and traumatic incident that sends shockwaves through the tight-knit community. This character-driven drama hones in on the close-knit Barber family. The family consists of Andy Barber (Chris Evans), an experienced assistant district attorney, his wife, Laurie Barber (Michelle Dockery), a devoted mother and empathetic school counselor, and their smart and seemingly modelesque 14-year-old son, Jacob (Jaeden Martell). The family's serene suburban life spirals out of control when Jacob becomes the prime suspect in a murder case that Andy was originally assigned to investigate. In the series, suspense is significantly built through the use of a dual timeline narrative structure. In the present moment, the story unveils the aftermath of the crime, the intense investigation, and the consequential legal proceedings. In the future, viewers get glimpses of a clearly haunted Andy, testifying about the events that led to the current situation. This technique creates a sense of foreboding tension and curiosity that keeps viewers hooked from episode to episode. The strength of Defending Jacob lies in its chilling investigation of how far parents are willing to go to protect their child. As Andy assumes the role of his son's defense attorney, the series strikes an impressive balance between a familial drama and a legal thriller. The blending of these two aspects adeptly portrays the internal and external examination of guilt and innocence. The series poses thought-provoking questions about human nature and the defensive instincts that surface when loved ones are in danger. As the story unfolds, the Barbers' battle is depicted on two equally intense fronts: inside the courtroom and within their private lives. While the legal drama serves as the narrative's driving dramatic force, the series also provides a deep dive into the family's emotional journey as their son's troubling charges stir up public outrage and private turmoil. As Andy and Laurie grapple with the reality of their son standing trial for murder, the audience is subjected to their intricate emotional landscape of love, fear, suspicion, and denial. Defending Jacob is also applauded for its atmospheric storytelling with top-tier cinematography that amplifies the tension underlying suburban life. The dark, somber palette of the series reflects the cloud of dread that hangs over the Barber family and their life in Newton. The direction and editing are also skillfully manipulated to produce an unsettling atmosphere, mimicking the anxious state of mind of the characters. Furthermore, the series deserves special mention for its three leading performances. Chris Evans excels as Andy, delivering a complex portrayal of an attorney and father who desperately tries to maintain his faith in his son's innocence. Michelle Dockery deeply affects as Laurie, a woman torn between her love for her son and her growing doubts about what happened. Lastly, Jaeden Martell impresses with his nuanced performance, skillfully presenting the perplexity of a teenager at the center of a frightening situation. While Defending Jacob incorporates many classic hallmarks of its genre, it stands out for its focus on the human aspects of a legal drama rather than purely its procedural elements. Mixing intense courtroom scenes with a cumulative exploration of the Barbers' familial dynamics and their crumbling tranquility, the show paints a vivid portrait of a nearly unimaginable situation that poses an intriguing question for its audience: what if your child was accused of the unthinkable? In the final analysis, Defending Jacob is a gripping and thought-provoking series. Its brutal honesty and emotional depth, coupled with stellar performances, make it a stand-out offering in an increasingly crowded streaming landscape. The series, clocking in at just eight episodes, offers a thoroughly captivating viewing experience, making it a highly recommended addition to anyone's watch list.
Defending Jacob is a series categorized as a . Spanning 1 seasons with a total of 8 episodes, the show debuted on 2020. The series has earned a moderate reviews from both critics and viewers. The IMDb score stands at 7.8.
How to Watch Defending Jacob
How can I watch Defending Jacob online? Defending Jacob is available on Apple TV+ with seasons and full episodes. You can also watch Defending Jacob on demand at Apple TV+ online.
Genres
Crime, Drama, Thriller
Cast
Chris Evans, Michelle Dockery, Jaeden Martell

Similar Shows like Defending Jacob