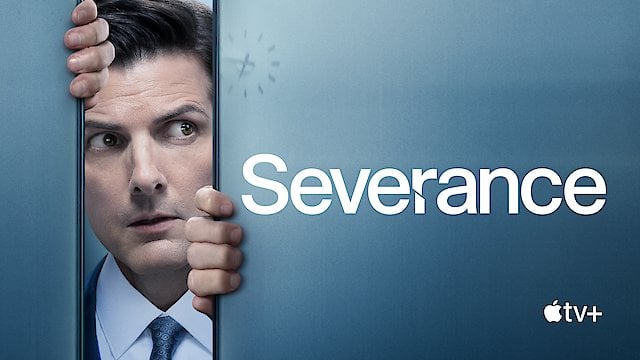 Where to Watch Severance
Season finale. The team discovers troubling revelations.
Watch Severance Season 1 Episode 9 Now
The team prepares a plan. Mark attends Devon and Ricken's party.
Watch Severance Season 1 Episode 8 Now
Mark and the team encounter new security measures from Cobel.
Watch Severance Season 1 Episode 7 Now
The team angers Cobel by forming an alliance.
Watch Severance Season 1 Episode 6 Now
5
The Grim Barbarity of Optics and Design
Irving and Dylan confront Burt about his lies. Mark and Helly discover a strange new department.
Watch Severance Season 1 Episode 5 Now
Irving finds an intriguing book at work. Helly aggressively pursues a meeting with her Outie. Mark attends a funeral with Ms. Selvig.
Watch Severance Season 1 Episode 4 Now
Mark takes the team on a field trip, but Helly continues to rebel. A deteriorating Petey struggles to tell Mark about Lumon's misdeeds.
Watch Severance Season 1 Episode 3 Now
The team train new hire Helly on macrodata refinement. Mark takes a day off to meet with a mysterious former colleague.
Watch Severance Season 1 Episode 2 Now
Mark is promoted to lead a team who've had their memories surgically divided between their work and personal lives.
Watch Severance Season 1 Episode 1 Now

Severance is a captivating and intriguing science fiction television series from Apple TV+ in 2022, starring the celebrated actor, Adam Scott. The series, helmed by famed director, Ben Stiller, adeptly blends both humor and drama, promising an emotionally textured viewing experience to the audience. It introduces a whole new concept, delicately balanced on the edge of reality and dystopia, where work-life balance takes on a whole new meaning. Beautifully written, the narrative unfolds primarily in a corporate setting that sends chills down the spine, and makes for a compelling watch. The narrative follows the life of Mark Scout, portrayed by Adam Scott, who works at Lumon Industries, a mysterious, isolated company that offers its employees a special work agreement named severance. This agreement allows the employees to wipe out their work memories at the end of the day, separating their professional lives from their personal ones entirely. This results in employees living two distinct lives, one inside Lunom Industries, completely dedicated to their work and the other outside the company, entirely oblivious to the nature of their jobs. The powerful concept brings to light the psyche of modern society's workers and the lengths to which they are willing to go for an ideal work-life balance. Ben Stiller's masterful direction brings into focus the unsettlingly clean, sterile environment of Lumon Industries, where everything runs smoothly. His portrayal of the company's ambiance makes you feel like you're trapped in an eerie, dystopian world that's both familiar and alien at the same time. Moreover, the ambiguity of what Lumon Industries actually does increases the suspense and stimulates alarm. It's the embodiment of corporate power and the complications of the deep-seated work culture that entombs its employees. The series gracefully explores the numerous repercussions of living two different identities. This scenario creates a narrative space where characters grapple with their 'work selves,' not remembering the eight-hour work shift when they get back to their personal lives. Thus, the entire plot revolves around self-discovery, personal growth, and intrigue. The protagonist, Adam Scott, brings an emotional depth to his character. His enthralling performance reflects the panic of a man tackling life's realities, moving past personal loss and trying to navigate through a cryptic work environment. Although unfamiliar with his work-self, he subliminally feels that something is not quite right at Lumon Industries, a sentiment that propels the narrative forward. In addition to Adam Scott, the series boasts an impressive cast, including Patricia Arquette, Christopher Walken, and John Turturro. Their captivating performances significantly enrich the narrative, as they play characters who also signed the severance contract. As the storyline unfolds, viewers see how each character deals differently with the severance, which creates a series of individual narratives within the broader plot. The complex ensemble dynamics work wonderfully, stirring an engaging blend of drama and suspense. The series depicts visuals that bolster its premise. The creepily sterile corporate environment, the cold slickness of the new-tech gadgets, the excessively ordered company layout, all contribute to an unnerving but captivating watch. Coupled with its tasteful cinematographic choices and an engaging rhythm, Severance easily assumes a visually enchanting series. In terms of genre, Severance is a fascinating blend of science-fiction, thriller, and drama. However, it doesn't shy away from incorporating moments of quirky, dark humor that add an additional layer of enjoyment to this thrilling narrative. The show enigmatically unravels, pulling you into its mesmerizing plot. On a deeper level, the show presents marked social commentary on work-life distinctions in contemporary society. It explores the constant battle between obligation and self-worth, addressing the modern quest for a perfect work-life balance. The narrative takes a contemplative view on how intertwining personal and professional life impacts mental health, thus making Severance not just an exploration of a dystopic corporate world but also a psychological journey. In conclusion, Severance stands out due to its unique concept, an ensemble of fantastic performances, engaging narrative, and stirring visual appeal. The series explores a range of themes, from corporate culture to the nuanced exploration of self-identity, making it a must-watch for viewers interested in thoughtful and intricate storytelling. It is a disturbing yet enticing project that promises to keep viewers on the edge of their seats, thanks to its gripping storyline and unexpected plot turns.
Severance is a series categorized as a new series. Spanning 1 seasons with a total of 9 episodes, the show debuted on 2022. The series has earned a mostly positive reviews from both critics and viewers. The IMDb score stands at 8.7.
How to Watch Severance
How can I watch Severance online? Severance is available on Apple TV+ with seasons and full episodes. You can also watch Severance on demand at Apple TV+ online.
Genres
Drama, Mystery, Thriller
Cast
Adam Scott, Zach Cherry, Britt Lower

Similar Shows like Severance