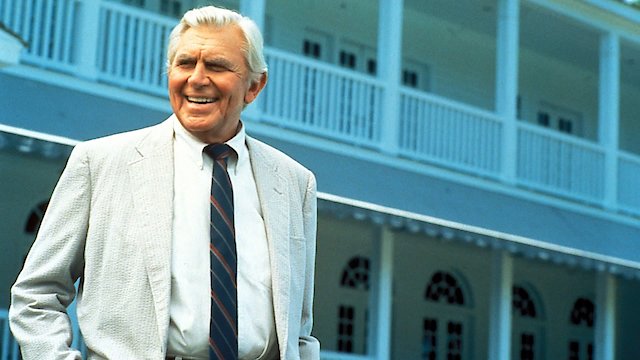 Where to Watch Matlock
One of Ben
Watch Matlock Season 9 Episode 4 Now
Joining forces with old friend and adversary Julie March, Matlock attempts to re verse a murder sentence and unravel a case of corruption, conspiracy and perjury.
Watch Matlock Season 9 Episode 3 Now
Matlock goes head-to-head with a millionaire bent on revenge. Ben has to get inside the mind of a diabolical killer to avenge the death of his best friend.
Watch Matlock Season 9 Episode 2 Now
When blackmail leads to murder, the evidence leads straight to Ben
Watch Matlock Season 9 Episode 1 Now

Matlock is an American television legal drama, which ran on the NBC network from 1986 to 1995. Created by Dean Hargrove, the show is named after the lead character Benjamin Matlock, a renowned, wealthy and eccentric attorney played by Andy Griffith, known for his Southern drawl and folksy mannerisms. Griffith's role brought a tactical brilliance to the world of courtroom dramas, and the show quickly became a favorite amongst audiences. Willing to take on cases most attorneys shied away from, Matlock was a master at uncovering the truth, all the while maintaining his endearing charm and witty banter. He had a knack for proving his clients' innocence which often involved exposing the highly incriminating damaging faults in the prosecutions' argument. A key feature of the series was his trademark light grey suit, known as a beacon of hope to those he defended. Alongside his professional side, Matlock is often seen enjoying hotdogs, playing the banjo, and always managing to find time for his love of live bluegrass music. Griffith was surrounded by a stellar supporting cast throughout the series, comprising of Linda Purl, Kene Holliday, Nancy Stafford, Julie Sommars, Kari Lizer, Clarence Gilyard, Brynn Thayer, Daniel Roebuck, Carol Huston, and Alice Hirson, all playing various roles to enrich the narrative. Linda Purl plays Charlene Matlock, Ben's first young and ambitious offspring, who is also a lawyer. Kene Holliday is Tyler Hudson, a private investigator who often teamed up with Matlock. Together, they unraveled complex cases, often just in the nick of time. Nancy Stafford plays Michelle Thomas, Charlene's replacement in the latter seasons. Julie Sommars appears as prosecutor Julie March, Matlock's professional and romantic interest. Kari Lizer as Cassie Phillips, Clarence Gilyard as Conrad McMasters, Brynn Thayer as Leanne MacIntyre, Daniel Roebuck as Cliff Lewis, and Carol Huston as Jerri Stone, were all integral parts of Matlock's staff at different stages of the show. Alice Hirson's character, Hazel, is known as the voice of Matlock's answering machine. Each character was uniquely crafted, presenting varied shades of the courtroom's complex environment. Additionally, cameo appearances by several famous personalities made the series all the more interesting. The storyline structure of Matlock followed a specific pattern where the first half of the episode revolved around the crime committed, and the second half was dedicated to the courtroom proceedings. Matlock used his sharp observation skills, tactical investigation, and relentless argument style to unveil new evidence and unveil the real culprit to the audience. These courtroom battles are brilliantly staged with high tension and theatricality, following the captivating formula of crime and detection, making for a perfect blend of mystery and drama. What made Matlock stand out from other legal dramas was its ability to portray intense legal proceedings while injecting humor and light-heartedness into the narrative, making the series both intelligent and enjoyable. Griffith's charisma and engaging portrayal of the leading character adds an extra element to the charm of the series. Matlock was filmed on location in Los Angeles, California and, for a brief period, in Wilmington, North Carolina. The series was known for its sharp dialogue, lively characters, and beautiful cinematography. In its nine-season run, Matlock attracted a loyal fanbase and received numerous awards. The show was praised for its engaging plotlines, the believability of its characters, and its realistic depiction of the legal process. After its successful stint on NBC, the series shifted to ABC for its final two seasons (1992-1995), maintaining the same level of mystery, humor, and intrigue that audiences had come to love. To conclude, Matlock brought to television a unique blend of criminal investigation and courtroom drama marked by the brilliance of its eponymous character. Each episode was a standalone story, tackling a new case while managing to give viewers an intimate look into the life of Ben Matlock as a person and as a lawyer. This balance of personality and legal finesse is the key to the show's longevity and viewer appreciation.
Matlock is a series categorized as a canceled. Spanning 9 seasons with a total of 144 episodes, the show debuted on 1986. The series has earned a moderate reviews from both critics and viewers. The IMDb score stands at 7.1.
How to Watch Matlock
How can I watch Matlock online? Matlock is available on NBC with seasons and full episodes. You can also watch Matlock on demand at Amazon Prime, Pluto TV online.
Genres
Crime, Drama, Mystery
Cast
Julie Sommars, Andy Griffith, Clarence Gilyard, Nancy Stafford, Alice Hirson, Brynn Thayer, Daniel Roebuck, Kari Lizer, Kene Holliday, Linda Purl

Similar Shows like Matlock