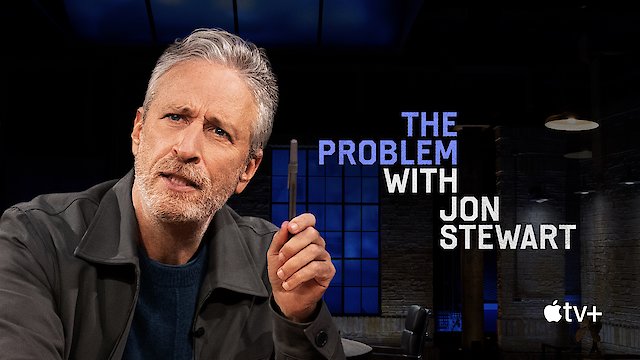 The Problem With Jon Stewart

Where to Watch The Problem With Jon Stewart
How do we wrap up a season of problems? With even more problems, of course.
Watch The Problem With Jon Stewart Season 2 Episode 12 Now
Jon heads to Europe on an urgent diplomatic mission to see who's with us, who's against us...and who makes the best pastries.
Watch The Problem With Jon Stewart Season 2 Episode 11 Now
10
America's Incarceration Epidemic
We have a simple philosophy in America: You do the crime, you do the time. But why is the time always a life sentence?
Watch The Problem With Jon Stewart Season 2 Episode 10 Now
9
The Inflation Blame Game
Inflation is hard on everybody. So why is the Fed making it even harder by helping push people out of work?
Watch The Problem With Jon Stewart Season 2 Episode 9 Now
8
The Military Industrial Excess
Can the U.S. be the world's arms dealer and its policeman all at the same time? The government sure thinks so.
Watch The Problem With Jon Stewart Season 2 Episode 8 Now
Can you be tough on crime but soft on guns? The numbers say no. but too many legislators say yes.
Watch The Problem With Jon Stewart Season 2 Episode 7 Now
6
Election Wrap-Up Special
Who won? Who lost? Are we still a democracy? All we know is that everyone is happy and absolutely no one is questioning the results.
Watch The Problem With Jon Stewart Season 2 Episode 6 Now
5
Allies: Friends Without Benefits
When America needs help from allies, it makes promises. When those allies ask for help, it breaks those promises.
Watch The Problem With Jon Stewart Season 2 Episode 5 Now
4
Midterms: This Is What Democracy Looks Like?
The most important U.S. midterm elections of all time are here (again). But the game has changed.
Watch The Problem With Jon Stewart Season 2 Episode 4 Now
3
Globalization: Made in America
America's leaders know what's plaguing the country: globalization. Thankfully they have a plan — globalization of their own, American-style.
Watch The Problem With Jon Stewart Season 2 Episode 3 Now
2
Where Is Our Tax Money Going?
Sure, people hate taxes -- but maybe they wouldn't if they knew where the money went? Well, we found out, and now we hate it even more.
Watch The Problem With Jon Stewart Season 2 Episode 2 Now
It's a boy! It's a girl! It's a spectrum! It's 19 possible chromosomal combinations! Look, it's complicated. Just watch.
Watch The Problem With Jon Stewart Season 2 Episode 1 Now

Released in 2021, the Apple TV+ show The Problem With Jon Stewart is a fascinating amalgamation of comedy, news, and in-depth discussions aiming to make sense of today's complex societal issues. The series marks the return of former "The Daily Show" host Jon Stewart to television after a six-year hiatus. It's an amusing, thought-provoking and timely series that utilizes Stewart's trademark storytelling style, acerbic wit, and a deeper understanding of contemporary affairs. The show has a simple premise: each episode revolves around a single topic that is at the centre of American discourse. However, The Problem With Jon Stewart is not a traditional late-night comedy or a mere news digest. It's a mixture of light-hearted humor with comprehensive interviews and logical arguments that delve into the details of a problem and its impact on everyday lives. Unlike Stewart's previous stint in television, this show steps out from the typical comedy format to deliver a focused analysis of current issues. Stewart, with his charismatic persona and unique sense of humor, continues to sustain his reputation as one of the most circumspect voices in the American media industry. He uses the medium of the show to express his insights and concerns about a variety of socio-political problems. The issues often range from income inequality, racial justice, and climate change to veterans' affairs, immigration, and technology's influence on our lives. Throughout the series, viewers will find an engaging mix of depth and lightness that makes the subject matter more accessible to a diverse audience. The strength of The Problem With Jon Stewart lies in its ability to facilitate in-depth discourse on matters of wide public interest. Each episode comprises of interviews with experts, activists, policymakers, and individuals who are directly impacted by the discussed issue. This helps to give an eye-opening perspective, breaking down complex problems and often offering possible solutions for them. A key component of the show is its balanced approach. The series excels at providing an overview of the matters at hand, employing an impartial platform where all perspectives are given room to breathe. In doing so, it fosters an environment for respectful discourse, prioritizing facts and informed opinions over sensationalism. However, it does not shy away from expressing its own perspective or challenging the thoughts and ideologies of its guests. From a production viewpoint, The Problem With Jon Stewart, is well-crafted. It is presented effectively, showcasing its rich roundtable discussions, monologues, interviews, and field pieces in an engaging way that keeps viewers' attention throughout. Moreover, it leverages the advantages of a streaming platform without running the constraints of network television. It treats its topics with the respect and depth they deserve, allowing discussions to run longer and complex topics delved into more deeply. In addition, the show is complemented by its accompanying podcast, which extends the conversations even further. The podcast provides additional content, including more in-depth interviews and behind-the-scenes details that enhance the viewer's understanding of the issues discussed. In conclusion, The Problem With Jon Stewart is a strikingly relevant show that punches above its weight and makes for essential viewing. It employs Jon Stewart's razor-sharp wit, underlined by his fervent dedication to dissecting the truth, to offer viewers an insightful, comprehensive look at the most pressing social issues of our time. It is not simply about highlighting problems, but also about proposing solutions and action steps for a better future. Whether you're a fan of Jon Stewart from his "The Daily Show" days or a newcomer looking for in-depth, thought-provoking content, this show delivers a compelling viewing experience that stimulates both laughter and thoughtful reflection.
The Problem With Jon Stewart is a series categorized as a new series. Spanning 2 seasons with a total of 20 episodes, the show debuted on 2021. The series has earned a moderate reviews from both critics and viewers. The IMDb score stands at 7.3.
How to Watch The Problem With Jon Stewart
How can I watch The Problem With Jon Stewart online? The Problem With Jon Stewart is available on Apple TV+ with seasons and full episodes. You can also watch The Problem With Jon Stewart on demand at Apple TV+ online.
Cast
Jon Stewart, LeVar Burton, Chelsea Devantez

Similar Shows like The Problem With Jon Stewart