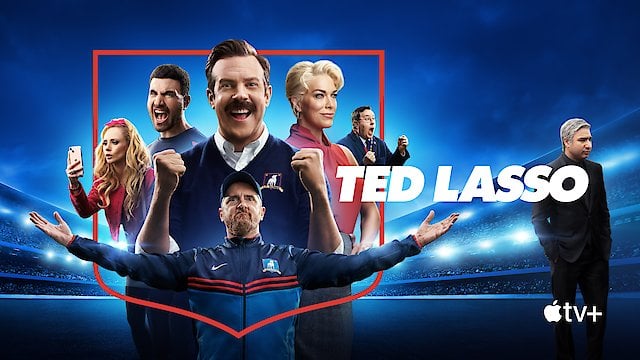 Where to Watch Ted Lasso
Season finale. AFC Richmond play their final match of the season.
Watch Ted Lasso Season 3 Episode 12 Now
An unexpected guest has Ted on edge. When Richmond travel to Manchester for a big match, Roy and Keeley become concerned about Jamie.
Watch Ted Lasso Season 3 Episode 11 Now
While some of the Greyhounds head home to play for their countries in international matches, Edwin Akufo brings a business proposal to Rebecca.
Watch Ted Lasso Season 3 Episode 10 Now
9
La Locker Room Aux Folles
Colin and Isaac's friendship is tested. Roy is asked to do a press conference.
Watch Ted Lasso Season 3 Episode 9 Now
While watching Henry, Ted fights the urge to spiral when Michelle and Dr. Jacob go on a romantic trip.
Watch Ted Lasso Season 3 Episode 8 Now
7
The Strings That Bind Us
The Greyhounds try a new strategy that has everyone thinking outside the box. Sam prepares to host a VIP guest at Ola's.
Watch Ted Lasso Season 3 Episode 7 Now
A friendly match takes the team to Amsterdam, where one night out unlocks truths for many.
Watch Ted Lasso Season 3 Episode 6 Now
With their season in a tailspin, Richmond try to right the ship against mighty Manchester City. Off the pitch, everyone faces their own setbacks.
Watch Ted Lasso Season 3 Episode 5 Now
Everyone's feeling the pressure as Richmond gear up to play West Ham. Ted is reunited with an old friend.
Watch Ted Lasso Season 3 Episode 4 Now
Richmond adjust to an exciting change, but Jamie has reservations. Ted learns there's something new going on back in Kansas as well.
Watch Ted Lasso Season 3 Episode 3 Now
2
(I Don't Want to Go to) Chelsea
News of a top player looking to move to London sends the English clubs into a frenzy. Richmond play their first game back in the Premier League.
Watch Ted Lasso Season 3 Episode 2 Now
The newly promoted AFC Richmond face mockery as pundits predict they'll finish dead last this season.
Watch Ted Lasso Season 3 Episode 1 Now

Ted Lasso is a captivating Apple TV+ series whose refreshing narrative has created a dynamic shift in American television production. Through an inspired combination of comedy, drama, and sport, this Emmy-award winning show depicts the captivating journey of an American football coach named Ted Lasso, who is unexpectedly tasked with managing a struggling English Premier League football (soccer) team. Crafted by a team of skilled writers, including Jason Sudeikis who also stars in the titular role, the show first premiered in 2020 and has since gripped the attention of viewers worldwide, not least because of its unique premise and remarkable character development. Rather than resorting to the classic sitcom format, Ted Lasso has adeptly intertwined layers of complexity and depth in its characters, script, and plot, providing a wholesome viewing experience for its audiences. At the heart of the series is Ted Lasso, a coach from Kansas whose credentials root from American colleges and semi-pro football. Despite being out of his element in the highly competitive English Premier League, Lasso's enduring optimism and faith in his team's potential drive the core narrative. With an infectious enthusiasm and an unflagging positive spirit, Lasso faces the challenges posed by a foreign sport, skeptical players, an unforgiving English press, and personal struggles. The show also presents a robust ensemble of supporting characters, each brought to life by an exceptional cast. Rebecca Welton, played by Hannah Waddingham, is the newly divorced owner of the Richmond football team who unwittingly hires Lasso. Her journey alongside Lasso forms an endearing storyline, providing ample room for character exploration. The football team itself boasts a slew of unique individuals; from the arrogant but talented Jamie Tartt to the aging captain Roy Kent, each character is meticulously constructed with their own set of strengths, flaws, and dynamic arcs. Beyond the field, Ted Lasso masterfully mirrors the action on the pitch with the frequent turmoil experienced by its characters, seamlessly fusing elements of drama within its comedic fabric. The internal struggles of the players parallel the team's external battles, serving to further enrich the narrative. Whether it be the complexities of egotistical clashes or the heartfelt bond of camaraderie, the show encapsulates the essence of teamwork and personal growth, hitting on human truths that resonate with a broad spectrum of audiences. Setting itself apart from other comedy-drama shows, Ted Lasso beautifully places substantial emphasis on emotional depth and personal transformation. Through its witty dialogues and relentlessly optimistic protagonist, the show effectively brings to the fore themes of kindness, resilience, and personal redemption, while also tackling more profound issues such as mental health and identity crisis. Despite the sports backdrop, Ted Lasso is much more than a sports-sitcom. It is a testament to human fallibility and the power of positivity. Predominantly, the show underlines that sport, like life, is as much about the journey as it is about the outcome. Throughout the series, Lasso uses his Midwestern charm and ingenious outlook to foster a sense of unity and spirit within the team, emphasizing the importance of being a good player both on and off the field. In terms of production value, the show does a commendable job at showcasing the sporting landscape and its frenzied fan culture. With a beautifully shot backdrop of London, the series manages to evoke the grandeur associated with Premier League football while simultaneously offering a glimpse into the sport's lesser-known, behind-the-scenes realities. The script is witty, cleverly written, and full of heart, seamlessly interweaving a humorous American-versus-British culture clash with deeper, more meaningful narratives. All in all, Ted Lasso is a feel-good, character-driven series that manages to render a genuine laugh while also evoking poignant, thought-provoking feelings. The show is a masterclass in storytelling, equipped with humor and heart, and a testament to the significance a positive outlook can bring to changing circumstances. With its unique blend of comedy and emotion, Ted Lasso has truly carved a niche for itself within the landscape of television, becoming a beacon of optimism in complex times.
Ted Lasso is a series categorized as a returning series. Spanning 3 seasons with a total of 34 episodes, the show debuted on 2020. The series has earned a mostly positive reviews from both critics and viewers. The IMDb score stands at 8.8.
How to Watch Ted Lasso
How can I watch Ted Lasso online? Ted Lasso is available on Apple TV+ with seasons and full episodes. You can also watch Ted Lasso on demand at Apple TV+ online.
Genres
Comedy, Drama, Sports
Cast
Jason Sudeikis, Brett Goldstein, Brendan Hunt

Stream shows like Ted Lasso