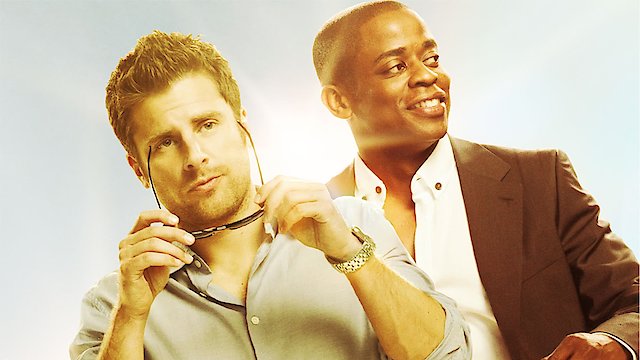 Where to Watch Psych
Fake psychic detective Shawn Spencer and his best friend, Burton "Gus" Guster, will team up once again, returning to USA Network for the holidays. Lassiter, Juliet, Henry and Chief Vick will also return for the movie, which picks up three years after the series finale.
Watch Psych Season 9 Episode 1 Now

Psych is a beloved television series that ran on the USA Network from 2006 to 2014. The show starred James Roday Rodriguez as Shawn Spencer, who serves as the lead protagonist. With his exceptional skills and eccentric personality, Shawn Spencer unorthodoxly solves mysteries in the sunny beachside town of Santa Barbara, California. Despite undergoing no formal training to become a detective, Shawn's ideal mix of sharp intellect, photographic memory, and eagle-eyed observation positions him as a critical asset in the field. Shawn, the son of a retired police detective, Henry Spencer, has been trained since childhood to notice the smallest details and remember them. This unique skill is often mistaken for psychic abilities, a misinterpretation Shawn cleverly takes advantage of, to work as a consultant for the Santa Barbara Police Department (SBPD). He starts a detective agency, "Psych," where he employs his best friend, Burton "Gus" Guster, played by Dulé Hill. Gus, a pharmaceutical representative in his day job, serves as the perfect practical, level-headed foil to Shawn's flamboyant and adventurous personality. At the SBPD, Shawn and Gus work closely with Head Detective Carlton "Lassie" Lassiter, portrayed by Timothy Omundson, and his partner, Juliet "Jules" O'Hara, played by Maggie Lawson. Shawn's pseudo-psycho detective act is often received with scepticism by Lassiter, who has nothing but contempt for Shawn's theories and methods. However, Juliet is more open to Shawn's unorthodox methods and over time, shares a more personal relationship with him. Despite his father initially disapproving his ruse, Henry Spencer (Corbin Bernsen) provides intimate knowledge of police procedure and often gives advice to Shawn, establishing the father-son dynamic of the show. Throughout the series, they work to mend their often-strained relationship. From its inception, Psych developed a devoted fanbase known as "Psych-O's," who admired the show's unique blend of crime-solving, witty banter, and interwoven humor. The series was such a success on its network that it spawned two movies after its initial run. The chemistry between the buddies, Shawn and Gus, coupled with the incorporation of pop culture references and the balance between humor and drama, made it a staple among viewers. Psych's niche is capturing a balancing act of styles. On one level, it operates as a procedural crime drama, with each episode featuring fresh mysteries that range from murders and kidnappings to art heists and missing polar bears. Yet, it simultaneously plays the role of a brilliant buddy comedy. The show's consistent thread is Shawn and Gus' enduring friendship, which only grows stronger as they navigate through each case's dangerous and often amusing circumstances. Their camaraderie is coupled with a steady flow of hilarious pop culture references and Spencer's fondness for disguises and aliases, making Psych more than a run-of-the-mill crime drama. The series also does not shy away from heartwarming moments concerning relationships and family dynamics. The tension between Shawn and his father, the budding romance between Shawn and Juliet, and the brotherly bond between Shawn and Gus bring depth to the characters and nourish the overarching narrative. Psych gave its viewers a charismatic and affable 'psychic' detective, crafting mysteries in a fresh, and lighthearted manner. The show's success lay in the equilibrium it found between the formulaic certainty of the whodunit detective story and the unpredictability of its humor-infused narrative twists. Indeed, Psych over its eight seasons and subsequent movies, stands as a testament to a well-executed, character-driven comedy-drama. The blend of mystery, laughter, suspense, and a sprinkle of romance made the show stand out. All this amalgamates into a series that is not just about solving the crime of the week but one that revolves around enduring friendships, family, and the lengths to which one might go to seek out the truth. It is this mix that makes Psych a truly unforgettable viewing experience.
Psych is a series categorized as a canceled/ended. Spanning 9 seasons with a total of 123 episodes, the show debuted on 2006. The series has earned a mostly positive reviews from both critics and viewers. The IMDb score stands at 8.4.
How to Watch Psych
How can I watch Psych online? Psych is available on USA with seasons and full episodes. You can also watch Psych on demand at Vudu online.
Cast
James Roday Rodriguez, Dulé Hill, Timothy Omundson