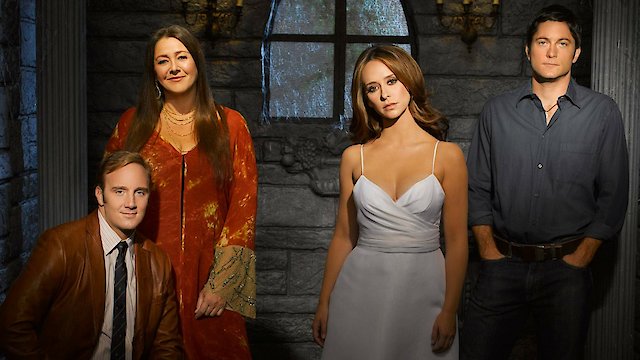 Where to Watch Ghost Whisperer
Melinda's investigation of a poltergeist in the hospital leads to a showdown with supernatural forces terrorizing her and her son.
Watch Ghost Whisperer Season 5 Episode 22 Now
When the ghost Melinda is trying to help suddenly turns up alive, she finds herself in the middle of a dangerous revenge plot and battling enemies she was unaware she had.
Watch Ghost Whisperer Season 5 Episode 21 Now
When a fun night out turns dangerous for three teens, Melinda investigates an unsolved kidnapping that may put her in more danger than she anticipated.
Watch Ghost Whisperer Season 5 Episode 20 Now
Aiden is in danger; Melinda investigates the life of an angry murder victim.
Watch Ghost Whisperer Season 5 Episode 19 Now
When the ghost of a private investigator starts haunting Melinda's house, she and Eli look for answers in the investigator's final case.
Watch Ghost Whisperer Season 5 Episode 18 Now
When comic book artist Damon Weaver begins drawing his own run-ins with ghosts before they happen, it is up to Melinda and Avery (Margaret Cho) to discover the secrets behind his art
Watch Ghost Whisperer Season 5 Episode 17 Now
16
Old Sins Cast Long Shadows
Dark forces are duking it out for the soul of a little girl that cannot escape the haunted house she has been trapped in for years.
Watch Ghost Whisperer Season 5 Episode 16 Now
15
Implosion - 100th Episode
A ghost who knows of a hidden munitions dump with unexploded bombs confides in Melinda that one of those bombs is missing and in the wrong hands, warning that someone will lose their life.
Watch Ghost Whisperer Season 5 Episode 15 Now
When Ned's Occult Anthropology professor is stalked by the ghost of a secret admirer, a Ouija board is used to try and solve the mystery but instead creates a new one that threatens a life.
Watch Ghost Whisperer Season 5 Episode 14 Now
Melinda uncovers a family secret as a ghost haunts the local hospital as well as the town.
Watch Ghost Whisperer Season 5 Episode 13 Now
A mother of two who spends her time surfing the Web, watching TV and texting friends expects her mother to raise her children.
Watch Ghost Whisperer Season 5 Episode 12 Now
Melinda helps Ned who is being haunted by a ghost at The Grandview Radio Station.
Watch Ghost Whisperer Season 5 Episode 11 Now
A youth whose death was ruled an accident points Melinda in the direction of the Grandview Police officer who may have actually killed the boy.
Watch Ghost Whisperer Season 5 Episode 10 Now
Aiden meets the ghost of a little girl who passed away from leukemia. Melinda worries for her son's safety when the ghost threatens Melinda to stay out of her way.
Watch Ghost Whisperer Season 5 Episode 9 Now
When a ghost leads Melinda to his own body, the ghost whisperer sees herself involved in the murder mystery by a real estate power couple.
Watch Ghost Whisperer Season 5 Episode 8 Now
After a med student suddenly goes missing, Jim believes he is somehow involved, especially when his colleague's act nochalant to a paranormal encounter. Meanwhile, when Aiden continues to mention his fear of "the shadows", Melinda suspects trouble is coming.
Watch Ghost Whisperer Season 5 Episode 7 Now
The Headless Horseman from the ''Legend of Sleepy Hollow,'' is haunting Melinda. But after the book appears at Aiden's school, she fears Aiden's safety is at stake.
Watch Ghost Whisperer Season 5 Episode 6 Now
A patient of Eli belives he's being watched by the ghost of his sister, so Melinda lends him a hand. Meanwhile, Aiden worries Melinda and Jim when she talks about the patient's friends, who aren't ghosts, but something else.
Watch Ghost Whisperer Season 5 Episode 5 Now
Melinda helps a dead doctor who is reliving a surgery that went wrong.
Watch Ghost Whisperer Season 5 Episode 4 Now
Eli's father has a heart attack, leading to a reunion with Eli's mother who has been dead for ten years but unable to cross over.
Watch Ghost Whisperer Season 5 Episode 3 Now
Melinda investigates a cursed email that causes everyone who does not forward it immediately to be put in danger.
Watch Ghost Whisperer Season 5 Episode 2 Now
A young woman who died while giving birth to her son haunts Melinda's child.
Watch Ghost Whisperer Season 5 Episode 1 Now

Ghost Whisperer is a supernatural television drama that aired on CBS from 2005 to 2010. The series is brought to life by an ensemble cast that includes recognizable names like Jennifer Love Hewitt, Aisha Tyler, Jay Mohr, and Camryn Manheim, among many others. The heart of the story lies in the life and abilities of its central character, Melinda Gordon, played by Jennifer Love Hewitt, and the complicated reality she navigates as a consequence of her unique gift - the ability to communicate with the spirits of the deceased. At first glance, Melinda Gordon lives an ordinary life as a newlywed who owns an antique store in the tranquil town of Grandview. Yet, beneath this everyday facade lies her extraordinary ability to see and communicate with ghosts. This uncanny talent has been with her since childhood, turning the invisible into the visible and transcending the barriers between life and death. David Conrad portrays Jim Clancy, Melinda's supportive husband, who understands her ability and often aids her in helping the spirits move on. Aisha Tyler stars as Andrea Marino, Melinda's best friend and business partner, offering a balance in her life as well as in her business. The show later introduces Jay Mohr as Professor Rick Payne, a specialist in occult beliefs and history, who becomes a needed resource for Melinda. Additionally, the show showcases an array of distinguished guest stars in diverse roles, adding depth and variety to each episode. Throughout each episode, Melinda navigates the challenges of aiding earth-bound spirits in resolving their unfinished business so they can transition into the light peacefully, in turn providing closure to their loved ones. This mission often involves unraveling mysteries surrounding the spirits' deaths and resolving lingering issues, which makes for an engaging mix of character-driven drama, supernatural elements, and mystery. While the majority of Ghost Whisperer episodes are standalone, there is a continuing storyline that runs throughout the series. We get to see Melinda's character evolve as she deals with the life-altering challenges of her ability, her marriage, and the ongoing narrative of her quest to understand the scope of her unique gift. All of this is beautifully presented against the backdrop of her small hometown, enhancing the show's atmospheric setting. The well-knit themes of love, loss, and resolution in Ghost Whisperer make it a touching and often emotional journey for the audience. The show handles the tough subject of death delicately but honestly, offering thought-provoking narratives that explore the complexities of the human experience, the afterlife, and the connections between them. The performances led by Jennifer Love Hewitt are commendable, with her skillfully displaying a wide range of emotions as she empathizes with distrusting spirits, consoles grieving families, and fights against darker entities. Equally impressive are the cinematic visuals, poignant music, and the atmospheric lighting effects that help create an eerie yet beautiful world where the living and the dead cross paths. Its unique angle on the supernatural genre and its impressive storytelling and character development make Ghost Whisperer a compelling watch. It is an excellent pick for those looking for a deep, thoughtful exploration of the supernatural, an engaging drama with slices of sentimentality, and gripping mysteries that keep the audience on the edge of their seat while delivering impactful heartfelt messages every episode. The blend of a vibrant cast, gripping narratives, and a deep understanding of human relationships - both in life and beyond - make Ghost Whisperer a standout show in a sea of supernatural dramas.
Ghost Whisperer is a series categorized as a canceled. Spanning 5 seasons with a total of 107 episodes, the show debuted on 2005. The series has earned a moderate reviews from both critics and viewers. The IMDb score stands at 6.4.
How to Watch Ghost Whisperer
How can I watch Ghost Whisperer online? Ghost Whisperer is available on CBS with seasons and full episodes. You can also watch Ghost Whisperer on demand at Apple TV, Amazon, Google Play, Vudu online.
Genres
Science Fiction, Drama
Cast
Jennifer Love Hewitt, David Conrad, Camryn Manheim

Similar Shows like Ghost Whisperer