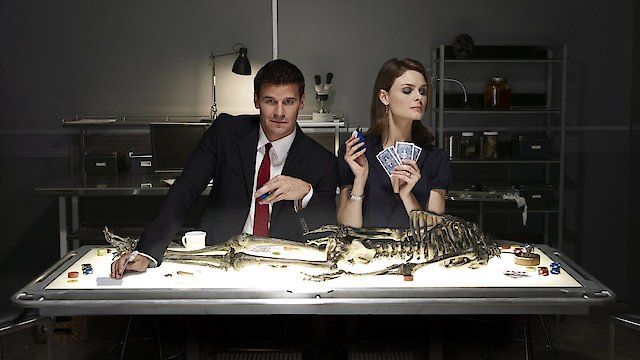 Where to Watch Bones
Even when Brennan suffers a setback, the team continues to search for Kovac, putting everything she has ever taught them to the test.
Watch Bones Season 12 Episode 12 Now
In the penultimate episode of the series, the characters' final stories begin to unfold.
Watch Bones Season 12 Episode 11 Now
10
The Radioactive Panthers in the Party
The team investigates the death of an aspiring writer/director whose burning body landing onto a passing car.
Watch Bones Season 12 Episode 10 Now
Booth, Brennan and Aubrey go undercover at a rowdy demolition derby to investigate the gruesome death of a young man who was involved in a hay baler accident.
Watch Bones Season 12 Episode 9 Now
Tension rises between Booth and Brennan following heartbreak. Meanwhile, someone from Brennan's past comes to visit.
Watch Bones Season 12 Episode 8 Now
When multiple dead bodies are found from Booth's former Army unit around D.C., Booth must dive into his past to find the killer before the killer finds Booth. Meanwhile, Brennan's father, Max, has a secret.
Watch Bones Season 12 Episode 7 Now
The dismembered body of successful golfer-turned-lumberjack Phyllis Paul brings the squints to the Lumber Sports Regional Championships. At this competition, Booth and Brennan discover numerous secrets that could have resulted in Phyllis' murder, including an affair with a married rival.
Watch Bones Season 12 Episode 6 Now
The team investigates the death of a tutor of privileged students. Meanwhile, Bones is frustrated with the voice of her audio book and tries to prove that she can record it herself.
Watch Bones Season 12 Episode 5 Now
A person from Booth and Brennan's past is killed. Meanwhile, Aubrey faces a moral dilemma of his own when his dad comes back into his life.
Watch Bones Season 12 Episode 4 Now
3
The New Tricks In The Old Dogs
The team investigates when an elderly man is found inside an acid dump site.
Watch Bones Season 12 Episode 3 Now
The team investigates the death of a man involved with creating artificial intelligence bots and must determine if the victim's own artificial intelligent bot was programmed to kill him.
Watch Bones Season 12 Episode 2 Now
Booth is desperate to find Brennan, who is in the clutches of her kidnapper and former assistant, Zack Addy.
Watch Bones Season 12 Episode 1 Now

Bones is an American crime procedural drama and comedy series that debuted on the Fox network in 2005 and lasted for 12 seasons, concluding in 2017. Over 200 thrilling episodes, the series brilliantly weaves character-building drama, intricate narratives, comic relief, and innovative forensic technology to create a captivating show that leaves its viewers wanting more time and again. From the creative mind of Hart Hanson and loosely based on the life of forensic anthropologist Kathy Reichs, the show stars Emily Deschanel and David Boreanaz in the lead roles as Dr. Temperance Brennan and FBI Special Agent Seeley Booth. Dr. Brennan is an anthropologist and the best in her field, specializing in the analysis of human remains to solve murder cases. Her character is nicknamed "Bones" due to her profession, which provides the series with its title. David Boreanaz plays her partner, an ex-military sniper turned FBI Special Agent, whose charm and street-smart investigative style contrast with the clinical and often socially awkward Dr. Brennan. Michaela Conlin portrays Angela Montenegro, a skilled artist and computer specialist charged with creating facial reconstructions from skeletal remains, while T.J. Thyne takes the role of Dr. Jack Hodgins, an entomologist and botanist, who is exuberant about everything having to do with dirt and bugs, providing unique clues to the team's investigations. They are joined by a dynamic cast of colleagues, including Eric Millegan as the sprightly young intern Zack Addy, and Tamara Taylor as the confident and sensitive pathologist, Dr. Camille Saroyan. Indeed, one of the most gratifying aspects of Bones lies in the rich diversity of its ensemble, with sequences highlighting each character's unique talents, quirks, and personal lives. Characters are superbly developed, offering viewers an insightful look into their lives outside of the FBI forensics lab, the Jeffersonian Institute, right from the rookie interns to charismatic professionals. The show explores the dynamic relationship between the cerebral, science-oriented Dr. Brennan and the more instinctive, average-Joe Agent Booth. Their difference in character serves as the basis for many humorous exchanges, adding a lighter element to an otherwise heavy crime drama. The push and pull between their respective views - science versus faith, evidence versus intuition - leads to intense debates, but this friction is the essence of their partnership and provides the show with much of its spark and heat. Bones stands out for its unusual approach to crime-solving, emphasizing a distinctly scientific methodology. Rather than just relying on traditional detective work, the series delves into the nitty-gritty of forensic anthropological methods, making for a refreshing twist in the crime genre. Each episode is self-contained, centering on a different case involving decomposed bodies, or simply, bones. Through meticulous examination of the remains, Dr. Brennan and her team reveal the story of how the person died, unfolding the murder mystery episode by episode. Furthermore, the show's narrative isn't limited to unraveling murder mysteries; it also touches upon the complexities of relationships, personal and professional dilemmas, internal politics within a bureaucratic system, and the quest for justice. Throughout its runtime, Bones offers an incredible journey with daring investigations, emotional tension, dark humor, and unwavering camaraderie among its characters. It's not just about investigating bones; it's about the people who do so, their personal and professional journeys, the relationships they form, and the life lessons they learn along the way. Bones will keep you hooked with its myriad twists and turns, coupled with endearing character dynamics, leaving you to ponder not just the scientific intricacies of forensic anthropology but also the fascinating and intricate bones of human interaction and emotion. Fans of crime dramas, forensic sciences, or character-driven storylines would find this series both gratifying and entertaining. The series successfully carves out a convincing, vibrant world, taking its audience on a captivating ride with each unique skeleton examined and every case solved.
Bones is a series categorized as a cancelled/ended. Spanning 12 seasons with a total of 246 episodes, the show debuted on 2005. The series has earned a moderate reviews from both critics and viewers. The IMDb score stands at 7.8.
How to Watch Bones
How can I watch Bones online? Bones is available on Fox with seasons and full episodes. You can also watch Bones on demand at Hulu Plus, Amazon Prime, Apple TV, Amazon, Google Play, Microsoft Movies & TV, Vudu online.
Cast
Emily Deschanel, David Boreanaz, Michaela Conlin