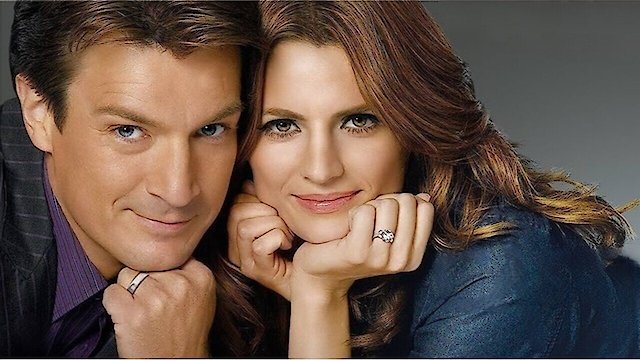 Where to Watch Castle
With their best lead in hand, Castle and Beckett are ready to take on LokSat. But an unforeseen twist puts their case – and their lives – in jeopardy.
Watch Castle Season 8 Episode 22 Now
A psychiatric prisoner escapes and falls dead in Castle's PI office, and the examination that follows has Castle surmising the Antichrist could take a part.
Watch Castle Season 8 Episode 21 Now
After a movie star turned theater actor is mysteriously killed, Castle and Beckett go backstage and learn the star had more to worry about than just his lines.
Watch Castle Season 8 Episode 20 Now
When a mild mannered safety inspector for the city miraculously survives a poisoning, it might be luck; but when he survives another, it's a mystery Castle and Beckett will have to solve.
Watch Castle Season 8 Episode 19 Now
When Hayley finds herself being implicated in a cyber-terror attack after doing an old friend a favor, Castle and Beckett rush to clear her name.
Watch Castle Season 8 Episode 18 Now
The murder of a man connected to smuggling Turkish relics sends Castle, Beckett and the 12th Precinct on a search for a stolen antique believed to be Aladdin's lamp, in hopes that it can lead them to the killer.
Watch Castle Season 8 Episode 17 Now
A clue at the scene of the death of an armored-car driver leads Beckett and Castle back to an old case solved by Esposito. But complications arise when they learn that Esposito might not have been telling them everything about his past with the culprit.
Watch Castle Season 8 Episode 16 Now
When a recruit officer at the NYPD Academy is killed, Beckett and the team go back to their old training ground to investigate. Meanwhile, Castle must reckon with a decision with profound consequences for him and Beckett.
Watch Castle Season 8 Episode 15 Now
Castle returns to the City of Angels in search of answers about his missing time. But things take a deadly turn when he's recruited by the legendary Greatest Detective Society to help solve a murder.
Watch Castle Season 8 Episode 14 Now
Beckett and the 12th Precinct investigate the killing of an E.S.L. student. When the victim's class won't agree to talk to the police, Castle goes covert as a French Canadian immigrant and discovers that the victim was more than he seemed.
Watch Castle Season 8 Episode 13 Now
Castle is kidnapped and has to solve twisted puzzles and mind games with unfamiliar people; Beckett and the 12th precinct fight to rescue Castle.
Watch Castle Season 8 Episode 12 Now
The son of a Russian diplomat is killed; while investigating, Castle accommodates a cheery Russian security guard, who ends up having more to to with the case than previously presumed.
Watch Castle Season 8 Episode 11 Now
10
Witness for the Prosecution
Castle finally gets his day in court when he takes the stand as the key witness to a murder from five months ago. But when new information suddenly arises, he and Beckett must race against the clock to prevent a miscarriage of justice.
Watch Castle Season 8 Episode 10 Now
A dead body is discovered in the theater of Martha's current show. Castle and Beckett's inspection opens their eyes to the shockingly dangerous world of cutthroat a capella.
Watch Castle Season 8 Episode 9 Now
When Castle and Beckett inspect the killing of a cruise ship entertainer, the get stuck on the ocean with the killer.
Watch Castle Season 8 Episode 8 Now
Castle and Beckett have to investigate New York's high-class so that they can discover the ruthless murderer of a wrenching seducer. In the meantime, Castle contrives to astonish Beckett on their anniversary.
Watch Castle Season 8 Episode 7 Now
Detective Slaughter comes back to seek Castle's aid in solving a high-stakes burglary case. But when a dead body is connected to the crime, Slaughter is placed as the head suspect, while Castle must decide whether Slaughter is guilty or help to show he's innocent.
Watch Castle Season 8 Episode 6 Now
Castle and Beckett seek help from a key witness to find a snatched painting and the killer who stole it.
Watch Castle Season 8 Episode 5 Now
Castle decides to solve the murder of an author who admired him.
Watch Castle Season 8 Episode 4 Now
When a college frat student is brutally murdered, Castle goes undercover as a professor to investigate. Castle and Beckett uncover some evil secrets the university doesn't want anyone to know about.
Watch Castle Season 8 Episode 3 Now
Beckett battles for her life a group of hired fighters. Castle is trying to figure out who his wife is fleeing from.
Watch Castle Season 8 Episode 2 Now
Castle and Beckett are adapting to Beckett's career change. A phone call from someone unknown starts a series of strange events.
Watch Castle Season 8 Episode 1 Now
102
Castle, Season 8 "Cool Boys" episode with commentary
Bonus "Cool Boys" episode with special audio commentary from Nathan Fillion and Adam Baldwin. Slaughter returns to enlist Castle's help in solving a high-stakes robbery case.
Watch Castle Season 8 Episode 102 Now

Castle is an intriguing American crime-comedy-drama series produced by ABC. The show originally aired from March 2009 to May 2016, spanning for eight thrilling seasons. One of the main reason for the show's popularity is its ideal blend of different genres like crime, mystery, and romance with an amusing undertone of comedy. The series revolves around the charismatic and witty leading man, Richard Castle, masterfully portrayed by Nathan Fillion. Castle is a best-selling novelist based in New York City who experiences a creative block, only to regain it when he unexpectedly becomes involved in a murder investigation led by the New York Police Department (NYPD). Fascinated by real-world crimes and seeing them as inspiration for his next thriller, Castle persuades the mayor, an old friend, to allow him to shadow the NYPD homicide detective Kate Beckett. Played by Stana Katic, Beckett is a committed, intelligent officer with a firm sense of justice and a backstory that deeply affects her life. Throughout the series, an authentic relationship develops between Castle and Beckett, which gradually turns from professional courtesy to romantic tension. Castle's involvement in Beckett's work aids in a deeper understanding of one another, which significantly impacts the dynamics of their relationship. This gradual romantic build-up is tastefully handled, offering little moments of connection that ultimately appeal to the viewers' emotions. The series has a stellar ensemble cast that includes Molly Quinn as Castle's independent, astute teenage daughter Alexis, and Susan Sullivan as his quirky yet loving mother Martha Rodgers. On the NYPD side, Jon Huertas and Seamus Dever portray Detectives Javier Esposito and Kevin Ryan, respectively, adding humor and camaraderie to the intense crime scenes. The show creatively combines the episodic nature of a procedural drama with an ongoing storyline. Each episode typically focuses on a unique murder investigation, where the team seeks clues and interviews suspects to solve the case. What sets Castle apart is its protagonist's novelist approach to solving crimes, often leading to amusing theories that add a unique twist to typical detective work. Another aspect that brings an exciting edge to the show is the overlaying story arc, which seeks to unravel the mystery behind the tragic murder of Beckett's mother, a case which becomes increasingly central to the show's plotline. This arc offers an emotional depth to Beckett's character and gives the show an engaging narrative that goes beyond the crime-of-the-week. Throughout its eight seasons run, the show has featured an array of guest stars including Michael Trucco, Arye Gross, Steve Talley, Debi Mazar, Mark Moses, Alyssa Milano, and even Meghan, Duchess of Sussex, among several others. A notable feature is the inclusion of real-life famous crime writers like James Patterson and Stephen J. Cannell as Castle's poker buddies, adding a fun meta-element to the show. A unique blend of comedy, drama, romance, and mystery, Castle manages to truly engage the audience by offering intriguing crime plots, constant humor, and evolving relationships. The well-rounded cast, led by Nathan Fillion and Stana Katic's exceptional performances, endows the show with a distinct tone and charm, making it a worthwhile series for viewers who seek a lighthearted yet engaging crime-drama.
Castle is a series categorized as a canceled/ended. Spanning 8 seasons with a total of 174 episodes, the show debuted on 2009. The series has earned a mostly positive reviews from both critics and viewers. The IMDb score stands at 8.1.
How to Watch Castle
How can I watch Castle online? Castle is available on ABC with seasons and full episodes. You can also watch Castle on demand at Hulu Plus, Sling, Apple TV, Amazon, Google Play, Microsoft Movies & TV, Vudu online.
Cast
Nathan Fillion, Stana Katic, Susan Sullivan, Tamala Jones, Ruben Santiago-Hudson, Seamus Dever, Molly C. Quinn, Jon Huertas, Penny Johnson, Arye Gross, Scott Paulin, Yancey Arias