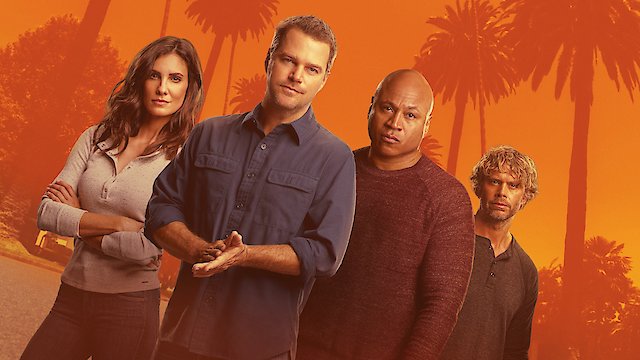 Where to Watch NCIS: Los Angeles
21
New Beginnings, Part Two
The NCIS team continues the case with ATF and the stolen weapons.
Watch NCIS: Los Angeles Season 14 Episode 21 Now
When an ATF agent goes missing, the agency seeks help from the NCIS team to investigate stolen military-grade weapons and locate the agent. Also, Callen and Anna continue to plan their wedding, Roundtree's sister interviews for medical school, and Sam encourages his father to take part in the drug trial.
Watch NCIS: Los Angeles Season 14 Episode 20 Now
When four people, including a CIA officer, are shot and killed in broad daylight, the NCIS team suspects the attacks have something to do with DRONA. Also, Pembrook meets with Callen and gives more insight into his past.
Watch NCIS: Los Angeles Season 14 Episode 19 Now
The NCIS team must investigate when a Navy reservist is stabbed and his lab full of pesticides and insects is ransacked. Also, Kilbride offers Sam the interim operations manager position and Rountree thinks about his future.
Watch NCIS: Los Angeles Season 14 Episode 18 Now
The NCIS team is tasked with assisting NCIS' cold case homicide unit with a case from 2003 and a missing Navy petty officer. Also, Kilbride and his son, Alex, work to rebuild their relationship.
Watch NCIS: Los Angeles Season 14 Episode 17 Now
When the NCIS team receives a cryptic, urgent message, Fatima and Rountree must work together to solve the case. Also, Kilbride plans to visit his son, and Callen asks Sam to be his best man.
Watch NCIS: Los Angeles Season 14 Episode 16 Now
Sam Hanna must go undercover as a fighter to catch the leader of a gang dealing drugs on the streets.
Watch NCIS: Los Angeles Season 14 Episode 15 Now
When a petty officer is found dead with an apparent suicide note, the NCIS team must investigate the mystery surrounding his death. Also, Callen and Anna begin wedding planning and Sam has a heart to heart with his daughter.
Watch NCIS: Los Angeles Season 14 Episode 14 Now
When a mystery woman attacks the founder of an AI company, the NCIS team must identify the woman before the next major global conflict ensues. Also, Kilbride's ex-wife, Elizabeth (Marilu Henner), comes to visit and asks him to think about reconnecting with their son.
Watch NCIS: Los Angeles Season 14 Episode 13 Now
The NCIS team must quickly find Kensi and Fatima after they are kidnapped and drugged while searching for a missing Navy lieutenant who they learn has ties to a dangerous Islamic militia.
Watch NCIS: Los Angeles Season 14 Episode 12 Now
When Sam's friend Tom Olsen finds himself being hunted down by enemies from his past, the NCIS team must find out who is after him.
Watch NCIS: Los Angeles Season 14 Episode 11 Now
While Agent Rountree and Fatima are searching for Kilbride, who has been MIA, they are ambushed and learn that every member of the team has a $200,000 bounty on their head via the dark web. The NCIS team must save Agent Rountree and find Kilbride while every cartel, hit man, gang and psychopath hunts them down.
Watch NCIS: Los Angeles Season 14 Episode 10 Now
When NCIS investigates a shootout on a boat in which a rare cultural artifact is stolen, they're shocked to learn who owns the boat.
Watch NCIS: Los Angeles Season 14 Episode 9 Now
NCIS investigates an arson attack at Global West Ventures Corp, a naval defense contractor. Also, Rountree connects with an ex and Kilbride gives Callen files on Pembrook.
Watch NCIS: Los Angeles Season 14 Episode 8 Now
When a Marine falls ill during a training mission due to an attack by a genetic weapon, the NCIS must track down the person responsible for unleashing it. Also, Deeks struggles with balancing work and home life when Rosa comes down with the flu.
Watch NCIS: Los Angeles Season 14 Episode 7 Now
NCIS is called to investigate after Rear Admiral Ted Gordon is abducted from his home. Also, Kensi struggles with being the fun parent while Deeks is apartment-hunting with his mom.
Watch NCIS: Los Angeles Season 14 Episode 6 Now
NCIS is called to investigate when a woman is seen fleeing the scene of her husband's murder. Also, Roberta Deeks comes into town to meet Rosa, and Sam looks for another aide for his father.
Watch NCIS: Los Angeles Season 14 Episode 5 Now
When Aiden Hanna's plane crashes and he is accused of being at fault for the accident, the NCIS team must investigate to clear his name. Also, Rountree considers how he wants to handle the aftermath of the incident with the LAPD and Sam finds a new caretaker for his father.
Watch NCIS: Los Angeles Season 14 Episode 4 Now
The NCIS team join forces with the FBI when a group of grisly murderers known as "The Body Stitchers" returns after evading capture by NCIS years ago. Also, Sam's dad makes a new friend in Arkady.
Watch NCIS: Los Angeles Season 14 Episode 3 Now
After an architect duo who specializes in designing secure buildings is kidnapped, the NCIS team mounts a search to bring them home. Also, Deeks and Kensi realize they may need to get Rosa some help with her schoolwork, and Anna considers a career outside of law enforcement.
Watch NCIS: Los Angeles Season 14 Episode 2 Now
The NCIS team searches for a suspect and their motive following the bombing of a large facility where military combat drones are assembled. Also, Callen and Kilbride get troubling news about a body found in Syria.
Watch NCIS: Los Angeles Season 14 Episode 1 Now
2023
A Salute to NCIS: Los Angeles
The one-hour special features footage and interviews with NCIS: LOS ANGELES cast members from the past 14 years, including current exclusive interviews, favorite memories and behind-the-scenes moments from the ENTERTAINMENT TONIGHT vault.
Watch NCIS: Los Angeles Season 14 Episode 2023 Now

NCIS: Los Angeles is an engaging action-packed television crime drama from CBS that first hit the screens in 2009. The series is a spin-off of the original NCIS (Naval Criminal Investigative Service) show, but set against the exciting backdrop of vibrant Los Angeles. It showcases how the elite division of NCIS thrives in a world of covert operations, fighting crime to safeguard national security. Chris O'Donnell, who plays the character of Special Agent G. Callen, leads the series. Callen is a seasoned agent with an enigmatic past, who possesses the uncanny ability to adapt himself into any situation, easily blending in to accomplish missions and solve cases successfully. The series explores his journey of piecing together the scattered bits of his past, giving an emotional undercurrent to the high-speed action of the show. Working hand-in-hand with Callen is his partner, Special Agent Sam Hanna, portrayed by oustanding rap artist LL Cool J. Hanna is a former US Navy SEAL, lending to his character the physicality and tenacity needed to face the varying risks and threats that the job demands. Both O'Donnell and LL Cool J share a dynamic on-screen camaraderie that is a trademark of the series, presenting a mix of light-hearted banter and significant moments of friendship that humanize these on-field superheroes. Adding to the team's grit and firepower are Special Agents Kensi Blye and Marty Deeks. Played by Daniela Ruah and Eric Christian Olsen respectively, they bring additional layers of complexity to the team. Kensi is the intelligent and tactically trained daughter of a slain Marine, while Deeks is a seasoned LAPD liaison officer. They work together, navigating their personal relationship amidst risk-filled assignments, providing another engaging narrative arc for viewers to follow. Oscar-winning actress Linda Hunt plays the pivotal role of Operations Manager, Henrietta "Hetty" Lange. Even though she does not work in the field, her character is central to the functioning of the team and is the glue that holds the team together. Her experienced and strategic mind, combined with her motherly concern for her team, is an important part of the storyline. Bringing in the technological edge to the team is tech operator and intelligence analyst Eric Beale, played by Barrett Foa, and Operational Psychologist Nate Getz, played by Peter Cambor. Both characters add a different set of expertise to the series, providing critical intelligence, strategical insights, psychological advice, and engaging in witty, comic-relief-laden interactions that lighten the otherwise intense atmosphere. NCIS: Los Angeles truly stands out and adds a unique flavor in the popular genre of crime televisions dramas. The excitement of the crime-solving narrative combined with the dynamics of a covert action team makes the show an exhilarating watch, while the compelling personal backstories of the characters make it emotionally engaging. The glamorous and multi-faceted city of Los Angeles serves not just as a backdrop but as an important character in itself. The fast-paced storytelling style, pulsating action sequences, strategic criminal investigations, and the seamless team dynamics make NCIS: Los Angeles an intriguing series. With its blend of character-driven plots and high-adrenaline action, the show captures viewers' attention from start to finish. The series is penned by talented writers who have intricately woven the professional and personal lives of these special agents, ensuring that each episode maintains a balance of crime-solving drama, touch of humor, and character development. Each episode presents a new case, a new villain, or a new puzzle, while also delving deeper into the personal narratives of the characters, making viewers grip to their seats in anticipation of the next episode. In summary, NCIS: Los Angeles with an ensemble cast led by Chris O'Donnell and LL Cool J, is an intelligently crafted series that is worth investing your time in. It is more than a crime drama; it is a saga of brave hearts pulling all stops in their fight to uphold the justice and safety of their city and nation, while also battling their own personal demons. It is a highly recommended show for anyone interested in crime investigations, special forces operations, and interpersonal dynamics. The beautifully versatile city of Los Angeles, combined with the interesting team of the NCIS, creates a thrilling atmosphere that keeps viewers hooked right from the word go. From 2009 and beyond, they continue to make their mark on the landscape of quality television crime dramas.
NCIS: Los Angeles is a series categorized as a currently airing. Spanning 14 seasons with a total of 324 episodes, the show debuted on 2009. The series has earned a moderate reviews from both critics and viewers. The IMDb score stands at 6.8.
How to Watch NCIS: Los Angeles
How can I watch NCIS: Los Angeles online? NCIS: Los Angeles is available on CBS with seasons and full episodes. You can also watch NCIS: Los Angeles on demand at Apple TV, Amazon, Google Play online.
Cast
Chris O'Donnell, LL Cool J, Linda Hunt, Daniela Ruah, Peter Cambor, Barrett Foa, Eric Christian Olsen, Adam Jamal Craig, Rocky Carroll, Miguel Ferrer

Stream shows like NCIS: Los Angeles