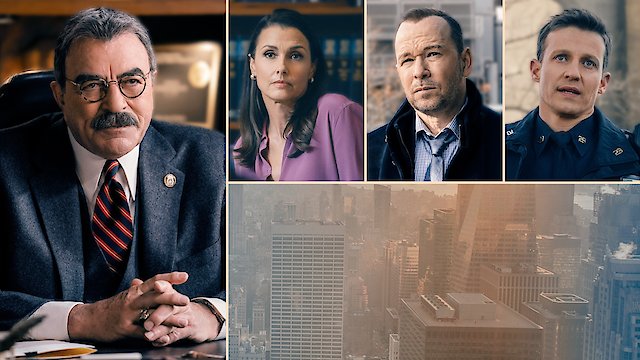 Where to Watch Blue Bloods
21
Forgive Us Our Trespasses
Danny and Baez team up with Danny's old partner, Jackie Curatola, to find a copycat killer emulating a criminal's murders from a previous case; Frank and Mayor Chase battle over how best to handle the city's rising homeless population; and Jamie, Eddie and Erin team up to build evidence against a man previously released, but once again committing criminal assault.
Watch Blue Bloods Season 13 Episode 21 Now
Frank worries about his longtime friend Lenny Ross when he suspects the former officer is hiding his true reason for returning to the city. Also, Danny and Baez investigate when Baez and her daughter are targeted by a criminal Baez once put away; Eddie gives her partner, Badillo, relationship advice when his ex-girlfriend is physically attacked; and Anthony is sucked into the inner workings of an underground crime ring when his chaotic cousin, Joey, begs him for a favor.
Watch Blue Bloods Season 13 Episode 20 Now
Jamie partners with the FDNY to find the arsonist responsible for a massive fire at an NYPD evidence storage facility.
Watch Blue Bloods Season 13 Episode 19 Now
Danny and Baez investigate a case of grand larceny tied to feuding crime families when the gifts are stolen during a mob wedding. Also, Frank clashes with Mayor Chase when an influx of immigrants arrive in the city; Erin questions whether her district attorney campaign is compromising her day job; and Eddie enlists Jamie's help to bust a drug dealer responsible for fentanyl overdoses in order to comfort a grieving grandfather.
Watch Blue Bloods Season 13 Episode 18 Now
Frank clashes with the Dream Team when one of the members becomes the focus of a departmental investigation. Also, Jamie and Danny team up to investigate a series of carjackings involving one of Danny's criminal informants; Eddie and her partner, Badillo, help a woman being stalked by a man she met on a dating app; and Erin is determined to find the culprit behind online attacks on her boss, district attorney Crawford.
Watch Blue Bloods Season 13 Episode 17 Now
Jamie and Eddie find themselves at odds when Jamie learns that Eddie's close friend Tracey may be using the restaurant she owns as a drug front. Also, Erin forms an alliance with Anthony and her ex-husband, Jack Boyle, when she is accused of causing the suicide of a former colleague; Frank weighs whether he should fire a female officer who has an online profile featuring naked photos of herself; and Danny and Baez try not to be influenced by their own biases when they are faced with various descriptions of the same suspect.
Watch Blue Bloods Season 13 Episode 16 Now
Danny partners with Texas Ranger Waylon Gates again to deliver an infamous drug cartel boss to arraignment, but the mission becomes complicated when the criminal threatens to harm the Reagans. Also, Erin is thrust into the spotlight when she takes on a highly contentious assault case involving a beloved basketball star; Eddie forms an unlikely alliance to solve a cold murder case; and Frank and Jamie clash when Frank denies a request for Jamie to go undercover.
Watch Blue Bloods Season 13 Episode 15 Now
The return of Rachel Witten, Eddie's former partner turned social worker, testes her loyalties and conflicts Frank, when Rachel brings an accusation of excessive force against an officer. Also, Danny and Baez clash with a troubled foster child at the center of their latest investigation and Erin must make a tough decision about her campaign run for district attorney.
Watch Blue Bloods Season 13 Episode 14 Now
Danny and Baez race against the clock to catch a serial killer targeting young women across the city. Also, Erin and Eddie clash when Eddie intervenes in a murder case and Erin's personal life; and Frank must decide how to discipline his grandson Joe Hill when Joe breaks protocol while working on a joint task force with the FBI.
Watch Blue Bloods Season 13 Episode 13 Now
Danny reunites with Mickey Patrick, his childhood friend and a former criminal, who comes to him for help finding his missing fiancée. Also, Anthony surprises Erin with one last stakeout before her run for district attorney; Jamie helps a former officer caught committing a crime with the purpose of helping others; and Frank comes face to face with a woman who confesses to killing her husband.
Watch Blue Bloods Season 13 Episode 12 Now
Danny and Baez's investigation into the death of a chess hustler is complicated by interference from the victim's son; Jamie tries to make amends with a man he regrets putting away as a young officer.
Watch Blue Bloods Season 13 Episode 11 Now
10
Fake It' Till You Make It
Jamie and his new intel team officer infiltrate a high-tech car smuggling ring. Also, Frank faces off against the city's transit chief over a new mayoral solo police patrol program that is causing officer injuries on the job; Eddie asks Danny to help her bust a cop impersonator; and Erin hires an image consultant to help with her D.
Watch Blue Bloods Season 13 Episode 10 Now
Reagan family tensions run high when Frank and his grandson, Joe Hill, contend with a grievous insult to the memory of Joe's father, Joe Reagan. Also, Erin and Henry work together to bust an over-the-phone scammer targeting the elderly; Danny intervenes in an undercover assignment led by his spiraling former partner; and Eddie's captain takes suspicious interest in her efforts to locate a stolen puppy.
Watch Blue Bloods Season 13 Episode 9 Now
Danny crosses paths with Sonny Le, a criminal from a previous case, when he investigates a gang attack with a shocking motive. Also, Frank and Mayor Chase butt heads over an off-duty cop who goes too far making a political statement; Anthony worries Erin's DA campaign could be threatened by her ex-husband Jack's unsavory business connections; and Jamie investigates a potentially dirty officer whose identity may be close to home.
Watch Blue Bloods Season 13 Episode 8 Now
Erin and Anthony clash when Anthony's daughter, Sophia, is the sole eyewitness to a fatal shooting. Also, Frank wants to punish an off-duty cop for his inaction during an armed robbery; Danny and Baez investigate a violent mugging with some unwanted help from Jamie; and Eddie and her partner, Badillo, help an attack victim see the brighter side of New York City.
Watch Blue Bloods Season 13 Episode 7 Now
Danny and Jamie clash over a gang-related shooting after Jamie oversteps as part of his new position and Danny empathizes too closely with a victim. Also, Erin and Anthony search for answers when a lawyer in their office jeopardizes a case involving Erin's nephew, Joe Hill; and Frank grows concerned when he's not invited to speak at a policing forum.
Watch Blue Bloods Season 13 Episode 6 Now
Frank launches an investigation after the Reagan family is harassed when protests against a controversial NYPD unit escalate. Also, Danny and Baez form an unlikely partnership with an informant in order to prevent a murder; Eddie lands in hot water after she defies a direct order; and conflict arises between Erin and the Dream Team when the D.
Watch Blue Bloods Season 13 Episode 5 Now
Danny and Baez investigate a series of violent robberies targeting luxury timepieces, and Erin is conflicted about criminally charging a potentially innocent man. Also, Frank is forced to reopen a case in which the officer involved was acquitted, and Jamie interviews a decorated officer to join his Field Intel team.
Watch Blue Bloods Season 13 Episode 4 Now
Danny and Baez investigate after a vicious attack leaves their mutual friend, Maggie Gibson, hospitalized. Also, Frank and the Dream Team debate the appropriate memorial protocol for a former police commissioner with a questionable professional legacy; Jamie begs Erin to release a perp who can lead him to a powerful criminal; and Eddie's car is vandalized by her partner Badillo's ex-girlfriend.
Watch Blue Bloods Season 13 Episode 3 Now
Frank causes family tension when he announces he will not endorse Erin's run for district attorney. Also, Danny and Baez investigate a bloody crime scene at a hotel, and Jamie begins a new job as a field intelligence sergeant that requires him to keep secrets from his family.
Watch Blue Bloods Season 13 Episode 2 Now
The job takes a dangerous turn for the Reagans when Eddie and Jamie deal with a domestic violence case associated with an investigation led by Danny and Baez. Also, Frank and his friend, Archbishop Kearns, go on a mission to avail themselves to an unfiltered look at the city; and Erin is presented with a surprising offer by her ex-husband, Jack Boyle, regarding her run for District Attorney.
Watch Blue Bloods Season 13 Episode 1 Now

Blue Bloods is an intense, engrossing, and compelling police drama known for its strong character development, familial bonds, and intricate portrayals of law enforcement life. This CBS series, which premiered in 2010, stars Donnie Wahlberg, Vanessa Ray, Tom Selleck, and Bridget Moynahan, casting them in roles that are complex, layered, and incredibly human. Set against the multifaceted backdrop of New York City, Blue Bloods follows the lives of the Reagan family, who serve the city through their work in law enforcement and the justice system. It is at its core a family drama, albeit one embroidered with crime stories and various suspenseful arcs that revolve around its central family. Patriarch Frank Reagan, played by the veteran actor Tom Selleck, is the presiding New York City Police Commissioner. In his role, Frank set a high moral, ethical, and professional standard for the other members of his family to follow. His stoic but compassionate demeanor, coupled with his dedication to integrity and justice, offers a benchmark for his children. Danny Reagan, played by Donnie Wahlberg, is the eldest Reagan son. He's an experienced detective with a reputation for his aggressive tactics and hard-nosed approach to solving crimes. His zealous dedication to ensuring justice at all costs often puts him at odds with his older sister Erin Reagan, portrayed by Bridget Moynahan. Erin, who stands out as an Assistant District Attorney, is meticulous, principled, and devoted to upholding justice. Jamie Reagan, Frank's youngest son and portrayed by Will Estes, started as a Harvard law graduate and rookie cop. He chose a street cop's life over a potentially lucrative law career, embodying the Reagan family's legacy of service. Vanessa Ray also shines as Officer Eddie Janko, who becomes Jamie Reagan's work partner and eventually becomes a part of the family. This plotline offers viewers a fresh perspective, as Eddie isn't born into the Reagan clan but instead must adapt to its dynamics and expectations. Her readiness to do right by her new family, and courageous on-the-job encounters, offered further depth to the show. Blue Bloods is as much about family dynamics as it is about the life its characters lead on the frontlines of law and order. Many episodes conclude with the famous family dinner at Frank's house, a touching and sometimes tense scene that offers viewers a glimpse of the Reagans outside their professional roles. This portrayal of the Reagan family's loyalties, conflicts, and deep-seated love is a central appeal of the show. The series expands beyond the Reagan family drama and explores intersecting themes of justice, duty, and complex moral dilemmas. Blue Bloods does not shy away from the harsh realities and intricate nuances of police work. It regularly addresses sensitive and controversial topics, presenting them in a manner that is thoughtful, stirring, and often heartrending. Engaging character growth is another highlight of the series. Whether it's Danny's struggle to balance his impulsive nature with reaching justice, Erin standing her ground in the male-dominated profession, Jamie's journey from being a rookie to establishing himself, or Eddie's transition into the Reagan family, each character's development is sufficiently nuanced and incredibly engaging. Furthermore, the performances by the show's lead actors have consistently received high acclaim. Donnie Wahlberg's portrayal of passionate detective Danny, Tom Selleck's calming yet commanding presence as Frank, Bridget Moynahan's formidable projection of Erin, and Vanessa Ray's portrayal of determined and spirited Eddie have all contributed to the success of the show. Visually, Blue Bloods captures the breadth and diversity of New York City, presenting an authentic atmosphere of the city's neighborhoods, the bustling streets, and the grim crime scenes. Together with skillful camera work and a melancholic music score often in the background, the visuals and audios truly enhance the storytelling experience. In summary, Blue Bloods is a distinctive amalgam of a police procedural and a family drama that keeps audiences engaged with multi-layered characters, riveting plots, and deeply human stories of love, loyalty, sacrifice, and above all, the pursuit of justice. The impressive cast brings gravitas to the show, presented with exceptional integrity. Through the high stakes world of the Reagan family, Blue Bloods explores the trials and tribulations, bonds, and conflicts of a family deeply enmeshed in law enforcement.
Blue Bloods is a series categorized as a currently airing. Spanning 13 seasons with a total of 277 episodes, the show debuted on 2010. The series has earned a moderate reviews from both critics and viewers. The IMDb score stands at 7.7.
How to Watch Blue Bloods
How can I watch Blue Bloods online? Blue Bloods is available on CBS with seasons and full episodes. You can also watch Blue Bloods on demand at Paramount+, Amazon Prime, Apple TV Channels, FuboTV, Apple TV, Amazon, Microsoft Movies & TV, Vudu online.
Cast
Len Cariou, Amy Carlson, Will Estes, Sami Gayle, Bridget Moynahan, Marisa Ramirez, Vanessa Ray, Tom Selleck, Donnie Wahlberg

Stream shows like Blue Bloods