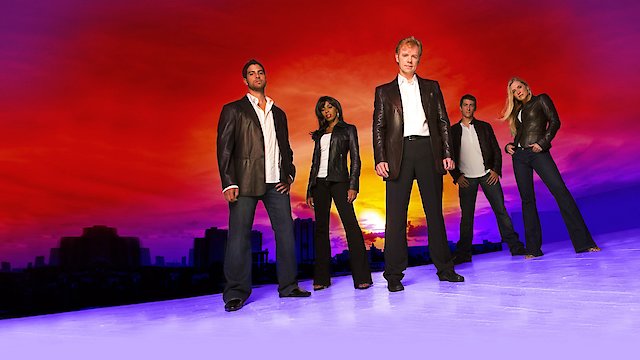 Where to Watch CSI: Miami
When one of the CSI's biggest enemies is murdered, Horatio must investigate his team to determine who is responsible.
Watch CSI: Miami Season 10 Episode 19 Now
Horatio reveals a scandal that pits him against an old adversary, and Calleigh makes a life-changing decision.
Watch CSI: Miami Season 10 Episode 18 Now
When a well liked tennis coach is nearly killed, Calleigh finds a personal connection to the case.
Watch CSI: Miami Season 10 Episode 17 Now
When the "Miami Taunter" strikes again, Horatio confronts the matriarch of the suspected killer's family, who may or may not cooperate in his investigation.
Watch CSI: Miami Season 10 Episode 16 Now
Horatio and team investigate a murder of a kind neighborhood man. They find he was about to make public something huge.
Watch CSI: Miami Season 10 Episode 15 Now
When the sisters of a Miami sorority are murdered one by one, the CSIs are desperate to end the killing spree.
Watch CSI: Miami Season 10 Episode 14 Now
The CSI team works on a murder case of a skydiver. The suspects are all of his children.
Watch CSI: Miami Season 10 Episode 13 Now
An eccentric genius is assassinated with a bizarre weapon new to the CSIs.
Watch CSI: Miami Season 10 Episode 12 Now
The CSIs expose the truth about children's beauty pageants when a contestant's mom is murdered.
Watch CSI: Miami Season 10 Episode 11 Now
A whole family disappears and Horatio is determined to find them dead or alive.
Watch CSI: Miami Season 10 Episode 10 Now
Three convicted murderers are free from prison and someone is killing them one by one.
Watch CSI: Miami Season 10 Episode 9 Now
Horatio discovers another corpse without eyes, evidence suggests his nemesis is responsible.
Watch CSI: Miami Season 10 Episode 8 Now
A masked assassin kills a player in a high stakes poker game.
Watch CSI: Miami Season 10 Episode 7 Now
The CSI Team discovers a body hanging in a deserted mansion that appears to have been killed by a vampire.
Watch CSI: Miami Season 10 Episode 6 Now
Horatio protects a Mexican police chief from the unknown assassin who killed her husband,
Watch CSI: Miami Season 10 Episode 5 Now
The team are on the hunt for a sadistic killer who takes women's eyes.
Watch CSI: Miami Season 10 Episode 4 Now
A tornado damages the evidence at a murder scene and endangers Ryan and Walter's lives.
Watch CSI: Miami Season 10 Episode 3 Now
The CSIs enter the sexy world of male gigolos during a case with an interesting weapon.
Watch CSI: Miami Season 10 Episode 2 Now
The team races against time to capture escaped killer Jack Toller before he kills again. Horatio and Natalia's lives hang in the balance, as Horatio stands between Natalia and certain death.
Watch CSI: Miami Season 10 Episode 1 Now

CSI: Miami, a fast-paced crime drama from CBS, aired from 2002 to 2012. The show is a spin-off of the original CSI: Crime Scene Investigation series, set amidst the sunny, glamorous backdrop of Miami, Florida. Leading the exceptional cast is David Caruso, who brings an intense and commanding presence as Horatio Caine, the Lieutenant of the Miami-Dade Police Department. Caine's character is a complex blend of deep sensitivity, fierce determination, and unflappable cool, often showcasing his deductive skills through remarkable crime scene observations. His striking ability to stand for justice, demonstrating unwavering commitment to his job, makes him a formidable figure in the series. Omar Benson Miller joins the team later in the series as Walter Simmons, a gifted art theft detective from Louisiana who becomes an invaluable part of the CSI team. Sofia Milos enacts the role of Yelina Salas, a detective who shares a complicated and emotional past with Caine. Her portrayal adds a layer of personal intrigue and drama to the show, complementing the crime-focused narratives. Eva LaRue, as Natalia Boa Vista, plays a DNA analyst with an intricate backstory, bringing a unique depth to her role. Adam Rodríguez stars as Eric Delko, a fingerprint and drug identification expert. His character adds an interesting camaraderie within the team and sometimes offers light-hearted moments, balancing out the seriousness of the show. The show focused primarily on using forensic evidence to solve crimes and followed the international success of CSI: Crime Scene Investigation. CSI: Miami was distinctive in its own right, mixing the detective premise with stylized action and personal drama. The characters, using cutting-edge technology and scientific methods, often unveiled truths hidden in the smallest pieces of evidence. The forensic jargon and the attention to detail provide the audience with not just entertainment, but also an insight into the scientific nuances involved in crime-scene investigations. CSI: Miami isn't just about the forensics and crime-solving. There are overarching narratives woven into the backdrop of each character. Personalities, relationships between team members, and their personal histories unfold poignantly over the series, adding emotional depth to the plot. From adrenaline-pumping car chases to the slow reveal of critical pieces of evidence, the show maintains a dynamic tempo, balancing suspense and action to keep viewers on edge. Adding to its appeal is the vibrant Miami setting, with its sunny landscapes, beaches, and ultramodern cityscapes serving as the perfect counterpoint to the dark and often grim nature of the crimes. Some episodes also tackle serious themes, reflecting societal issues and moral dilemmas intrinsic to law enforcement. David Caruso's character often becomes a moral compass, navigating these grey areas with empathetic understanding, making the show not just a crime procedural but also a thought-provoking drama. CSI: Miami also leverages the power of its ensemble cast effectively. The chemistry between team members, their shared commitment to justice, and the bonds they form as they face complex and dangerous situations make for compelling viewing. The average episode begins with a crime, followed by the CSI team scouring the scene for evidence. What unfolds next is a riveting montage of forensic tests, investigations, interrogations bringing viewers closer to the truth as the episode culminates. However, CSI: Miami doesn't adhere strictly to the whodunit formula, often diverting into the nuances of why and how, providing depth to their storytelling. In summary, CSI: Miami is a show that skillfully transposes the classic detective genre into a modern, fast-paced forensic investigation setting. It offers viewers a blend of action, suspense, drama, and emotion against the glamorous backdrop of Miami. Its successful ten-year run demonstrates its capability to continually engage audiences, maintaining its place as an iconic addition to the franchise. Despite its ending, the show remains distinctly memorable and continues to hold strong appeal for fans of crime dramas and the CSI universe.
CSI: Miami is a series categorized as a canceled. Spanning 10 seasons with a total of 232 episodes, the show debuted on 2002. The series has earned a moderate reviews from both critics and viewers. The IMDb score stands at 6.4.
How to Watch CSI: Miami
How can I watch CSI: Miami online? CSI: Miami is available on CBS with seasons and full episodes. You can also watch CSI: Miami on demand at Paramount+, Amazon Prime, Apple TV Channels, Apple TV, Amazon, Microsoft Movies & TV online.
Cast
David Caruso, Emily Procter, Adam Rodriguez

Stream shows like CSI: Miami