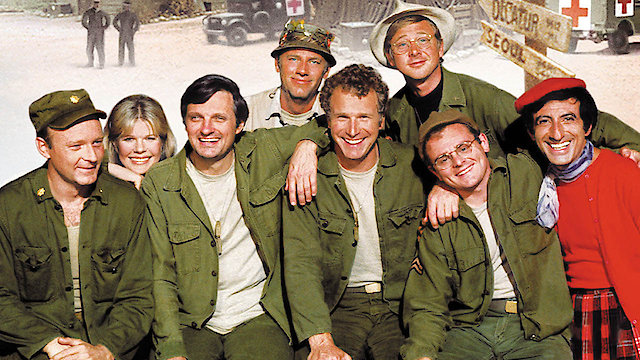 Where to Watch M*A*S*H
16
Goodbye, Farewell and Amen
The final days have finally arrived for the 4077th. In the passing days we find Charles as a conductor for a musical group of Chinese prisoners, B.
Watch M*A*S*H Season 11 Episode 16 Now
Margaret and Hawkeye help collect items for a camp time capsule. Also, B.J. gets revenge with the help of a fake grenade, and Klinger falls in love with a young Korean woman who is suspected as being a spy.
Watch M*A*S*H Season 11 Episode 15 Now
A soldier learns a heartbreaking lesson after he makes a friendship with a GI he had wounded. Meanwhile, Charles will do anything to avoid taking part as the Charity Officer.
Watch M*A*S*H Season 11 Episode 14 Now
Colonel Potter is torn between friendship and doing what is right when the doctors discover that his old friend, Colonel Woody Cooke, froze while the enemy attacked his platoon he was leading, causing unnecessary casualties.
Watch M*A*S*H Season 11 Episode 13 Now
Margaret loses her voice as she is about to meet Dr. Chesler, a personal hero of hers. Meanwhile, a visiting Colonel continues planning military strategy, even as his own wounded son is laying in a bed at the 4077th.
Watch M*A*S*H Season 11 Episode 12 Now
Hawkeye and B.J. are suffering from restless nights due to Charles' snoring, a condition of which makes him question whether he is a true, Winchester. Meanwhile, Colonel Potter discovers that his visiting son-in-law had an affair in Tokyo.
Watch M*A*S*H Season 11 Episode 11 Now
10
U.N., the Night and the Music
A visit from some U.N. dignitaries to the 4077th leave a lasting impression on a few atthe camp
Watch M*A*S*H Season 11 Episode 10 Now
Father Mulcahy is asked to make the 4077th proud when Colonel Potter makes a bet against the 8063rd in a running race, who then pull a fast one by bringing in an Olympic marathoner for the competition.
Watch M*A*S*H Season 11 Episode 9 Now
Hawkeye and B.J. go to no ends to bring a new, racy movie to the camp that had been banned in Boston, called "The Moon Is Blue" as a means to boost morale during a heatwave.
Watch M*A*S*H Season 11 Episode 8 Now
The crew hold a mortgage burning party for Colonel Potter after Hawkeye receives the good news from Mrs. Potter in a letter.
Watch M*A*S*H Season 11 Episode 7 Now
To boost the wounded soldiers moral, Hawkeye and Charles announce that there is a rumor that Marilyn Monroe is coming to the 4077th to say thanks for treating her wounded cousin. As the news gets out of hand, B.
Watch M*A*S*H Season 11 Episode 6 Now
Hawkeye is given the duty of reading a eulogy for a nurse that no one really knew too much about, after she dies in a water tower accident in camp. Later, he is shocked to read from her journal that she had deep feelings for Hawkeye.
Watch M*A*S*H Season 11 Episode 5 Now
Hawkeye becomes paranoid when BJ vows to pull the greatest practical joke on him, as good ol' Trapper John used to do.
Watch M*A*S*H Season 11 Episode 4 Now
The Army tries to get a Korean pilot to defect as PR, but are shocked when no one takes up their offer. Meanwhile, Charles falls for a French nurse but is disappointed when he learns of her past lifestyle.
Watch M*A*S*H Season 11 Episode 3 Now
While administering last rights to a soldier, Father Mulcahy notices the man is still alive. Meanwhile, the camp tells stories of supernatural experiences while celebrating Halloween.
Watch M*A*S*H Season 11 Episode 2 Now
Nurse Kelley has always felt rejected when it comes to the romance going on around the camp and more like one of the guys. But she is seen in a different light by Hawkeye when she comforts a dying soldier.
Watch M*A*S*H Season 11 Episode 1 Now

M*A*S*H is an iconic American television series that aired on CBS from 1972 to 1983. It was developed by Larry Gelbart and based on the 1970 feature film M*A*S*H, which was itself derived from a 1968 novel titled 'M*A*S*H: A Novel About Three Army Doctors' by Richard Hooker. The series resonated dramatically with audiences, encapsulating a unique blend of both comedy and drama that served to capture the essence and the paradoxes, of war. The title, M*A*S*H, stands for Mobile Army Surgical Hospital, and the series is set against the backdrop of the Korean War in the 1950s. The story revolves around a team of doctors, nurses, and staff who operate a mobile army surgical hospital and must deal with the harsh realities of war, along with its consequences, each and every day. Despite the dire circumstances and grueling conditions they endure, they manage to maintain their sanity by adopting an irreverent and oftentimes sarcastic attitude, combined with a fiery humor that serves as their outlet to deal with the unrelenting stress. The talented ensemble cast brings an array of memorable characters to life, giving the series its distinctive character. The show is led by actor Alan Alda, who shines in his portrayal of the charming yet cynical surgeon, Hawkeye Pierce. Wayne Rogers plays the warm-hearted and diligent Trapper John McIntyre, and McLean Stevenson embodies the lovable yet slightly inept commanding officer, Lt. Col. Henry Blake. Loretta Swit portrays Major Margaret Houlihan, the stern yet compassionate head-nurse, while Larry Linville stands out as the ill-tempered and brusque Major Frank Burns. Gary Burghoff, Mike Farrell, Harry Morgan, and Jamie Farr have commendable roles, among others, to make M*A*S*H a powerhouse of character-driven storytelling. The storylines span a vast variety, from the light-hearted antics of the characters to the brutally honest portrayal of the horrors of war. The writers didn't shy away from delving into the psychological trauma and moral dilemmas faced by the characters, creating a delicate balance between humor and serious narrative. The series also frequently uses the interplay of absurd situations and a dark backdrop to make poignant social and political commentaries. Despite its period setting, M*A*S*H dealt with themes and issues that were relevant and relatable to the contemporary audience, making it a path-breaking series for its time. In addition to its humorous and dramatic narrative, the series is also highly praised for its technical excellence. The sets, costumes, and props are meticulously detailed to recreate the ambiance of a 1950s war zone. The direction, both in terms of visual style and storytelling, is innovative and aesthetically impactful. Various guest appearances, including the likes of Ron Howard, Patrick Swayze, and Leslie Nielsen, to name a few, further augmented the diverse charm of M*A*S*H. With a run of 11 seasons and the broadcast of 256 episodes, M*A*S*H is considered one of television's longest-running prime time series. The show enjoyed immense popularity during its telecast, earning critical acclaim and numerous accolades, including 14 Emmy Awards, a Peabody Award, and the Golden Globe Award. Interestingly, the series finale in 1983 still holds the record for the most-watched telecast of all time in the U.S. M*A*S*H remains, even today, a testament to television's ability to skillfully blend humor, drama, and social commentary. It entertained while it enlightened, making audiences laugh and think in equal measure. The series has not only left an indelible mark in the annals of television history but also in the hearts of viewers worldwide.
M*A*S*H is a series categorized as a canceled. Spanning 11 seasons with a total of 251 episodes, the show debuted on 1972. The series has earned a mostly positive reviews from both critics and viewers. The IMDb score stands at 8.4.
How to Watch M*A*S*H
How can I watch M*A*S*H online? M*A*S*H is available on CBS with seasons and full episodes. You can also watch M*A*S*H on demand at Hulu Plus, Apple TV, Amazon, Google Play, Microsoft Movies & TV, Philo online.
Genres
Classic, Comedy, Drama, Military & War
Cast
Alan Alda, Wayne Rogers, Loretta Swit

Similar Shows like M*A*S*H