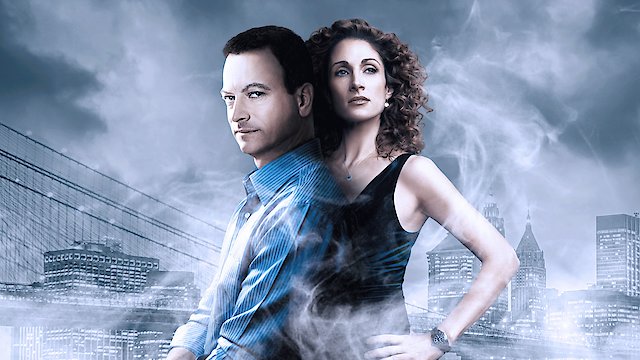 Where to Watch CSI: NY
A community is shaken up after an unarmed man was shot by police.
Watch CSI: NY Season 9 Episode 17 Now
On Valentine's Day, Mac and the team investigate three cases of bad romance.
Watch CSI: NY Season 9 Episode 16 Now
Mac and the team collaborate with CSI D.B. Russell in their effort to outwit Christine's kidnappers before they run out of time to save her life.
Watch CSI: NY Season 9 Episode 15 Now
When a young pizza maker is carjacked, the CSIs must determine the reason.
Watch CSI: NY Season 9 Episode 14 Now
A masked man is discovered at the base of a notorious skyscraper known for its history of mysterious deaths. Meanwhile, Jo meets a stranger with a surprising link to her past.
Watch CSI: NY Season 9 Episode 13 Now
An off-duty NYPD officer is killed during a robbery. The CSIs interrogate the suspects to find out the truth.
Watch CSI: NY Season 9 Episode 12 Now
The CSIs investigate the puzzling mystery of two different victims linked by the same unusual weapon.
Watch CSI: NY Season 9 Episode 11 Now
The co-owner of a popular bar is found dead. Meanwhile, Mac heeds Christine's advice and foregoes his to-do-list to relax on his day off.
Watch CSI: NY Season 9 Episode 10 Now
Detective Lovato's past as an undercover officer tangles with her present duties when a gang member she had developed feelings for is murdered.
Watch CSI: NY Season 9 Episode 9 Now
The team dives into the world of performance enhancing drugs. Meanwhile, Lindsay travels to Montana to witness the execution of Daniel Kadence.
Watch CSI: NY Season 9 Episode 8 Now
The CSIs begin a real life game of Clue to figure out the killer as a psychiatrist's patients are methodically being murdered.
Watch CSI: NY Season 9 Episode 7 Now
A woman wearing a ball gown is found at the bottom of a lake.
Watch CSI: NY Season 9 Episode 6 Now
The lead suspect in a 20-year-old case of a missing boy is found dead on the anniversary of the boy's disappearance.
Watch CSI: NY Season 9 Episode 5 Now
The team is desperate to catch a shooter when Lindsay is injured during the attempted murder of a political candidate. A child is killed in the events following.
Watch CSI: NY Season 9 Episode 4 Now
Evidence at a crime scene on the Brooklyn Bridge lead Mac and Jo on an investigation across the country to San Francisco in search of a missing teenage girl.
Watch CSI: NY Season 9 Episode 3 Now
The CSI team try to stop a serial arsonist who uses fire against people from his past.
Watch CSI: NY Season 9 Episode 2 Now
In the season premiere, the CSI team investigates a fire chief who is killed in a fire that was started with the same technique from a paroled arsonist.
Watch CSI: NY Season 9 Episode 1 Now

CSI: NY, a captivating crime drama, aired on CBS from 2004 to 2013. The series was developed by Anthony E. Zuiker and Ann Donahue, with Jerry Bruckheimer as one of the executive producers. The show is set in the gritty and bustling city of New York and is the third installment in the successful CSI franchise, following its progenitors CSI: Crime Scene Investigation (Las Vegas) and CSI: Miami. This installment featured the versatile actor Gary Sinise in the leading role of Detective Mac Taylor, supported by a sterling ensemble cast. In addition to Sinise, key cast members included Carmine Giovinazzo, Melina Kanakaredes, Anna Belknap, Sela Ward, Hill Harper, and Eddie Cahill. The plot is mainly driven by the daily workload of forensics scientists and the challenges they face while solving intricate crime mysteries. Detective Mac Taylor, a dedicated and driven crime-scene investigator, believes everything is interconnected and everyone has a story, which is a belief that is "New York to the core." His team includes Stella Bonasera (Melina Kanakaredes), Danny Messer (Carmine Giovinazzo), Sheldon Hawkes (Hill Harper), Lyndsay Monroe (Anna Belknap), and Don Flack (Eddie Cahill), all instrumental specialists in their respective fields. The show utilizes Mac Taylor's naval background and work ethics as a compelling lens through which the stories and investigations are perceived. These investigations are often detailed forays into the scientific analysis of crime scenes, with a strong emphasis on forensic procedures and their importance in solving crimes. Alongside the unraveling of each case, CSI: NY delivers substantial character development, exploring the personal lives of its characters, with Sinise's character forming the figurative pillar around which the others are built - offering a layered and deep element to the procedural aspect of the series. Actresses like Claire Forlani, Holly Valance, Daniella Alonso, Kelly Hu, Carmen Argenziano, Sarah Scott, Sonya Walger, Nicole Paggi, Emily Procter, Melinda Page Hamilton, Emmanuelle Vaugier, Jamie Chung, Lauren Stamile, Brianna Brown, and a slew of other notable guest stars provided additional depth and dynamics to the plot lines. Across all its seasons, the show never strayed from its central focus — solving complex crimes in the most populated city in the United States by painstakingly breaking down each detail and painstakingly analyzing each shred of evidence. Using cutting-edge tools and techniques to lend realism and credibility to their work, the team always emerges successful, reinforcing the essential role of forensic science in modern criminal investigation. Over its nine seasons and 197 episodes, CSI: NY evolved into a respected entity of its own within the CSI universe, with its unique approach to storytelling and character development. The show skillfully incorporated the city's diverse culture, history, and vitality into the narrative, capturing the New York City spirit in a manner few shows have managed. CSI: NY was not only about forensics and crime resolution. This series also shed light on the characters' interpersonal relationships, personal growth, and dealing with personal tragedies. It touched upon issues like PTSD, substance abuse, and loss, among others, blending a sense of realism with its fictional premise. This balance between character and plot made CSI: NY a fan favorite, with viewers consistently drawn to the show's distinctive mix of high-stakes crime-solving and human drama. In retrospect, CSI: NY carved out its own path within the broader CSI franchise, offering a unique blend of whodunit mystery, character-driven narratives, and a representation of New York's heart and grit painted with nuanced strokes. The show was a manifestation of the evolution of crime drama, and its legacy endures as a significant entry into American television. It remains an exemplar of the procedural genre, one that satisfactorily sustained the CSI brand, capturing and captivating audiences for nearly a decade.
CSI: NY is a series categorized as a canceled. Spanning 9 seasons with a total of 197 episodes, the show debuted on 2004. The series has earned a moderate reviews from both critics and viewers. The IMDb score stands at 6.9.
How to Watch CSI: NY
How can I watch CSI: NY online? CSI: NY is available on CBS with seasons and full episodes. You can also watch CSI: NY on demand at Hulu Plus, Paramount+, Amazon Prime, Apple TV Channels, Apple TV, Amazon, Microsoft Movies & TV online.
Cast
Gary Sinise, Carmine Giovinazzo, Hill Harper

Stream shows like CSI: NY